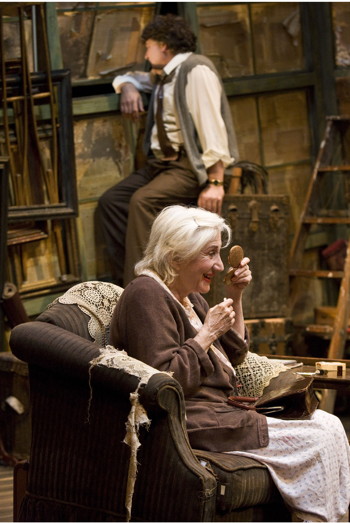 An odd downer of a 'comedy,' written and directed by Morris Panych, Vigil sets its maudlin tone from lights up. A large and slovenly middle-aged man has appeared, suitcase in hand, in the middle of an old lady's city apartment expressing a huge sigh of martyrdom. This apparent sad sack immediately gets a hairbrush flung at his head by the frightened old lady cowering in the double bed that dominates the set. Sudden blackout.
It transpires that the man Kemp (Marco Barricelli) is the nephew of the old lady Grace (Olympia Dukakis) and has arrived at her behest. It doesn't matter that he hasn't been in contact for thirty years – as her only remaining relative, it's natural that she should reach out to him when she is on her deathbed. Or is she?! Turns out the old bird still has some life in her yet, and hangs on as the seasons change, much to Kemp's chagrin.
Panych's play is a unique insight into a certain relationship and certainly holds some rewards in the second act. But with its short scenes and abrupt blackouts, the first act feels choppy and brusque.
As Kemp, Barricelli does a great job infusing his loser character with plenty of repellent character traits (as per the script, which has him uttering all sorts of outrageous and insensitive remarks out loud). A sour misanthropist, Kemp is prone to crabby tantrums and paroxysms of tears. Worse, he has verbal diarrhea, so throughout the play a portrait of his odd childhood and sad life emerges.
Most disappointing of all is that the character of Grace that Dukakis plays is largely mute. She only speaks a handful of lines in the play. Hence, Vigil is almost a one man show – at least, a one-way conversation where Kemp fills in most of the gaps.
To her credit, Dukakis is a superb mime artist, conveying a great deal with non-verbal gestures and facial expressions and evoking the sweet and clown-like performance of Giulietta Masina in Fellini's masterpiece La Strada. Watching her heartily scoffing down pudding, candy and later champagne is a real delight.
The original music by Meg Roe and Alessandro Juliani (complemented by Cricket S. Myers' sound design) has a pleasing onomatopoeic nature to it, mimicking time passing or urban street sounds when needed.
Ken MacDonald's costume and set design of the crooked and cluttered loft, crammed with boxes, deserves mention for its intricacy and elegant efficacy in suggesting a long term residence.
Vigil is currently playing through December 18, 2011.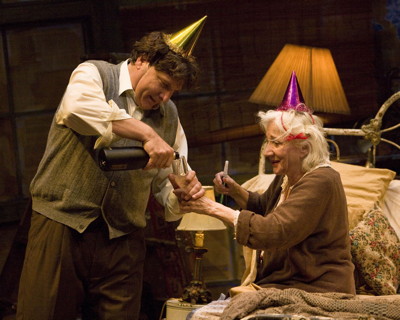 Vigil
Mark Taper Forum
601 W. Temple Street #111,
L.A., CA 90012
Performances:
Runs until December 18, 2011.
Running time:
Approximately 2 hours, including a 15 minute intermission.
TICKETS:
$30.00—65.00
Box Office:
Tickets and information are available here and at the Center Theatre Group box office, located at the Ahmanson Theatre, or by calling 213-628-2772.