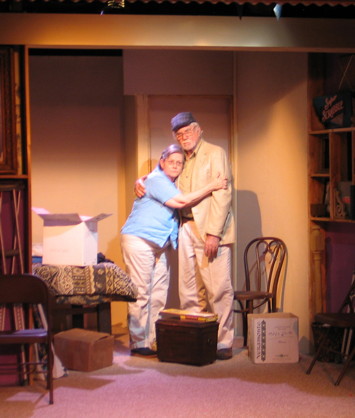 Gentle readers, here is this week's theatre review for the LA Weekly, of playwright Kerr Seth Lordygan's new melodrama,
Askance
now playing at the Eclectic Theatre in NoHo.
Click this link and scroll down to read it — OR — just read it here!
Playwright Kerr Seth Lordygan grapples with some profound subject matter in his drama set in an old people's home. The inhabitants are facing relocation and an uncertain future, so tempers are flaring. Eventually some deep and harrowing memories resurface and unexpected connections are revealed.
To his credit, early on Lordygan deftly elicits sympathy for his characters, with the prickly banter between the old couple Milly (Kenlyn Kanouse) and Irving (Joseph Cardinale) cross-cut with their tender courtship decades earlier (young Mille is Beth Ricketson, young Irving an excellent Adam Coggins). RJ Farrington is great as the gruff and sassy nurse, her stern quips masking true affection for her charges, while Taylor Ashbrook delivers her usual grace as the caring nurse. Sabrina Lloyd's sensitive direction maximizes the script's nuances and allows room for meaningful glances.
Less successful are the too numerous monologues from old-timer Sylvia, who has dementia, yet Ivy Jones brings some magnificence to her ramblings before the play devolves into histrionics.
Eclectic Company Theatre, 5312 Laurel Canyon Blvd., Valley Village; Thurs.-Sat., 8 p.m.; Sun., 6 p.m.; through Feb. 13. (818) 508-3003. (Pauline Adamek)