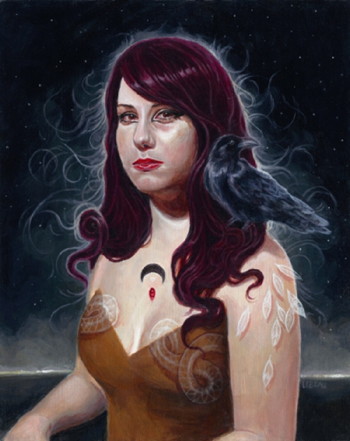 Cella Gallery is pleased to present Femme Fatale, a group exhibition featuring the works of over 35 innovative artists handpicked by curators  Nicole Bruckman and Stephanie Chefas.
An archetype in history and art, the 'femme fatale' is a timeless figure whose mysterious beauty has inspired artists for generations. Although this seductive character is constantly evolving to represent the social views of the times, she remains a symbol of female independence and a welcomed challenge to traditional gender roles.
Femme Fatale gathers some of the most powerful contemporary artists whose inherent aesthetic is heavily influenced by the beauty of the female figure. The exhibition explores how individual perceptions of feminine allure can be expressed through each artist's specific genre. Expect to be seduced, ensnared and dangerously dazzled as though in the crosshairs of a 'femme fatale' herself.
Participating artists include:
Aaron Nagel, Apricot Mantle, Anna Chung, Aunia Kahn, Casey Weldon, Cate Rangel, Charles Ketcham, Chris Peters, Christopher Umana, Cristina Paulos, Chrystal Chan, David Bray, Dave MacDowell, Delphia, Douglas Alvarez, Edith Lebeau, Gail Potocki, Jason Rudulph Pena, JAW Cooper, Jeff Ramirez, Jessica Ward, JoKa, Jose Carabes, Ken Garduno, Korin Faught, Kris Moore, L.Croskey, Lily Mae Martin, Linnea Strid, Morgan Slade, Nicole Bruckman, Nom Kinnear King, Paul Chatem, Sara Haase, Sarah Folkman, Stella Im Hultberg, Ted von Heiland and THH70.
The opening reception for Femme Fatale is taking place this coming Saturday, February 25, 2012 from 7-11pm, at Cella Gallery in NoHo.
The reception is open to the public, and the exhibition will be on view through March 17th, 2012.
About the Curators:
Upon receiving her B.F.A. in illustration from Columbus College of Art & Design, Nicole Bruckman began working as a freelance illustrator, which eventually led to exhibiting with Cannibal Flower, La Luz de Jesus, WWA Gallery and Gallery 1988. Along with her artwork, Nicole has co-curated exhibitions featuring numerous artists including Ben Kehoe, Dan May, Lindsey Carr, Kozyndan and Tim Biskup.
Stephanie Chefas is founder and curator of the art website Platinum Cheese as well as an online contributor to the highly regarded New Contemporary Art Magazine, Hi-Fructose. In addition to her online ventures, Stephanie has co-curated several exhibitions featuring numerous contemporary artists such as Annie Owens, David Ball, Jim Darling, Julian Callos and Mario Wagner.
Femme Fatale
Group Exhibition curated by Nicole Bruckman and Stephanie Chefas
FREE Opening Reception, with some Artists in attendance.
11135 Weddington St. #112,
North Hollywood, CA 91601
When: 
Saturday, February 25, 2012
7-11 pm
Exhibition runs:
February 25th – March 17, 2012
Cella Gallery is a contemporary fine art gallery that has been on the forefront of emerging art in the Los Angeles area since 2008.