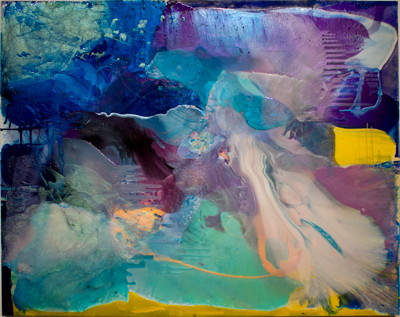 Iridescent swirls of dreamy color and rivers of pearlescent paint grace the canvasses of Felicity Nove, who lets the medium ooze and flow and follow its own lyrical path.
You can experience these stunning paintings at The Gallery at Edgemar Center for the Arts in Santa Monica, where they are showcasing these new works by locally-based, Australian-born artist Felicity Nove.
The opening reception for Nove's Poured Paintings exhibit is scheduled for Sunday, March 4, 2012 from 2 p.m. to 5 p.m.
Commenting on her technique employed for this exhibition, Ms. Nove reveals, "I see realism and abstraction as one and the same – differing only in personal focus and how one chooses to view them. The act of mark-making becomes the conduit that reconciles this duality.
"By eliminating the brushstroke I use gravity to create the line, veil or glaze. Marks are produced by the passage of the vertical drip or horizontal pour.  Through this process, I explore the physical nature of the material – the chemical interactions and viscosity of the paint – giving rise to the indeterminate flow.
"In controlling the fluid nature of the materials, through pours, floods, tilting and pooling, I am able to emphasize formal qualities. Expressive color, surface quality, transparency versus intensity, and the emerging forms constantly evolve from these interactions. I use these forms to explore both internal and external worlds.
"Through paint pours – evocative of deep sink-holes, galactic hazes, and swirling cosmos – I experiment with creating a universe-like space on a two-dimensional surface. My painting is reminiscent of viewing an expansive and stellar world through a microscope.  The juxtaposition of these two manners of seeing compels me to explore conceptual boundaries through formal spatial relations."
With a B.A. in Visual Arts from Sydney College of the Arts, and a Post Graduate Diploma from Australian Film, Television and Radio School, Felicity Nove is the recipient of the prestigious Kenneth Myer Creative Scholarship Fellowship – a one-year's residence in Tokyo, Japan, and the Art Directors Guild of America award for Excellence in Production Design.
In addition to her studio practice, Nove works on commercial projects for both film and television as an independent art director.  Her artwork has been commissioned for several network shows including "Leverage" for TNT network and "Better Off Ted" for FOX television.
She has been an artist-in-residence at Painting's Edge in Idyllwild, California. Her work has been exhibited in the United States as well as internationally and is represented in numerous important private collections.
Nove currently lives and works in Los Angeles, while also maintaining a studio in Australia.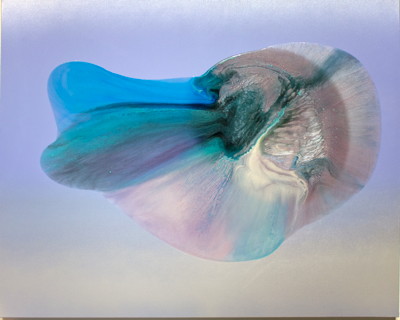 Poured Paintings.
Works by artist Felicity Nove.
At Edgemar Center for the Arts, in its Gallery,
2437 Main St.,
Santa Monica, CA 90405.
Parking is available onsite ($5) also metered parking is across the road.
Exhibition opens Sunday, March 4, 2012, reception 2 p.m. to 5 p.m.
Closes April 30, 2012.
To RSVP for the reception, contact [email protected] , or call 310-392-7327.