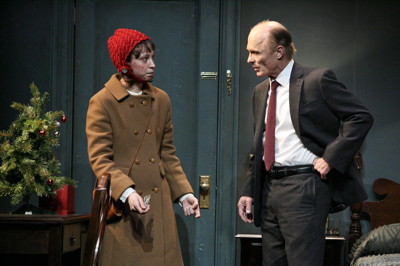 Blood-drenched, with an undercurrent of impending violence, Beth Henley's new play The Jacksonian grips you with its intensity as well as flashes of poetic language and dark humor.
Making its world premier at the Geffen Playhouse, and boasting an all-star cast, Henley's gothic tale is set in the racially segregated South – in historically notable Jackson, Mississippi – during the tinderbox early 60s, an era of unrest and infamy when the civil rights movement was struggling to gain momentum and catch alight.
Hence, while all we see is a cast of five white characters, incidents that occur offstage bear relevance and hang over this tale like a murderous sword of Damocles.
This eerie offering, directed by Tony Award winner Robert Falls, transports us to a seedy motel in Jackson, Mississippi circa 1964. The motel is an unsettling world where the subversive becomes commonplace and the passage of time becomes hauntingly unpredictable. Revolving around the night of a murder, The Jacksonian is a surreal trip that is rife with disturbingly dark humor. As this salacious tale's mysterious events unfold, both characters and audience find themselves on a road that ultimately leads to a dead end.
Ed Harris plays Bill, a dentist who has been banished from his family home by his wife. Susan (Amy Madigan) is furious with him because she blames her husband for an unforgivable act she's convinced was his fault. Their only child Rosy (Bess Rous), an awkward, goofy and sullen teenager, is reluctantly splitting her time between lingering at home with her incensed mother and hanging out at the dingy Jacksonian motel where her father is residing temporarily, or so he hopes. Also haunting the hotel (and Rosy) are two morally questionable employees with sleazy motives; Fred the barkeep (Bill Pullman) and Eva, a hotel maid (Glenne Headly.) Headly is great as an upwardly mobile menial employee, grasping for a way out of her rut. She's decked out like a dishwater blonde diner waitress, complete with candy-pink uniform. Pullman's stoic, drawling bartender makes you think he's acting in a Western; he's all squinty eyes with a frozen solid upper torso.
While Henley's story focuses on these five characters, a recent murder case is referred to and threads throughout the play, which spans the better part of a single year, chopping back and forth in time in an intriguing fashion. Despite absurdly oversized red polka-dot marks on her face (to signify acne – she wears her pimples with pride) Bess Rous is utterly convincing as the ill-at-ease teenager who elliptically narrates the story and assists with charting its leaps in time. Her hunched-over physicality and surly thick Southern accent complete the transformation. Also of assistance with the choppy time-frame are a few props, namely a nativity scene and a mini Christmas tree, that magically (hydraulically) appear and vanish as dictated by the scene requirements. Nice!
In fact, the set and staging (designed by Walt Spangler and directed by Robert Falls) is brilliantly rendered in this smaller space of the Geffen Playhouse (the Audrey Skirball Kenis Theatre.) The action is split between a raised bar set, on one half of the stage, and in Bill's hotel room on a higher platform, stage left.  (Hence, sightlines are good for the audience despite the level seating plan.)
Despite expensive ticket prices, The Jacksonian is worth seeing for the spooky story, the superb acting from its all-star cast, and the inventive staging from director Robert Falls.
Do not miss this play!
Production photo credit: Michael Lamont.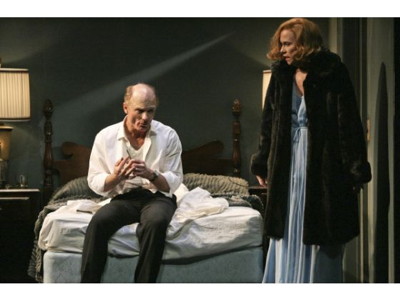 The Jacksonian
Audrey Skirball Kenis Theatre at the Geffen Playhouse
10886 Le Conte Avenue
Los Angeles, California 90024
Performances:
Runs until Sunday, March 25, 2012
Monday – No performances
Tuesday – Friday 8:00pm
Saturday – 3:00pm; 8:00pm
Sunday – 2:00pm; 7:00pm
Running time:
Approximately 85 minutes, no intermission
TICKETS:
$94 – $99 for the regular run.
Prices for extension week (Tuesday, March 20 – Sunday, March 25 at 2:00 p.m.) range from $99 – $139.
Tickets for closing night (Sunday, March 25 at 7:00 p.m.) are only available through a special VIP package for $250, which includes pre- show champagne and a post-show reception.
Box Office:
Purchase tickets here or call (310)-208-5454
You can contact the Geffen Playhouse box office in-person, via phone at 310-208-5454 or online for updated pricing and seating availability.