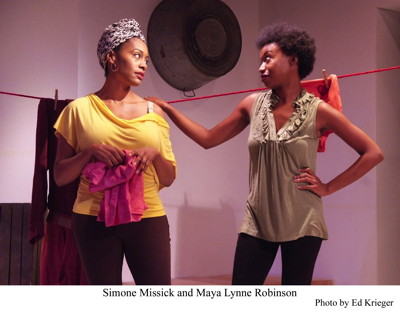 Tarell Alvin McCraney's poetic drama In the Red and Brown Water, now playing at The Fountain Theatre, has been extended for an additional eight weeks through to the end of February in honor of Black History Month.
This play is the first part of a trilogy entitled 'The Brother/Sister Plays.' In this two-acter McCraney draws on West African mythology and transplants it to an urban contemporary setting to tell the tale of Oya (Diarra Kilpatrick) a young woman with vast potential as a long-distance runner. But the high-school track star puts her college dreams on hold to care for her aged and sickly mother Mama Mojo (Peggy A. Blow) – a decision that sows the seeds of disappointment throughout the rest of her life.
The names of the characters are derived from the spirit-gods of Yoruban mythology (Oya, for example, is named after the goddess of the Niger River) and there are also direct thematic parallels to Federico Garcia Lorca's tragic play Yerma.
The characters in Oya's small community are vivid and unusual, from her sweet and charismatic candy-obsessed teenaged cousin (and trickster) Elegba (Theodore Perkins) to Shango (Gilbert Glenn Brown), the devilishly seductive and predatory (also god of fire and lightning).
Thanks to Shirley Jo Finney's superb direction, there's a sense of cohesive unity to the fine ensemble and a strong presence of music and dance throughout the show that effortlessly transports us to this lyrical world. Curiously, the stage directions are spoken along with the dialogue, yet rather than having a distancing effect, this unusual technique serves to focus our attention on what is unfolding.
Do not miss this play!
Photos by Ed Krieger.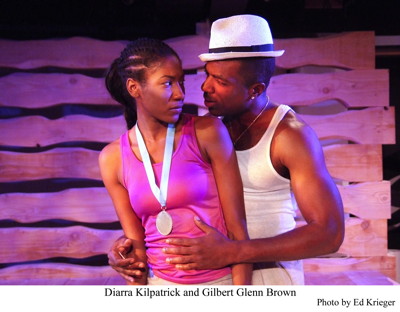 In the Red and Brown Water
5060 Fountain Avenue (at Normandie)
Los Angeles CA
The Fountain Theatre is air-conditioned and wheelchair accessible.
Secure, on-site parking is available for $5.00
PERFORMANCES:
Fridays & Saturdays at 8 pm;
Sundays at 2 pm
TICKETS: $34.00
Fridays only: seniors over 62: $25.00; students with ID: $25.00
Bookings:
Call (323) 663-1525 or visit their site.