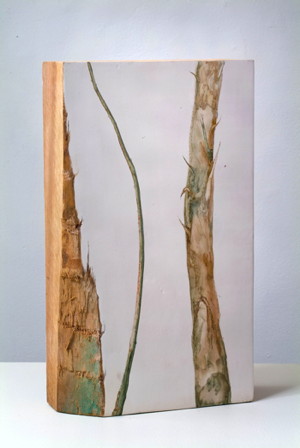 The Gallery at Archer, in conjunction with The Craig Krull Gallery, presents:
#three
The art of three Los Angeles women, on exhibit from March 15th—April 5th, 2013.
A compelling new exhibition at The Gallery at The Archer School for Girls in Brentwood, #three brings together the multi-media expressions of three Los Angeles artists, all women, who are currently represented by the Craig Krull Gallery of Bergamot Station, Santa Monica, CA. The Gallery is curated by students at Archer as part of the school's gallery management program.
The three participating artists are Pam Posey, Nancy Monk and Phranc.
About the Artists:
§ Pam Posey combines elements of painting, drawing and sculpture in her studies of wood as both subject and medium, rendering delicate watercolor images of tree trunks on scraps of hardwood. She received her B.A. in Painting from Bennington College, Bennington, VT and her M.F.A. from UMass Amherst in Massachusetts. From 2001 – 2009 she served as the Visual Art Department Chair at Crossroads School. Posey currently serves as the director of the Sam Francis Gallery, Crossroads School, Santa Monica.
§ Nancy Monk works with manipulations of photographic images, painting, texturing, collaging and ornamenting photos in an irreverent yet transformative manner. Her manipulation of photos, with deeply layered dots and dashes, suggests both the rhythms of Australian Aboriginal work and the shimmering works of Gustav Klimt. She also paints large-scale works on paper of mesmerizing delicacy. Monk attended the Universita Italiana Per Stranieri, Perugia, Italy in 1968. She then received her BFA from Colorado State University in 1973 and in 1976 she received her MFA from the University of Minnesota.
§ Artist, blogger and musician Phranc, aka "The All American Jewish Lesbian Folksinger" and "the Cardboard Cobbler", creates striking life-size figures from found cardboard, and sews paper garments from painted Kraft paper. She studied at the Feminist Studio Workshop at The Woman's Building from 1977 to 1978. Her most recent solo exhibition was featured at the Craig Krull Gallery in 2011 and her most recent group exhibition was featured at the A.I.R. Gallery in Brooklyn, NY in 2010 entitled The Man I Wish I Was.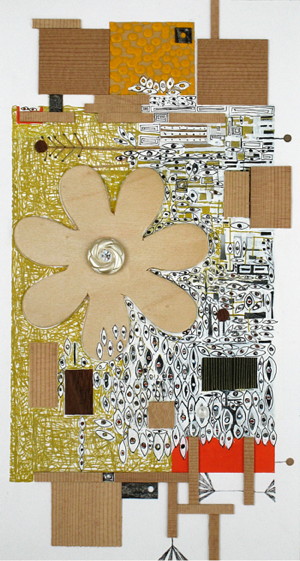 About Craig Krull:
Regarding his collaboration with Archer, Bergamot Station gallery owner Craig Krull said, "As an Archer parent (Emerson '15 and Ruby '18) it is always a pleasure to work with the wonderful students and faculty of the school. In past years, we collaborated with The Gallery at Archer on the production of two exhibitions, Julius Shulman and Peter Alexander: Light and Space in Los Angeles and Michael Light: Intermountain. Of course, I was pleased and honored that Patti Meyers and the gallery class sought my participation again with this new exhibition featuring three artists from my gallery, Nancy Monk, Pam Posey and Phranc.
When they visited the gallery in search of artists, I was thrilled to watch their positive response to each of these artists, followed by their sharp and enthusiastic decision to group them together. I think they were intrigued by the inventive use of unusual materials that these artists employ, along with their sense of playfulness. I also like the title they chose for the exhibition, #three.
Perhaps it was intuitive, or purely coincidental, but the eccentric use of lower case letters and simple titles is typical of Nancy Monk's work. The Archer community takes great pride in The Gallery. It is a rare opportunity to have a fine art gallery of such exceptional caliber on a school campus, and even more extraordinary that Archer offers a credited class in gallery management."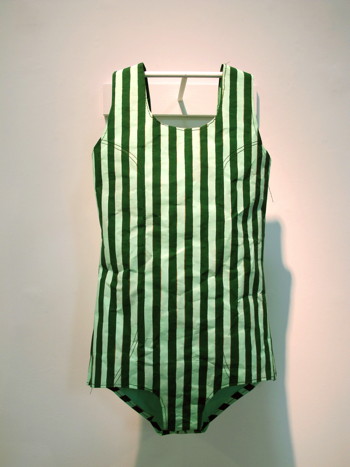 #three
An art exhibit featuring the art of three Los Angeles women, Pam Posey, Nancy Monk and Phranc.
Friday, March 15, 2013
Gallery opening and Reception for the artists –
6:30 p.m.
Followed by an artist talk with Monk and Phranc, moderated by Krull at 7:30 p.m.
The Gallery at The Archer School for Girls
11725 Sunset Blvd,
L.A. CA 90049.
Admission is free and open to the public on March 15, 2013.
The exhibition runs through Friday April 5th, 2013, and is available to view by appointment thereafter. Appointments are taken email.
About The Archer School For Girls:

Founded in 1995, The Archer School for Girls is an independent school that provides a 21st-century college preparatory program for students in grades 6 through 12 in an environment that explores and refines the ways girls learn best. Cultivating a strong sense of individuality, personal identity, independence, a sense of global engagement and an array of leadership opportunities define each student's experience.

For more information, please visit their website here www.archer.org or call 310-873-7000.

About The Gallery:

The Gallery at The Archer School for Girls provides a unique opportunity to experience the work of well-known artists. In addition to viewing diverse rotating exhibits, there are panel discussions and artist dinners, which bring collectors, gallery directors, artists, and curators to campus. The Gallery was established in 2006 and has featured works by more than 30 well-known artists.

The Gallery affords Archer students the opportunity to study the organization, management, and operation of a contemporary art gallery. Students develop the skills required to curate exhibitions, conceptualize and direct the installation of artwork in the gallery space, prepare educational materials, publicize and archive information related to each exhibition, and serve as docents.

The Gallery at Archer and its Student/Docent Curator Program serve as a model for local public and private schools. Archer's Gallery Director and students have reached out to other schools to assist them in starting their own Gallery and Student Docent/Curator Programs. The outreach includes providing the information, guidelines, and mentoring for other educators to start their own program as well as ongoing guidance on how to effectively integrate it into their curriculum. Our students have also presented at local events, including the Los Angeles County Museum of Art's Public School Evening for Educators in the Arts.
This is a sponsored Post.

For more information on sponsored posts, please get in touch with me via the Contact page.