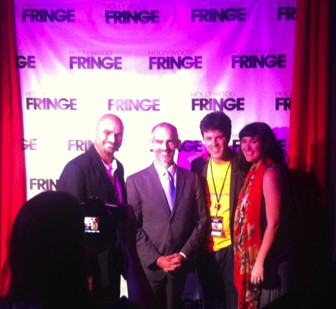 Good Vibes and Great Expectations for the 2013 Hollywood Fringe Festival.
The space at 6314 Santa Monica Blvd assumed a larger duty than normal Wednesday night (June 12) as it hosted the Opening Night festivities for the 2013 Hollywood Fringe Festival (June 13-30). All throughout the evening, actors and theater members roamed the Central Station, as it is now known and will be for the next 17 days, enjoying drinks at Bryan's Bar, the official one for the festival, and talking amongst each other about what is to come, what to see, what not miss. Now in it's fourth year, and with an extended week of shows (one more than in previous years), expectations for this festival are high.
"Bigger, better, wilder," says Festival Director Ben Hill, or Ben, as he prefers to be called, "We try and double-up on the prior year. My hopes are way up in the stars [for this year's festival]."
And with over 200 different shows in 20 different venues, totaling over 1000 performances (most of the shows averaging about an hour's duration), this year's Fringe Festival is slated to be the biggest one yet.
Said Los Angeles City Council Member Mitch O'Farrell of District 13, the district formally occupied by Mayor-Elect Eric Garcetti, "We are Hollywood, we are Los Angeles, we are artists. It's what we're known for. This is one of the cradles of creativity and it's a brand we should celebrate, we should own, we should expand and support."
Mr. O'Farrell also added that for the first ten years that he lived in Hollywood (1982-92), he was a "dancer, actor, and singer" at one of the local theater groups in the Fringe area.
If this evening is something of bellwether for the weeks to come, then the message is clear.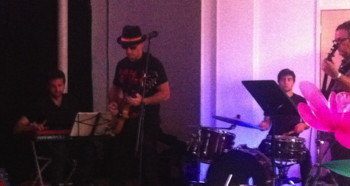 "I love the vibe," says first time Fringe attendee, Lelanie McKenzie.

"[It feels] incredible," says Hollywood Jazz Ninjas guitarist Tim Moran. "It's a great honor to be here and [be the band to] open the Fringe."
This seems to be the opinion shared by most if not all.
The only philosophical criteria that the Fringe, claiming to be the Largest Uncensored Arts Festival in the West, seems to adhere to is that the gates are open to anyone who has vision. According to producers, the festival is a "completely open-access, community-derived event celebrating the freedom of expression and collaboration in the performing arts… Participation is completely open and uncensored."
Shows are diverse ranging from family-friendly to 18 and above. Typically starting in the afternoon and ending in the later hours of the evening, the shows, ranging from $7 to $25, come one after the next, often with only a few minutes between performances. There are revivals (The God of Carnage) along side with World Premieres (Four Clowns presents Me Rich You Learn), as well as the popular 2012 Backstage Critic's Pick 25 Plays Per Hour. Performances are divided into to distinct categories: Cabaret & Variety, Comedy, Dance & Physical Theatre, Ensemble Theatre, Musicals & Operas, and Solo Performance. In addition, there will be Workshops and Special Events that include the Fringe Prom (June 19), the End of the World Party (June 29), and the Fringe Awards and Closing Night Party (June 30). Special Fringe buttons, which can be obtained at the Central Station will earn attendees $1 discounts off all tickets festival-wide as well as $1 discounts off drinks at Bryan's Bar.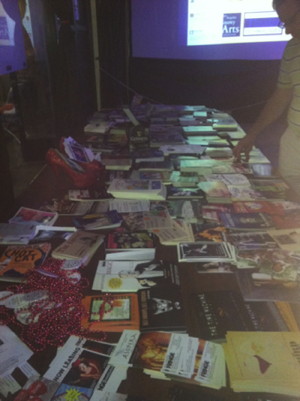 "But if I can only see one show," asks McKenzie, "which one should I see?"
It is a question most are likely to ask. To assist with the decision, an Apple and Google phone and tablet app has been created to help attendees familiarize themselves not only with the show times and venues, but also with real time reviews submitted by those who have seen the various shows. Facebook reviews, Instagram photos, and Twitter posts are also encouraged using the hashtag #HFF13. Those with further questions about what is going on at the Fringe are also able to view from their homes by watching the Fringe TV station on Youtube here.
But to say which shows to see based on which is presumably the best is a bit of a limiting stance. Certainly, awards will be given to the best shows in their respective categories, but the nature of the Fringe seems to resemble more of a child trying to stay up five minutes later than his bedtime so that he may see five minutes more of his favorite variety program, regardless if it is the best program on or not.
"It's just a great atmosphere," says on-hand Opening Night "Vendor Poet" Brian Sonia-Wallace. (If you bring a thought to his booth, Sonia-Wallace will produce a poem especially for you, tapped out on his vintage type-writer.)
As the evening begins, a woman drops a flyer on a long empty table near the entrance for the show that she is directing (Babygirl), followed by a young man for a show he is appearing in (#hashtag), followed by Miss Sparkles for the show she is in (Red, White & Balloons!) until—one after the next—the table is blanketed with postcards for the numerous shows, many of which were newly created for this festival (luna noctiluca, The Devil and Billy Markham, How to Convincingly Fake Honesty, Baby). Then the iconic film actress Edie McClurg (Ferris Bueller's Day Off, Planes, Trains & Automobiles) walks up and places down her show's flyer, (The Spolin Players) before trotting off to pose for someone's photo. For now, there are many to choose from but as the evening begins to draw to a close, many of those flyers have been picked up and much of the table is left exposed again.
"I'm here with a dire warning for you. One sad day this will all end. There be will no more Fringe show," cautions Ben. "So, live every Fringe moment as if it were your last. Suck out the marrow of this festival! You can sleep in fucking July!!"
And come July, sleeping for a long while may be exactly what you need to recover from the excitement that is the Fringe.
2013 Hollywood Fringe Festival
Fringe Central Station (6314 Santa Monica Blvd)
WHEN:  June 12, 2013 – June 30, 2013
WHERE:  Various theaters.
TICKETS:
Prices range from $7 -$25.00, depending on the production.
Purchase tickets here or call (323) 455-4585 (Additional fees applied.)
Tickets can be also bought for all shows at the Fringe Box Office & Mainstage (Open Fist Theatre, 6209 Santa Monica Blvd).
Box Office hours are 5pm to 11pm on weekdays and 2pm to 11pm on weekends throughout the festival.
Additionally, at the Fringe Central Station there is a concierge present during operating hours—5pm to Midnight Monday-Thursdays and 2pm to 2am Fridays and Saturdays, 2pm to Midnight Sundays. Access is free to this venue but limited to those 18 years and older.
PARKING:
On Street parking or varied lots in the Fringe Area.
As a note, the producers encourage using the LA Metro.
Key Festival Dates—2013
June 6th-11th- Fringe Previews
June 12th- Fringe Opening Night Gala
June 13th-30th- 4th Annual Hollywood Fringe Festival
June 30th- Fringe Award Ceremony & Closing Night Party
Those seeking more information can contact the festival or by visiting their website here.
Follow @hollywoodfringe on Twitter, or become a fan of their facebook page.
Report and Original Photography by Jesse Herwitz.