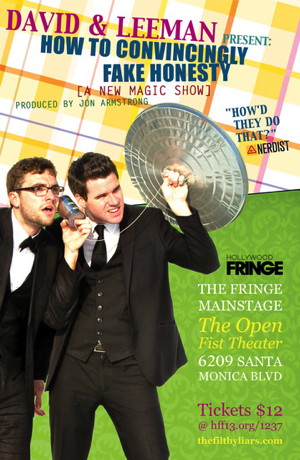 Hello readers! This week we're all covering the Hollywood Fringe Festival for the LA Weekly, so my two reviews are of Experiment, and DAVID & LEEMAN: How to Convincingly Fake Honesty, both now playing in Hollywood.
We gave both shows a 'GO!'
Click here to go to the LA Weekly's theater page and scroll down to read it.
~ OR ~
You can just read it here!!
Happy reading!
Experiment
Running a taut 20 minutes, Melanie Wehrmacher's play is exactly the right length for her slight yet compelling study of psychological torture. Two prisoners — one male, one female and each scarred and badly beaten — cower on the floor of a bare cell. Footsteps echo ominously, as does the intermittent tone of electrical torture followed by ghastly screams. Tensions run high as we observe this nervy pair unravel and turn on each other. Director Tamiko Washington nicely orchestrates the intensity, while Alexa Giuffre and Sean Burgos give convincing portrayals of pure anguish. It's an intense work.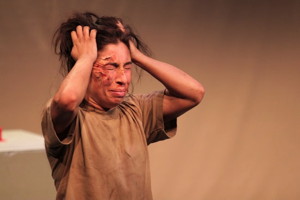 Theatre Asylum, 6320 Santa Monica Blvd, H'wood.
June 15, 8:30 p.m.; June 16, 5:30 p.m.; June 22, 4 p.m.; June 23, 7 p.m.
DAVID & LEEMAN: How to Convincingly Fake Honesty
For their slick and comical magic show, two card sharps (David Blatter and Leeman Parker) pour forth a constant stream of smooth patter that is as perfectly timed as their split-second feats of prestidigitation, dexterous legerdemain, sleight-of-hand card tricks and stunts (they explain the difference), sight gags and silly bits of comedy.
Frequently calling on the audience to participate, they delight with a series of miraculous routines. The three loose acts include a Dada-inspired entre'acte, and the swift, 45-minute show concludes with an elaborate tribute to the charlatan spiritualists who spooked the early 19th century.
DAVID & LEEMAN: How to Convincingly Fake Honesty
Fringe Mainstage, 6209 Santa Monica Blvd., H'wood.
June 13 & 20, 11 p.m.; June 16, 8 p.m.; June 22, 9:30 p.m.; June 23, 10 p.m.; June 27, 6 p.m.
Key Festival Dates—2013
June 6th-11th- Fringe Previews
June 12th- Fringe Opening Night Gala
June 13th-30th- 4th Annual Hollywood Fringe Festival
June 30th- Fringe Award Ceremony & Closing Night Party
Those seeking more information can contact the festival or by visiting their website here.
Follow @hollywoodfringe on Twitter, or become a fan of their facebook page.