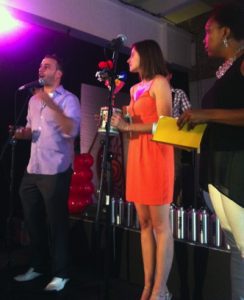 The 2013 Hollywood Fringe Festival concluded last night with the annual Award Ceremony and Closing Night Party.
Here follows a photo essay of the awards ceremony.
Reporting by Pauline Adamek & Jesse Herwitz.

All photos by Jesse Herwitz.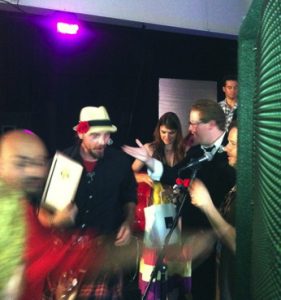 ARTSBEATLA THEATER REVIEWS HIT LIST:
DAVID & LEEMAN: How to Convincingly Fake Honesty
~~~
~~~
~~~
The Real Housekeepers of Studio City
~~~
Lost Moon Radio presents "Roger Wodehouse's Androgymnasium"
ABOUT THE HOLLYWOOD FRINGE:
The Hollywood Fringe Festival is an annual, open-access, community-derived event celebrating freedom of expression and collaboration in the performing arts community. Each June during the Hollywood Fringe, the arts infiltrates the Hollywood neighborhood: Fully equipped theaters, parks, clubs, churches, restaurants and other unexpected places host hundreds of productions by local, national, and international arts companies and independent performers.
Participation in the Hollywood Fringe is completely open and uncensored. This free-for-all approach underlines the festival's mission to be a platform for artists without the barrier of a curative body. By opening the gates to anyone with a vision, the festival is able to exhibit the most diverse and cutting-edge points-of-view the world has to offer. Additionally, by creating an environment where artists must self-produce their work, the Fringe motivates its participants to cultivate a spirit of entrepreneurialism in the arts.
It's not too early to create a project for the 2014 Hollywood Fringe Festival. Click here for full registration info. Inquiring parties can also contact the festival at support@hollywoodfringe.org.
Those seeking more information can contact the festival or by visiting their website here.
For updated information throughout the year, follow @hollywoodfringe on Twitter, or become a fan of their facebook page.