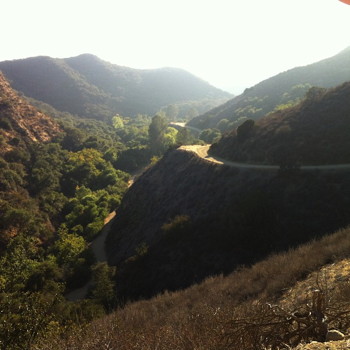 Get away from the hustle and bustle of the Valley's most populated treks and touch base with nature in a serene way. Instead of Fryman and Runyon canyons, explore one of these routes—all of which uncover sweeping views and captivating terrains.
Paradise Falls
For a truly magical hike, head to Paradise Falls in Wildwood Park, Thousand Oaks. Sure, it's a bit of a drive out the 101, but this hidden gem offers many rewards. Well-maintained, the site features wide paths of soft, dark soil with a mild grade for easy strolling (perfect for kids).
Several more adventurous options are available for cyclists. Enjoy scenic vistas of hilly terrain as you saunter down along Mesa Trail, taking a left on North Teepee Trail and then a right, heading down to the picturesque waterfall for which the area is named (it's well marked with signs).
There is a picnic table under the trees, right by the modest falls—a great spot to stop for a rest or lunch. The water is impure, so swimming is prohibited.
Carry on up the steps, with the falls and creek on your right, returning to the slightly steep trail that leads past the teepee and back to your original path. Signs indicating Lynnmere Trail, Indian Cave Trail, Stagecoach Bluff Trail and Moonridge Trail entice further exploration.
Striking out for Lizard Rock will extend the hike to more than four miles. Dogs are permitted.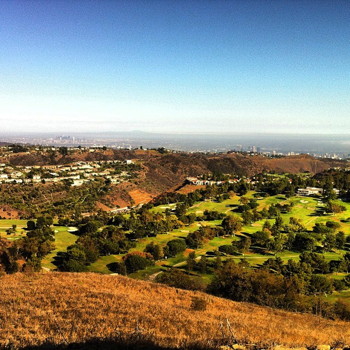 Upper Canyonback Trail
Peaceful and panoramic, this trek has an easy fire road route with a slightly tougher, single-track trail that criss-crosses it, following the undulating ridge. Commence your journey directly behind the sign you see (just off Mulholland), taking the narrow track up the hill rather than the fire road that heads off to the left.
You'll climb to the highest point on Canyonback Ridge—1,700 feet—and be rewarded with breathtaking panoramic views. Almost the entire Valley stretches out to the left. Downtown LA never looked so close. A glimpse of the 405 shimmers below. On a clear day you can see the ocean and even Catalina Island beyond. It's jaw-droppingly stunning.
To read the rest of this report, please go here.
*leave a comment if you want the trailhead addresses*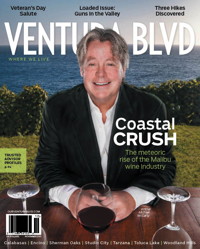 This article appears in the November 2013 issue of Our Ventura Blvd
Did you like what you read here? Subscribe to Our Ventura Blvd »