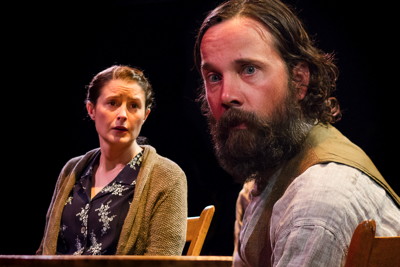 Somewhere on a farm, in rainy rural England, a farming couple nervously awaits a government inspector. When the tall young man shows up at their door, drenched and firing questions at them before he even enters the premises, the tension of Dawn King's disturbing play begins to build. Directed by Damaso Rodriguez, British playwright Dawn King's play imagines a world in the not-too-distant future where a totalitarian regime grills and monitors its citizens in a bizarre fashion, subjecting them to intrusive interrogation and unrealistic accountability.
As the plot unfolds, we gain a sense of the grim futuristic world in which these characters live. The farmers, Samuel and Judith Covey (Shawn Lee and Sara Hennessey) as well as their neighbor Sarah Box (Amanda Soden) all fall under the scrutiny of government official William Bloor, played with astounding intensity and menace by Joshua Weinstein. William is a 'Foxfinder' – a professional who we learn was institutionalized as a five-year-old child and trained in his field. Now 19, he's fresh out of the ward and a little – shall we say – off… He's determined to unearth the reason behind the farm's less-than-expected produce quota (it's obvious it's because of the relentless rain) and is positing supernatural reasons. Could these farmers be in league with the mythical creature formerly known as a fox?
King's play reminded me of the Stasi in post-war Germany, pitting neighbor against neighbor, with all those probing and impossible-to-avoid questions adding to a culture of fear.  I also liked the ending – slightly predictable, but there were some unexpected elements to the finale.
A powerful tale of the corruption of authority, Foxfinder is worth seeing.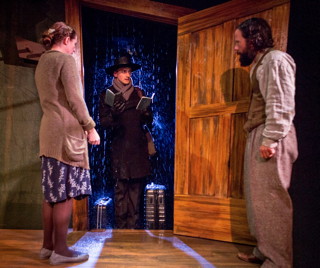 Foxfinder
Furious Theatre Company
At the Pasadena Playhouse Carrie Hamilton Theatre,
39 S. El Molino Ave.
Pasadena.
Performances:
Fridays & Saturdays at 8:00pm;
Sundays at 2:30pm & 7:30pm.
Runs through Sunday, February 2, 2014
Tickets are $20.00 and can be purchased at Furious Theatre's website,  or by calling the Pasadena Playhouse Box Office at (626) 356-7529.