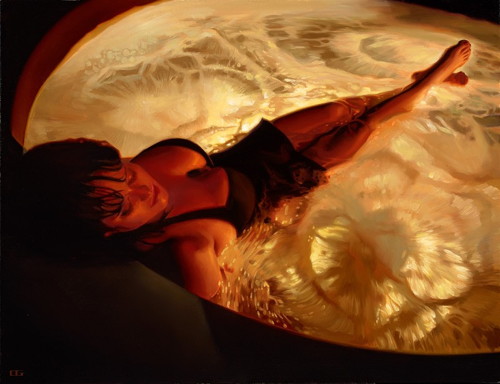 To celebrate their brand new gallery in Yountville, Chloe Fine Arts — San Francisco's prestigious art gallery close to Ghirandelli Square — is hosting a series of events, including staging a fabulous Art & Winemaker's Dinner where guests can enjoy fine dining, splendid wines and meet contemporary artists while perusing and possibly purchasing their latest works.
Four stunning contemporary artists— Carrie Graber, Amy Nelder, Aldo Luongo and Gil Bruvel— will be the featured artists in June for their various wine events, one of which is to be held at their new gallery location in Yountville, in the Napa Valley in Northern California. All four are internationally celebrated and widely collected fine artists.
You can still obtain tickets to experience their multi-sensory exhibition, the Art & Winemaker's Dinner, 6:30-9:30pm, Saturday, June 28th. It will be held at their art gallery in San Francisco. Bookings and enquiries here, or call the gallery at (415) 749-1000.  ***Deadline for reservation is noon, Thursday, June 26th.***
This week marks the fifth year of Chloe Fine Arts' hosted bi-annual Art & Winemaker's Dinner event.
A sublime four-course experience for an intimate group of Chloe Fine Arts collectors and other friends, the evening pairs gourmet food and wine with art. The event promises to be a festival for the senses in the spectacular setting of an exhibition of original paintings and sculpture with each course presented over a succession of pairings.
The evening will begin by candlelight, then lights will rise and art will be revealed and curated over the course of this phenomenal event to remember.  Select wines will be featured, and the pairing of the food and wine will be explained with each course – but then the traditional Winemaker's road will twist:  Artworks will also have been chosen to pair with each course, singled out for color palette, composition, subject, medium, or gestalt.
Chloe Fine Arts' President and Co-Founder Greg Lejnieks will illuminate the paintings and sculpture as revealed, and curate the pairing of the visual palette with the sweet and savory ones. Greg has curated shows and sold art in the United States, Canada, Europe, Japan, and Thailand and counts among his collectors the Rockefeller family, the Eastwood family and the Richard Manoogian Art Collection.
Guests will have the opportunity to view and collect original work from internationally-celebrated artists – Gil Bruvel, Aldo Luongo, Carrie Graber and Amy Nelder (Chloe Fine Arts' Co-Founder) – as well as one or two more surprise guest artists.
Fresh, innovative food courses will be customized for attendees by the talented and much-awarded San Francisco Private Chef Pelle Nilssen of Norway.  Chef Pelle's accomplishments include past Executive Chef positions at restaurants such as the famously delicious Chez Paul in Maui as well as cooking for King Carl XVI Gustaf of Sweden.
This Chef is purportedly amazing! He even cooks the whole dinner on temporary equipment out at the back of the gallery, bringing in necessary supplies and ingredients to prepare and serve this lovely meal.
Backstory:
On their travels, Napa-born Greg Lejnieks and his wife, artist Amy Nelder forged a love for the full-sensory Mediterranean lifestyle of regions such as the South of France.  Five years ago they decided to bring to their gallery clients "lifestyle events" that not only help them bring artwork into their lives, but help them bring their lifestyles into their art.  "By helping clients bring all five senses into their collecting path, we feel whole dimensions will be added to the appreciation of art and life as a singular journey.  We feel we have grown the gallery into a place where all the senses are engaged, beyond just visual art – where dance, music, food and wine, film and other passions we share may intertwine organically through events we create from the soil of our own particular passions," says Amy.
Art & Winemaker's Dinner
6:30-9:30pm
Saturday, June 28th, 2014.
Dinner fees per couple: are $350; per single: $175.
Bookings and enquiries here, or call the gallery at (415) 749-1000 ***Deadline for reservation is noon, Thursday, June 26th.***
A portion of proceeds from the evening's sales are shared philanthropically.
About the Featured Artists:
AMY NELDER

(b. 1971, American )
The works of Amy Nelder can be found in private and corporate collections throughout the United States, Canada, Hong Kong, Brazil, Israel, Thailand, Mexico and Germany including the Zurich Insurance corporate collection (NYC), Sports Engineering and Recreation Asia, LTD (Bangkok), Buena Vista Café (SF), Tosca Café (SF) and GESD Capital Partners (SF). She is also well known throughout San Francisco for her mural work that graces such sites as the Chinese Charity Cultural Services Center in Chinatown, San Francisco Board of Education Executive Administration Building, the State of California Family Support Bureau, and the District Attorney's Victim Services Center. She has appeared regularly in local newspapers as well as local and national television programs including the San Francisco Chronicle, the San Francisco Examiner, Evening Magazine on KPIX, CNN, Fox News, MSNBC, Art World News, and Art Business News.
"Color has always been a huge factor in my work, reflecting not only the emotion that I feel when I paint, but the emotion I want to feel, and the emotions I want my viewer to feel. Color tells the story. But changes in emotion are also often followed by changes in the ordinary objects we use in our everyday lives. The clues on a breakfast table can narrate a whole passage of events from the night before. With my new work, which I am calling my "Pop Trompe L'oeil", I am interested in mixing the traditional dark, serious Trompe L'oeil with the whimsical humor of Pop Art to investigate relationships – the appearance and heroism of everyday objects reflecting the heroism of ourselves in our own everyday situations. I love the element of surprise: At first, you're looking at a dark, sexy wine painting – but then you blink, and there's a box of your favorite cereal paired with a $400 bottle of French red, and it's funny – but it also tells a story."
Amy has been selling her fine art for over 15 years. She began as a Mythic Realist – painting upbeat, bright, and magical urban scenes of great cities from San Francisco to New Orleans to New York to Paris. Most recently she developed a playful style that she had coined Pop Trompe L'oeil – images incorporating the humor of Pop Art with the seriousness of the trompe l'oeil genre.
Amy comes from a rich San Francisco tradition. Her grandfather, Al Nelder, was the revered former Chief of Police for San Francisco and her mother, Wendy, is the former president of the San Francisco Board of Supervisors.
Earlier in life she trained as a professional opera singer and was invited to study by top instructors from both the Metropolitan Opera in NY and the San Francisco Opera. As a pop singer she opened for such greats as Ray Charles and was courted by the management team of Carlos Santana.
Go here to read more about the artist.
CARRIE GRABER
(b. 1975, American )
Carrie had the pleasure of growing up in Southern California, hot summers and warm glowing colors forever romanticized their way into her work.
She graduated with distinction, in the fall of 1997 from Art Center College of Design where she studied with such luminaries as Burne Hogarth, Harry Carmean and Richard Bunkall. Shortly thereafter, she took a position as an artist apprentice with famous Impressionist Aldo Luongo. A short year later, Aldo sponsored her to develop a body of her own work. Carrie's first opening was in coastal Cambria, California in 1999, and a success. For the next decade, Carrie traveled the world, showing exquisitely developed oil paintings and charcoal drawings. Her admiration for figure and form, juxtaposed with observations of light and shadow, and steeped in a fascination with composition materialized in hundreds of paintings.
Go here to read more about the artist.
ALDO LUONGO
(B. 1941, Italian )
Aldo Luongo was born in Argentina of Italian heritage. Shortly after his graduation from the Academy of Fine Arts in Argentina, Luongo came to the US for his 2 loves: art and soccer.
A series of black and white unlimited edition prints brought his name to popularity. Aldo has continued his reign at the top of the contemporary art world for over four decades – a distinction that puts him in a class of his own. He has received numerous awards and honors, including being named a 4 – time official Olympic Artist (Summer 1988, Summer 1996, Winter 2002, and the upcoming Winter 2010 in Vancouver); an official World Cup Artist (1998); an official U.S. Women's World Cup Artist (1999); the 1999 Sports Artist of the Year (U.S. Sports Museum); and commissioned by the White House to join in the famous Easter Egg Hunt, which is now housed in the Smithsonian.
Go here to read more about the artist.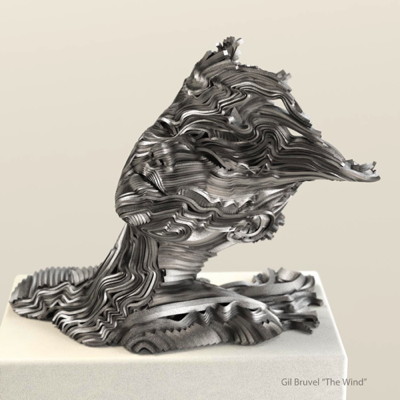 GIL BRUVEL
(b. 1959, French)
Although Gil Bruvel's work resists classification, the artist himself refers to his style as "visionary." His luminous, meticulously detailed paintings have classical nuances that reflect his training and studies in art and history at an early age. But where his thoroughly modern, futuristic, landscapes and visions come from is just as enigmatic as the works themselves.
Go here to read more about the artist.
645 Beach Street
San Francisco, California  94109
Gallery: (415) 749-1000
V Marketplace
6525 Washington St.
Yountville, CA 94599
Gallery: (855) 275-3686
About the two Galleries:

Family owned and operated, with over 25 years in gallery management, Chloe Fine Arts Gallery represents American and International Modern and Contemporary art through its well-known San Francisco and Yountville, California galleries.

The artists we represent have shown or are placed in private, public and museum collections worldwide, including: the Museum of Modern Art New York; the Fine Arts Museum of San Francisco; the Chicago Art Institute; Queen Victoria Museum and Art Gallery; Musee de Monaco; Museum of Israel; the International Russian Cultural Foundation, Moscow; Museum of the Southwest; Pepsi-Cola; the Smithsonian Institute and the Zurich Insurance Corporate Collection, to name a few.

Not only do we represent contemporary artists through our galleries, but we source modern and contemporary art for our clients. A short-list of artists we have sourced includes: Matisse, Moore, Maillol, Calder, Dali, Magritte, Miro, Rauschenberg and Warhol. This service is by request so please be in touch if you are looking to add blue chip art to your collection.

The principal owners are proud of their commitment to their Bay Area roots. Our President and our C.O.O. are second generation Napa Valley born with family coming to the region in 1959. Our Vice-President and resident artist, Amy Nelder, is fourth generation San Franciscan with deep roots in the politics and civic governance of the city.

We are a leader in the sustainable art gallery business. In 2012 we were featured as the small business representative by PG&E, as a sustainable example for California small businesses. In 2013 we were awarded with a certificate the City and County of San Francisco for being the first art gallery to become a San Francisco Green Business.

We also gratefully support charity through the galleries. Although we participate in a variety of charities our primary annual focus is with America SCORES Bay Area, the Juvenile Diabetes Research Foundation and the Homeless Prenatal Program.

Chloe Gallery San Francisco is a 3,500-sq.-ft. gallery located at 645 Beach Street in San Francisco, one block south of Gary Danko. Beautifully appointed, the gallery consists of seven viewing areas with exhibitions changing on a monthly basis.

Chloe Gallery Yountville is a boutique gallery in the heart of the valley located on the 2nd floor of the V Marketplace in the center of Yountville.

Our goal is for you to feel well-informed and entertained, while knowing you are being assisted by caring professionals who have dedicated their lives to fine art.

More information and contact form here.