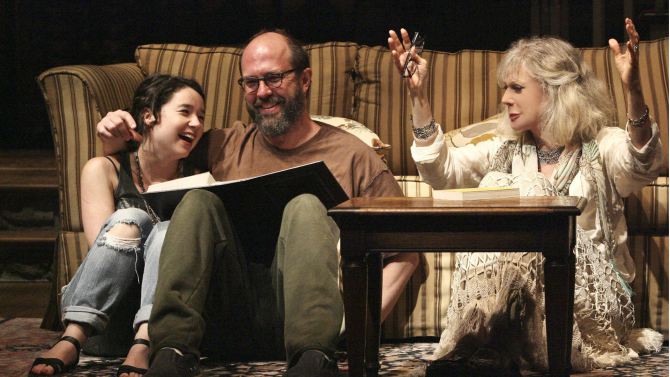 Pulitzer Prize-winning playwright Donald Margulies' new comedy The Country House makes a stop at the Geffen Playhouse on its way to an October opening on Broadway in a co-production with the Manhattan Theatre Club. The story of a famous acting family's trials and tribulations — taking place in its summer home in Williamstown, Massachusetts — is an admitted riff on Chekhovian themes but with one-liners delivered more in the style of Noel Coward.
Blythe Danner brings her trademark grandeur to the role of matriarch Anna Patterson, a legendary stage actress who's returned to the family country home while she stars in George Bernard Shaw's Mrs. Warren in summer stock at the local theater. Anna's brought along Michael Astor (Scott Foley), a longtime family friend and television heartthrob who's also in town to star in Ferenc Molnar's The Guardsman. Since Michael's house is being fumigated, Anna insists that he stay in her home. This is much to the consternation of granddaughter Susie (Sarah Steele), a no-nonsense Yale student who eschews the family's artistic legacy but is nonetheless dumbstruck by Michael, for whom she's harbored a longstanding crush since she was a toddler.
It happens to be the first anniversary of the death of Kathy, Anna's daughter and Susie's mother, who is described as having been a superbly talent actress who was also luminously beautiful. Susie is outraged that her late mother's husband, A-list director Walter (David Rasche), would bring his young fiancée, Nell (Emily Swallow), to such a solemn occasion, and treats her with hostility. Nell, for her part, maintains a refreshing sense of humor about it all, even commenting at one point, "I feel like Joan Fontaine in Rebecca."
Everything is observed with bitter irony by Anna's only son, Elliot (Eric Lange), a failed actor who is content to lay about, living off the family while jealously mocking their successes. Like Konstantin in The Seagull, he's taken a stab at playwriting. He asks the assembled party to participate in a table read of his first effort, only to be shot down for his feeble attempt. To make matters worse, Elliot had worked in a show with Nell years before and, although their relationship was platonic, had become smitten with her. He follows her around the house like a sad puppy, hoping to rekindle the love that never happened.
Meanwhile, all the females in the household fall under Michael's spell, leading to a rather pathetic seduction attempt by Anna as a way of reclaiming her faded youth.
The performances are solid for the most part, with Steele and Swallow coming off best as the characters with the most dimension. Although Danner could play Anna in her sleep, she's admittedly fun in the role. Despite Lange's best efforts, Elliot is a whiner, deserving of his family's ridicule — until he receives a redemption of sorts in the play's melodramatic third act.
Daniel Sullivan's direction is smooth and punctuates the audience-pleasing comedy. Peter Kaczorowski's lighting and Jon Gottlieb's sound effectively add atmosphere to John Lee Beatty's handsome, split-level scenic design. Peter Golub's lush music, which pours in during scene changes, gives the production a somewhat risible TV show feel.
Some retooling surely will be in store before the show's Broadway run. The play is pleasant enough, but it's predictable and fails to raise the pulse.
The Country House
Geffen Playhouse's Gil Cates Theater
10866 Le Conte Avenue,
Los Angeles
Runs through July 13, 2014
Tuesday through Friday at 8:00 p.m., Saturday at 3:00 p.m. and 8:00 p.m. and Sunday at 2:00 p.m. and 7:00 p.m.
Tickets can be obtained online here or by calling the box office at (310) 208-5454.
Review by Kurt Gardner.