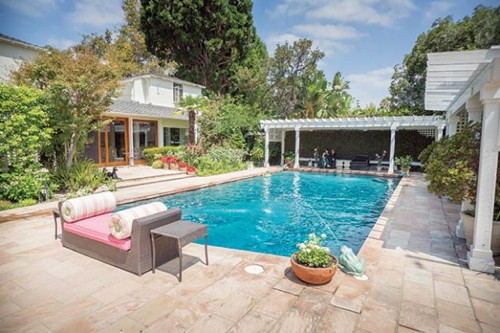 A model and a rocker create a tranquil setting in Toluca Lake to anchor their family.
In the heart of charming Toluca Lake, at the end of a quiet cul-de-sac, lies a refined, tasteful, traditional two-story home. From the exterior it probably looks much like it did in 1939 when it was built … one of the things that attracted Mitzi Martin. She discovered it two years ago while her husband, Buckcherry lead singer Josh Todd, was on the road.
Mitzi, who has a successful career as a model, was attracted to the fact that it had "a little bit of a patina on it, with real hardwood floors and brick." Yet she hesitated about taking on a complete remodel. 
A year went by, and Mitzi heard the owners had dropped their price. "Josh called me from the road and said, 'Buy the house.' He never even saw it," she marvels.
The family, which includes daughter, Willow and son, Martin, migrated here from the Westside. "Hollywood's great when you're young, but we just grew out of it," Josh explains. 
"You can shop easily, and the mall's amazing. There's parking everywhere, and you can hike. So we became Valley kids," Mitzi adds.

Complemented by beautiful, antique marble light fixtures and marble fireplaces, the four-bedroom main structure is bright, airy and kid-friendly. The recent remodel introduced more white marble throughout—even in the laundry room situated behind the predominantly white, pristine kitchen.
With its Mediterranean blue-and-cream rug, built-in shelving that is painted a deep blue and sunny yellow, and cotton velvet upholstered couches, Mitzi declares the living room her favorite area. Small vintage ottomans, purchased from the Rose Bowl Flea Market and recovered, flank the coffee table.
The family can often be found hanging out in the backyard under one of the covered lanais that frame an enormous, 12-foot-deep pool. "It's amazing, beautiful and so glamorous, and of course the kids love it too. It comes in handy as they swim all through 'til October," she quips.

To read the rest of this interview, please go here.