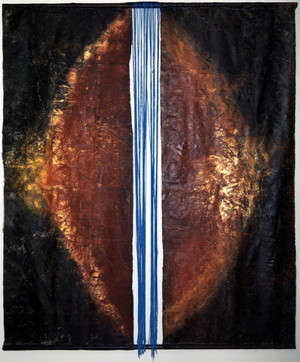 Large paintings on rice paper and silk that are enhanced by natural-fiber, string, twine and rope — the delicate and expressionistic artworks created by award-winning painter Pam Douglas are best experienced in person. While the two-dimensional images seen here are striking, they fall short of fully representing these textural and hypnotic artworks. When seen in person, these paintings and wall hangings offer a sense of fragility as well as timelessness.
Douglas unites the cycle of birth and death in her newest exhibit "The Long Thread," now on display at Bergamot Station's TAG Gallery in Santa Monica through September 27, 2014.
Special TAG Gallery events include an Artists' Talk on Sept. 20th. More information below.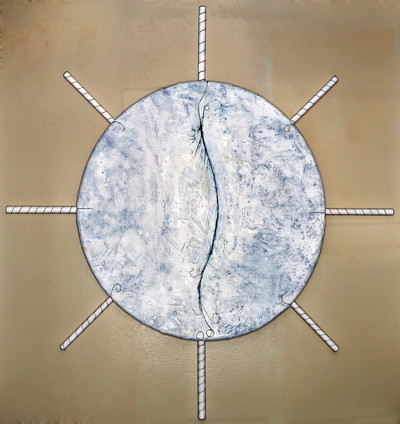 The exhibit features several large-scale original paintings on silk and rice paper. Each work moves beyond the abstract when informed by its back story. The arts-and-crafty aspect is also elevated by the use of luxe materials such as silk. The translucent material in The Source Within suggests the transmutation of energy during birth. The deceptive simplicity of The Signs of Spring evokes the cyclic existence of one's lifetime as well as the hope contained in new life. These themes are echoed in One, with the rough yarn stretched across a circle within a circle redolent of a Native American 'dream catcher.'
A Special Events for The Long Thread:
Saturday, September 20thfrom 5 PM to 7 PM: Artists' Talk, a discussion among the 3 artists.
This event is free and open to the public.
About the Artist:
Pam Douglas, whose work is widely collected, enjoyed a six-month exhibit at the California African American Museum and has also been exhibited at The Los Angeles County Museum of Art (LACMA). Juried shows include TarFest, i-5 Gallery at the Brewery Art Complex, The California Open, Arena One Gallery, Gallery Five08 in Santa Monica, and the Palm Springs Fine Art Fair.
Douglas is a member of California Artists Coalition of Los Angeles (CACLA) and Women Painters West. She is also an award-winning writer and professor at the USC School of Cinematic Arts.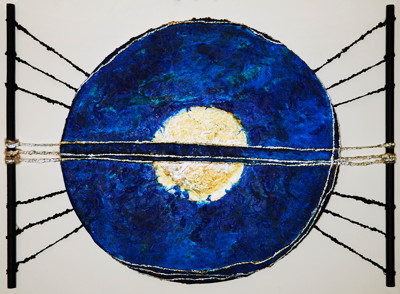 The Long Thread runs from September 2—27, 2014.
TAG Gallery is located at Bergamot Station,
2525 Michigan Avenue D3 in Santa Monica.
Normal gallery hours are:
Tuesday through Saturday 11AM – 5PM; and Sunday afternoons.
For more information, call TAG Gallery at 310-829-9556 or visit them online here.
For more information about Pam Douglas and her work, visit her website here.