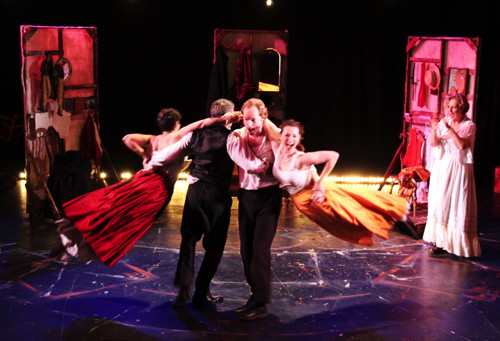 It takes a highly talented actor to emulate a real-life theater legend. Born 1856, Gabrielle Réjane (her stage name) was a remarkable French actress and innovative theater impresario who altered French culture, its fashion and socio-politics during the late 19th Century. Conceived and written by Ilana Turner, a new play about this striking French icon, O Réjane, is now playing at the Bootleg Theater. Within a dynamic cast of six, Réjane is brilliantly portrayed by Cara Pifko, who gives a vivacious, authentic and exuberant performance that captures the impact this unique artist must have had on Parisian society and the theater world.
It was a time where overblown melodrama ruled the stages, yet a more naturalistic style of acting was starting to be introduced. Réjane recognized herself as a force of change and fought for artistic independence (the right to sign her own name on acting contracts, not merely to be permitted to act by her husband) and she also strove to present controversial texts and subjects on stage. She virtually single-handedly created a personal acting style that encompassed vivacity and animated expression. Notably, Réjane was Henrik Ibsen's favorite 'Nora' in his groundbreaking drama A Doll's House and she helped to usher in the naturalistic style of acting to which we are now all accustomed. She opened the Théâtre Réjane (now Théâtre de Paris) in 1905, and staged popular new works such as Maeterlinck's The Blue Bird. While her career, like many, had its ups and downs, she mostly experienced success and popularity and reigned as "Queen of the Boulevard" during her lifetime. Réjane was committed to championing 'La Parisienne' in all her glory.
This production is simply staged with the use of five small sets on wheels that resemble backstage flats (as seen from behind, or backstage) each with costumes and lights and various items stashed on them. These little upright 'trucks' are pushed and pulled around the stage in a fluid and choreographed way. The show is narrated by a pixie-like circus maestro, dubbed 'The Sage of Paris,' and played with electrifying animation by the highly talented and poised Valerie McCann. The Sage expertly ushers us through the story with her knowing comments and conspiratorial tone. Her narration paints a vivid portrait of the colorful world of Parisian theater, from the legitimate and respectable stages to the vaudeville halls to the private salons where more daring presentations were permitted. Under Christopher Sivertsen's direction, the cast give a united and dynamic performance that ebbs and flows and grips the viewers throughout its roller coaster journey. The cast also pick up instruments and burst into pretty songs from time to time, or explode with a choreographed movement.
A visual feast, O Réjane also uses original text, stylized movement and excerpts from the plays that made her famous to tell Réjane's humble-to-haute story. The show stars Cara Pifko, Joseph Will, Patrick Wenk-Wolff, Cecilia De Rico, Ilana Turner, and Valerie McCann. O Réjane is directed by Christopher Sivertsen, Artistic Director of UN-Certified Swedish physical theater company Awake Projects.
Above all, Cara Pifko gives a ferocious performance that sears itself into your memory. She tackles and humanizes a shifting style of theater that was formerly histrionic. Pifko occasionally affects a cockney accent to approximate a low-class French one (for some of her startling roles) and her character's driving ethos can be summed up with her bold claim, "Audiences are desperate for something substantial," as well as her savvy recognition that "The theater is trending towards the truth."
Thanks to Ilana Turner's detailed conception, poetic flourishes delight and the show uses dance and movement (including a buoyant can-can dance sequence) to underpin the authentic text and to express extreme emotions. As the show's luscious lead asserts, "I am blazing into the 20th Century — I will always be a raunchy work-in-progress."
Do not miss this vibrant show!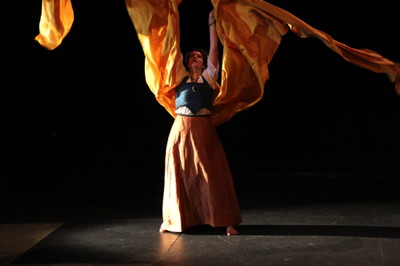 O Réjane by Ilana Turner.
2220 Beverly Blvd.
Los Angeles, CA 90057
Runs through December 6, 2014.

Thursday, Friday, Saturday at 7:30PM (except 11/27)
Sunday 11/30 at 2PM
Tickets are $20 general admission/ $15 students and seniors.