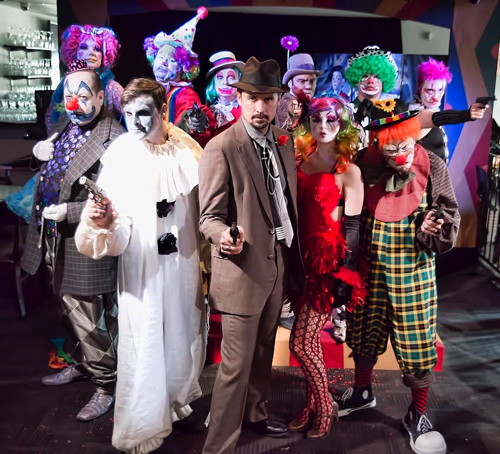 Clown Bar is an absolutely bizarre bit of madness about clowns that plays Thursday nights only in Pasadena. Labeled "clown noir," and based on the premise of a bar run by and for clowns, in all their gaudy neuroses, the play was written by Adam Szymkowicz originally for a New York production. Making its West Coast premiere, it's directed by Jaime Robledo using a cast of actors who do not normally play clowns.
The venue's large restaurant space (redwhite + bluezz) has been filled with small tables that surround the center-action. A three-course prix fixe dinner is served (or you can just buy a ticket to see the show) during which the actors are doing whatever their clown-characters have been asked to do in the play. The entire evening, frankly, was weird beyond belief, and for the unsuspecting it may very well trigger coulrophobia (a fear of clowns, an actual disorder).
There's a 30-minute "pre-show" cabaret act that beggars description. I suspect it's intended to get the audience to down some alcohol, which might help them enjoy the show. This first act was mostly a series of cabaret songs, jokes and warm-up banter with the audience. The evening's second act is the play itself, whose plot centers on a gangster-clown series of grisly murders.
It's truly hard to summarize what the action consists of, but it has something to do with a former-clown turned police detective, Happy (Shawn Parsons), investigating the rubbing-out of his younger brother, Timmy (Joe Fria), a failed clown. His previous girlfriend, Blinky (Emily Goss), was taken from him by the boss-clown Bobo (Bruno Oliver). She wants to come back to Happy, but first they must eliminate the boss without getting killed themselves, which, in classic noir fashion, sort of happens.
At least that would appear to be the plot… But the ultimate point of the evening, aside from celebrating strangeness, got lost. Far too often the actors were asked to live up to the notion of clowns being loud, obnoxious and thoroughly misunderstood. Those actors who managed to play their characters' reality without hysteria played their intentions well. These include Amir Levi as lounge singer and narrator Dusty, a sad-sack of a clown in desperate need of mood-lighteners; Mandi Moss as killer-clown Popo; and, especially Rafael Goldstein as Twinkles, a masterful old clown.
If anything stands out, it's costume designer Linda Muggeridge's expressive creations, which complement the actors' makeup, granting each of these clowns an individual personality. Robledo does what he can to make sense of the action, but I'm afraid the script failed him.
It's hard to imagine who the target audience is for this show, as apparently it was a hit in New York. Clown Bar is not bad in this iteration, but I didn't fully understand what they were doing. Silly red clown noses are handed out to audience members upon entry – presumably to get us into the proper frame of mind, abetted by the booze, for such a goofy show – but they disappeared soon enough.
Also, the script lacked wit, although the slapstick seemed to entertain some in the audience. (Confession: I did laugh once at the wordplay on 'rye' and 'wry.') But as one gal, sitting next to me, observed, "What are we suppose to feel for these characters? It wasn't set up for us." So very true. Who are these characters? Why should we care for them?
There are folk out there who will appreciate what redwhite+blueArt Productions is presenting, but unhappily I wasn't one of them. See Clown Bar at your own risk.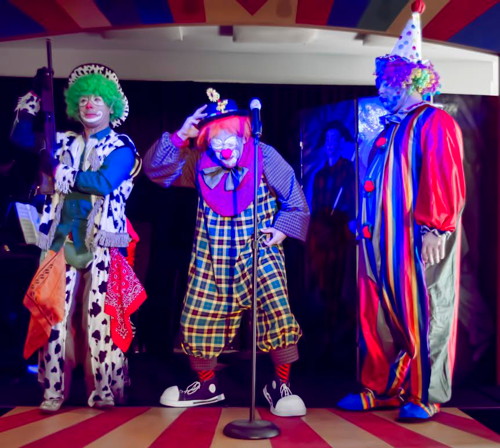 Clown Bar
redwhite+bluezz (bar/restaurant)
At The Pasadena Playhouse
37 S. El Molino Avenue, Pasadena
Thursday nights only, until Thursday, January 29, 2015
8:00 PM (7:30 pre-show cabaret)
Tickets: $60 includes prix fixe dinner with three entrée options or $30, show only.
Buy tickets online here or call the box office, 1 800-838-3006
  Reviewed by Dale Reynolds.