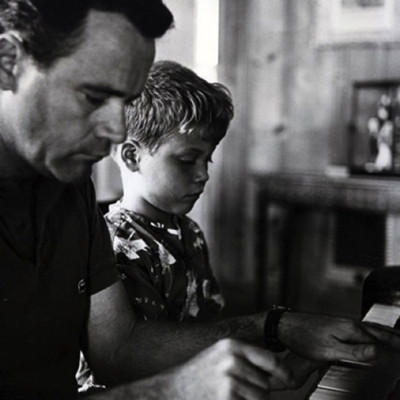 American TV and film actor and musician John Uhler "Jack" Lemmon III (February 8, 1925 – June 27, 2001) was one of the great 20th century film actors, a master of comedy and drama. Lemmon's astounding career lasted right up until his death from colon cancer, aged 76. He left his fans with enduring memories of his work in such films as Some Like It Hot, The Apartment, Mr. Roberts (Oscar winner for Best Supporting Actor), Save The Tiger (Oscar winner for Best Actor), The Fortune Cookie, Grumpy Old Men, etc. Lemmon mostly starred in major studio films, turning in honest portrayals and winning our hearts, as the cliché goes.
His only son of four children, Christopher Lemmon (b. 1954), has fashioned his memories of the very personal relationship between father and son into a stage show, Jack Lemmon Returns, and what transpires is 85-minutes of nostalgia, facts and musical remembrances.
Hershey Felder, known for his musical stage biographies of composers and musical eras long gone, wrote the script and has directed Chris Lemmon in this awkward but ultimately moving show. Awkward because for all its personal meaning to Chris, his acting abilities fall short. His physical resemblance to his father is remarkable, though, and Chris has also mastered his dad's vocal mannerisms and facial expressions, making the experience both spooky and delightful.
Chris relates the show as if his father were in front of us, even when the old man is talking about this boy-turned-man, in that fey manner Lemmon perfected. Stories include the pair fishing together as well as tales of the nights when extraordinary movie stars would come to parties at the home of Lemmon and his second wife, Felicia Farr. It's a lovely insight into this complicated man who battled alcoholism – even outlining how he won that battle before his final two years of cancer-fight.
This is a unique show; musically adept and full of useful information, provided you possess some knowledge of the great film actor's career to use as a foundation.
The 110-seat Edye Black Box at the Broad Stage is intimate, with high-enough ceilings to allow for an excellent lighting plot (designed by Jason Beiber), aided by useful projection work designed by Andrew Wilder.
All in all, it's a captivating evening made more resonant by the son's charm and his deep love for his father. All that comes through in non-treacle ways, making it worth the visit.
Jack Lemmon Returns plays through February 1st, 2015, at the Broad Stage at the Santa Monica College Performing Arts Center
1310 11th Street (at Santa Monica Blvd), Santa Monica, CA 90401.
Tickets available for purchase online here or by phoning the Box Office, 310.434.3200.
Reviewed by Dale Reynolds.