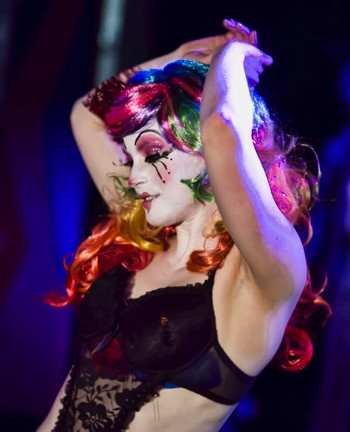 Hello dear readers and #LAThtr aficionadi,
Here follows my latest review for the critical website Stage Raw  — which contains current arts and theater coverage from our intrepid team of journalists & critics.
Happy reading!
Clown Bar by Adam Szymkowicz.
Adam Szymkowicz's noir comedy is set in a place of his invention — the clown underworld. Here the clowns are not those funny, entertaining party creatures but criminals with damaged psyches. Sure, there are red noses, silly wigs, painted faces and colorful costumes, but that's almost as far as the actual clowning stretches.
Though Szymkowicz's play is itself problematic, Jaime Robledo's immersive staging is even more so. (Robledo sets the play in an actual bar.)
Things start engagingly enough, with half an hour of cabaret, performed by sad-sack clown and lounge singer Dusty (Amir Levi) accompanied by another clown tinkling away on piano. After a short intermission, the play itself commences while the audience drinks and dines throughout the rest of the evening. In addition to the cabaret-style opening, there are several song breaks throughout the play featuring clever lyrics.
Former clown-turned-cop Happy Mahoney (Shawn Parsons) returns to his old stomping ground — a seedy, crime-world bar — to find the killer of his brother Timmy (Joe Fria, seen in flashbacks). There, Happy encounters his old pals, a roster of sleazy, corrupt clowns, as he tries to solve the murder.
Even with its short running time of just over one hour, it proves to be a convoluted whodunnit. There are too many characters — all clowns except for hard-boiled Happy — and that makes it tough to follow the muddled storyline. Additionally, the clown metaphor proves to be little more than a gimmick, since the conceit is not fully explored. They all look and dress like clowns, but almost none of the characters does any actual clowning – one notable exception: during a brief interlude, an angry clown named Popo (Mandi Moss) gives an animal-balloon demonstration. One animal turns out to be a machine gun that Popo then uses to mimes strafing the audience. Echoes of Charlie Hebdo? Here, the hostility is more gratuitous than emblematic.
You can read the rest of this review here.
Clown Bar
redwhite+bluezz (bar/restaurant)
At The Pasadena Playhouse
37 S. El Molino Avenue, Pasadena
Thursday nights only, until Thursday, January 29, 2015
8:00 PM (7:30 pre-show cabaret)
Tickets: $60 includes prix fixe dinner with three entrée options or $30, show only.
Buy tickets online here or call the box office, 1 800-838-3006