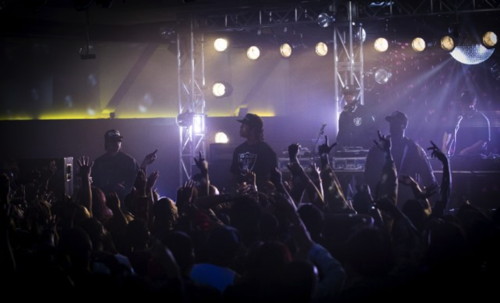 An exciting music biopic, with solid storytelling and charismatic young leads, Straight Outta Compton proves surprisingly gripping fare. Whether or not you remember the groundbreaking and controversial hip-hop group N.W.A, and no matter if you're a fan of gangsta rap or not, there's enough of a compelling story to entice a wide range of viewers.
F. Gary Gray shoots the screenplay by Jonathan Herman and Andrea Berloff with aplomb, capturing the outrage and injustice of the era (late eighties, early nineties) and charting the rise and feuds that the young rappers faced throughout their incendiary careers. The movie was co-produced by Ice Cube and Dr. Dre.
Backstory:
In the late eighties, a tight group of youths from a little-known 'hood in South Los Angeles burst onto the underground music scene with some anger-fuelled rap songs that eventually altered the face of American hip hop music.

With members that included Eazy-E (a.k.a. Eric Wright), Dr. Dre (aged 21 at the time), Ice Cube (barely 18), MC Ren and DJ Yella, the feisty and outspoken gangsta rap group N.W.A —aka 'Niggaz Wit Attitudes'— launched their edgy brand of hip hop with the 1988 debut studio release Straight Outta Compton, to this day one of the key groundbreaking albums of the gangsta rap music genre. The aggressive and accusatory lyrics vividly illustrated their violent way of life to a world unfamiliar with their gang-ruled streets. In their day, N.W.A was considered a dangerous music group, thanks to their controversial and explicit lyrics that many viewed as being disrespectful of women and law enforcement, as well as glorifying drugs and crime. One of their most notorious tracks, Fuck tha Police, protested police brutality and racial profiling. "They have the authority to kill a minority," rapped Cube. No wonder the group's music was barred from airplay on most mainstream American radio stations. Local popularity and media coverage compensated, with Straight Outta Compton eventually gaining double platinum status, notably being the first record to do so with little airplay support and no major tours.
While the script pulls no punches — the central characters are mostly sympathetic, but they're no angels either — it is surprisingly subtle in parts. Early on we see teenaged Ice Cube (well-portrayed by the rapper's son O'Shea Jackson) gazing longingly at couple of privileged white students in a convertible, driving out of the school parking lot as he departs in a yellow school bus. The school is a handsome, red brick structure with well-manicured grounds. What some audience members may not realize is that Ice Cube was bussed out of his South Los Angeles neighborhood to the affluent Valley suburb of Woodland Hills, where he gained a glimpse of affluent living. We also see him working out lyrics in his notepad, on what was surely a tedious, one-hour plus (each way ) daily commute to school. It's to the credit of the screenwriters that they don't boldly underscore story points such as these, but permit us to draw our own observations.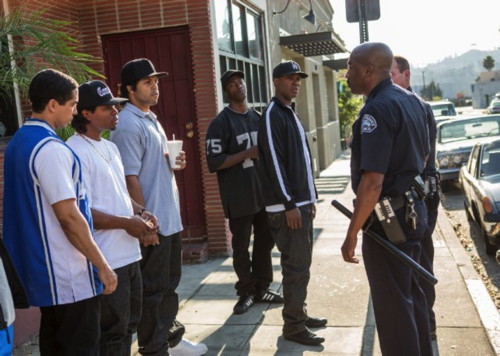 Gray makes sure to include plenty of action-packed scenes, such as the shocking drug bust involving central character Eazy E (Jason Mitchell) that opens the movie, the boys pulling guns on some threatening guys in a hotel corridor while on tour, wild parties with naked women, a brief L.A. street chase of Dre (Corey Hawkins) being pursued then arrested by cops, as well as a memorable scene of justifiable violence involving an irate Ice Cube. Oddly, scenes of drug use are virtually absent, though we see one character weighing a mound of weed and someone smoking a joint. Characters peripheral to the five key N.W.A members include Suge Knight (R. Marcus Taylor), Snoop Dogg (Keith Stanfield) and Tupac Shakur (Marcc Rose) and each are given a decent amount of screen time. Paul Giamatti inhabits the slimy skin of the band's former manager Jerry Heller, who was intrinsic in the group's rise and fall.
Certain scenes, such as the numerous episodes of senseless police harassment, are impossible to watch without sharing their outrage. The movie is full of some of the most infamous and popular songs of the day, so there's plenty of thumping, hooky, deep and dirty beats teamed with the notoriously aggressive and inflammatory lyrics. Throughout the film the quality of the sound mix is superlative. Above all, the spot-on casting of the picture ensures we empathize with these real-life charismatic characters. Even at two-and-a-half hours, Straight Outta Compton is compelling viewing.