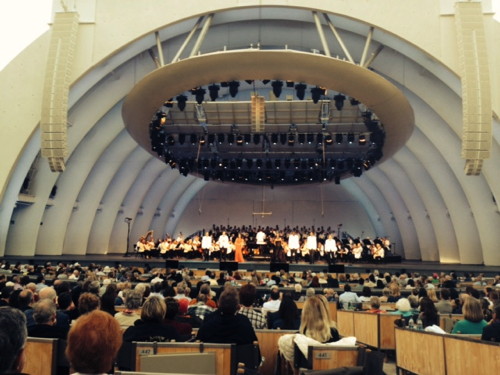 The LA Philharmonic stages an opera performance in concert at the Hollywood Bowl every summer. This year, that opera was Giuseppe Verdi's La Traviata ("The Fallen Woman").  Based on Alexandre Dumas' "La dame aux Camelias," La Traviata tells the story of Violetta, a courtesan who falls in love with a young man but gives him up to avoid scandalizing his family. Violetta and her beloved Alfredo Germont are reunited in the end with the blessing of his father who has come to realize that the fallen woman is a person of rare character and nobility, but the reunion comes too late. Violetta dies of tuberculosis in Alfredo's arms.
The cast for this single performance, made up of young and promising performers, was exceptional.  The singers were dressed in evening clothes and there were no sets and only a few props. Russian soprano Venera Gimadieva looked gorgeous and sang beautifully, a moving and effective Violetta.  American tenor Stephen Costello, recipient of the 2009 Richard Tucker Award, was an ardent and appealing Alfredo Germont. Italian baritone Simone Piazzola, who turns 30 years old this year, as Alfredo's father Giorgio Germont, displayed a true baritone with an intensity of tone that appears to be very well suited to the big Verdi roles. He is an artist to watch.  Tenor David Portillo was a charming Gastone.
The entire cast effectively conveyed the drama within the confines of a concert performance. Conductor Diego Matheusz conducted the score briskly, sometimes pushing the music a bit to aggressively, but the Philharmonic played beautifully for him. Both Alfredo and Giorgio sang the cabalettas – the quick final climactic section – to their Act 2 arias, which are often cut in performances. Violetta got to sing both verses of her last act aria, "Addio del Passato," which was both beautiful and touching. The performance was shown on screens on either side of the stage, along with projected translations of the Italian text.
The Hollywood Bowl is one of the most beautiful concert settings in the world. What a treat to see opera played by a great orchestra and sung by world class performers in that lovely setting!
Further information about the performers can be found on their respective websites: