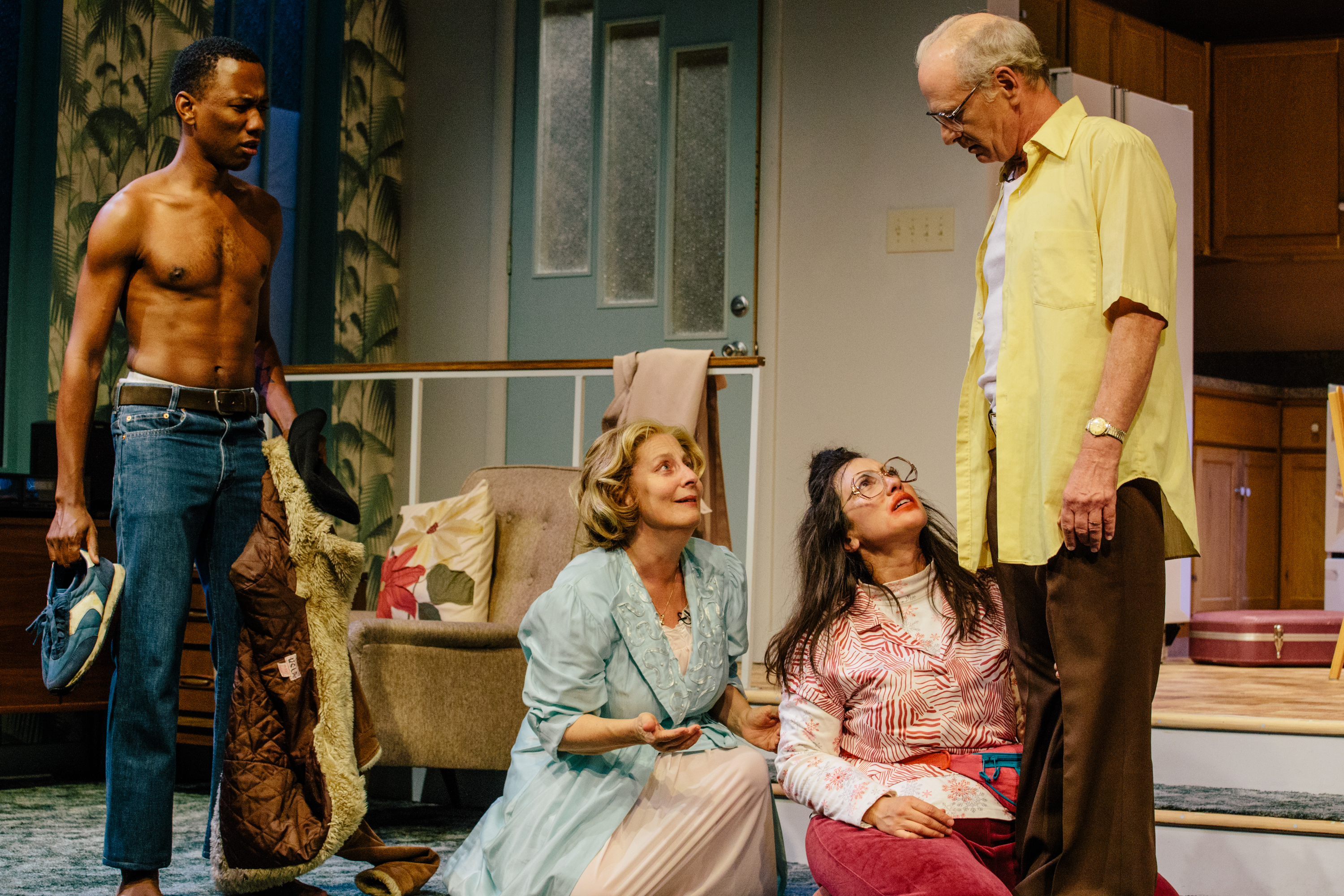 In one of his early plays, Donald Margulies examines how one couple's best laid plans for their twilight years become dismantled when they fail to reconcile properly with the past.
It's the late 1980s and elderly couple Max (Michael Mantell) and Lola (Marilyn Fox) have left Brooklyn to retire in Florida. Both Holocaust survivors who met after the war, they are now realizing their dream of spending their final years in a deluxe seaside condominium. As their new home is not yet ready, they have to make do for a few days with a showcase apartment. They are impressed with the chic, mid-century modern styled decor but dismayed by an empty (fake) TV plus a non-functioning refrigerator. Oh well, they've certainly experienced much worse.
All of a sudden, following an end of scene blackout, an intrusive, vulgar and unkempt young woman appears. Turns out Max and Lola abandoned their slightly mentally-challenged (but not stupid) adult daughter in a care facility. Debby (Annika Marks) has tracked them down. Worse, she's run away from her institution and is off her meds.
The Model Apartment (written in 1988 but not premiered until 1995) is an early work by Donald Margulies, best known for The Country House, Time Stands Still, and his Pulitzer Prize-winning play Dinner with Friends (2000).
Marya Mazor directs her superb cast well, but the play itself is problematic. Also some of Mazor's staging choices seem questionable. I'm sure the dream sequences are supposed to be creepy, but are they also supposed to hint at a possible past episode of pedophilia? The text doesn't appear to support that. Additionally, Margulies' play is lean on plot and therefore some scenes drag on and certain topics feel belabored, such as Lola's concentration camp reminiscences, and Debby's insensitivity to her parents' wartime experiences. It doesn't help that the Debby character is truly grating; when she is not eating sugar from a packet, she's gobbling cornflakes from the box by the handful and carelessly tossing crumbs all over the place. The appearance of her young and similarly ill-mannered boyfriend Neil (well-played by Giovanni Adams) just doubles down on the annoyance factor. To her credit, Annika Marks beautifully embodies both the manic Debby and a figure from Max's past (his other daughter, Deborah), switching costumes from a convincing fat suit to a plain dress, several times throughout.
The Model Apartment is being given a handsome and classy staging at the Geffen. But given that this play intentionally unsettling, it was not an enjoyable experience for me.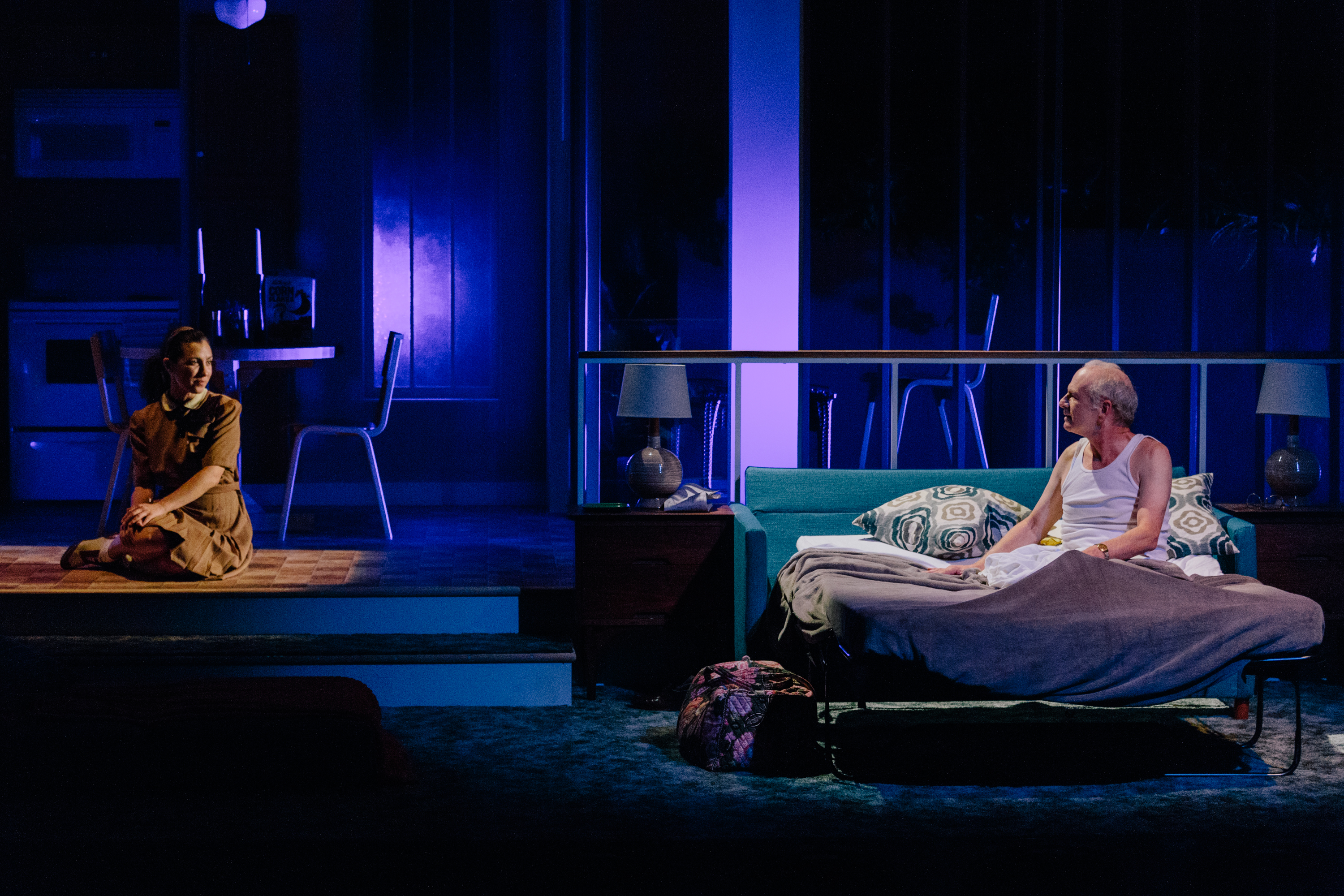 The Model Apartment by Donald Margulies.
Audrey Skirball Kenis Theater at Geffen Playhouse
10886 Le Conte Ave.,
Westwood
Performances:
Tuesday-Friday, 8 p.m.
Saturday, 3 and 8 p.m.
Sunday, 2 and 7 p.m.
Runs through November 20, 2016.
Tickets: $60-$76.
Information: 310-208-5454, www.geffenplayhouse.org
Running time is estimated at 90 minutes, no intermission.
Suitability: Adults, mature teens.
SPECIAL EVENTS AT THE GEFFEN:
These Signature Series events are free for ticket holders.
Talk Back Tuesdays give theater lovers a chance for a deeper conversation to discuss plot, character, themes or any other questions directly with the artists with a post-show Q+A from the stage.
---
Wine Down Sundays provides the perfect pairing – pre-performance wine sampling followed by a 7pm curtain time to close out the week. These evenings feature different vintages for each production, so patrons who come regularly will discover a new wine brand before their theatrical experience.
---
| SHOW | DATE | TIME | TICKETS |
| --- | --- | --- | --- |
| The Model Apartment | Nov 20 2016 | 7:00 PM | Tickets |