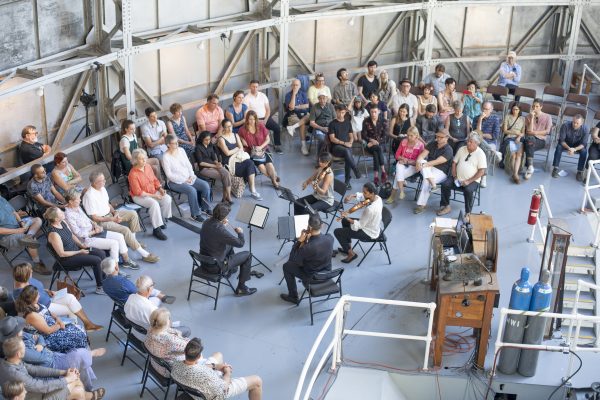 Classical concerts in the clouds! Under the magnificent vaulted dome of the 100-inch telescope, Mt. Wilson Observatory's Sunday Afternoon Concerts in the Dome have resumed with a limited engagement this summer.
This year there will be a brief season of two concerts, to be held on Sunday August 1 and Sunday September 5, 2021—both dates with two performances each—at the Mount Wilson Observatory, the scientific marvel in the mountains above Pasadena.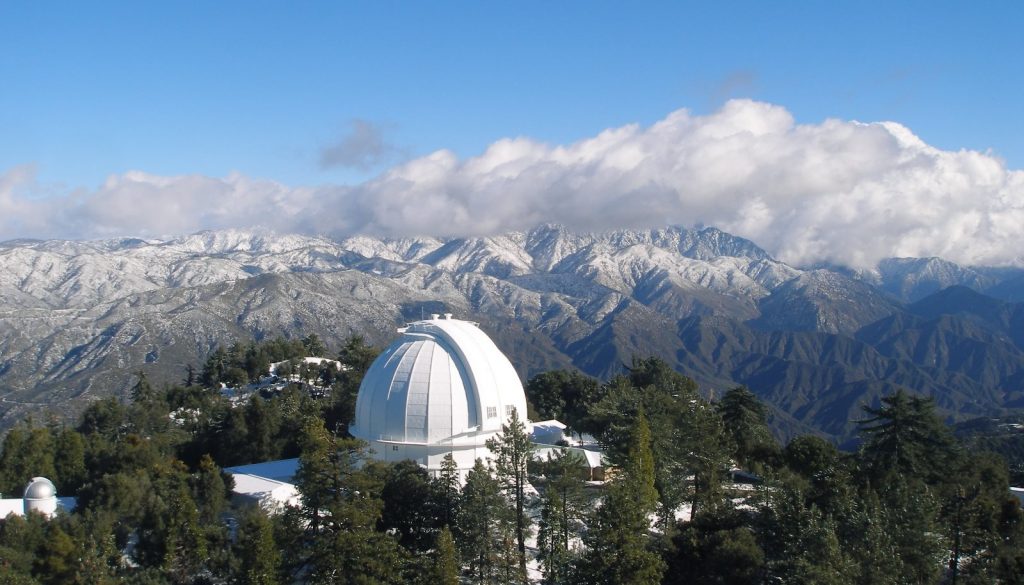 As in the last three years of this series, Artistic Director Cécilia Tsan curates thoughtful musical adventures. On Sunday, August 1, the concert opens with Franz Schubert's beautiful Salve Regina in A major, D. 676, for soprano and string quartet. Then follows the World premiere of Le Lys et la Lyre (The Lily and the Lyre) for soprano and cello, a piece written for Ms. Tsan by French composer Éric Tanguy to a poem by renowned poet and French Academy member François Cheng—a triple shot of French spirit. The program concludes with one of Schubert's iconic works, his String Quartet No. 13 in A minor, D. 804, Rosamunde.

Esteemed performers for the August concert include Elissa Johnston, soprano, Ambroise Aubrun and Henry Gronnier, violins, Alma Fernandez, viola, and Cécilia Tsan, cello. The concert's hour-long performances are at 3:00 PM and 5:00 PM (same program), with an artist reception, including refreshments, at 4:00 PM. In addition, concert-goers will be treated to an exhibition featuring unique astronomical artifacts, drawings, and photographs from the Observatory's collection.
Seating inside the historic dome is limited. Tickets cost $50 each and are available for purchase in advance (highly recommended) or at the door, given availability. Concert attendees must be fully vaccinated. Children under age 12 are not permitted. Access to the dome performances is via a 53-step staircase. Mount Wilson Observatory sits at a mile-high elevation so the air is noticeably thinner. There is no ADA-compliant access. For more information on Sunday Afternoon Concerts in the Dome, please visit https://www.mtwilson.edu/concerts.
All proceeds go to support the Mount Wilson Institute in its mission to preserve, protect and promote the Observatory and the accomplishments there. Poised for rediscovery, the grounds of the legendary observatory—founded in 1904 by astrophysical pioneer George Ellery Hale—are open for free to the public year-round. For visitor information please see https://www.mtwilson.edu/visiting.
More about the Sunday August 1, 2021 Concert:
Franz Schubert, Salve Regina in A major, Op. 153, for soprano and string quartet
In 1816, Schubert composed several liturgical works: a Latin Mass, a German and a Latin Salve Regina, a Stabat Mater, two Tantum Ergos, and a Magnificat, plus a Requiem in 1818. Previously, in 1814, he met a young soprano named Therese Grob, the daughter of a local silk manufacturer. Several of his songs, including Salve Regina and Tantum Ergo, were composed for her voice. In 1819, he wrote another Salve Regina, this one in A major, and began to work on the great Mass in A-flat, which took him nearly three years to complete. Schubert composed seven Salve Reginas between 1812 and 1824. This one, No. 5, is considered the "jewel among the Salve Reginas." It is often played by a string orchestra but this soprano and string quartet version beautifully expresses the deep emotional content of the piece.
WORLD PREMIERE: Éric Tanguy, Le Lys et la Lyre (The Lily and the Lyre) for soprano & cello, based on a poem by François Cheng

François Cheng, poet and friend of Ms. Tsan's parents, who also emigrated from China to Paris in the 1950s, is the only writer of Asian descent to become a member of the venerable Académie Française, the most prestigious honor for a writer in France. In his book, Five Meditations on Death, he quotes a poem that he rendered in calligraphy for Cécilia, and mentions the possibility of Éric Tanguy writing music for his verse. Cheng's vision became a reality in 2019-2020 when Tanguy composed this piece for soprano and cello, dedicated to Cécilia. It was to have been premiered at Mount Wilson last season, but history had other ideas.

Franz Schubert, String Quartet No. 13 in A minor, D. 804, Rosamunde
Beginning in 1824, Schubert turned from the composition of songs to concentrate on instrumental chamber music, composing this String Quartet in A minor, String Quartet No. 14 in D minor, Death and the Maiden, Octet in F major, D. 803, the piano duets, Grand Duo, and Divertissement a la Hongroise, as well as the Sonata in A minor for Arpeggione and Piano, D. 821. Schubert dedicated the Rosamunde to Schuppanzigh, the first violinist of the string quartet appointed by Beethoven. The early months of 1824 were unhappy; Schubert was ill, penniless, and plagued by a sense of failure. In a letter to one of his friends, he wrote of himself as "the most unfortunate, the most miserable being in the world. Think of a man whose health will never be right again, and who from despair over the fact makes it worse instead of better." And yet during these months he composed those masterly chamber works. Schuppanzigh himself played in the premiere performance of the Rosamunde Quartet. This masterpiece has become one of the most beloved pieces of the string quartet repertoire.
Movements:
Allegro ma non troppo
Andante
III. Menuetto – Allegretto – Trio
Allegro moderato

————————————————————————————————
COMPOSER & PERFORMER BIOS:

Éric Tanguy, Composer
Born in Caen in 1968, Éric Tanguy is one of the most performed French composers in the world. Named "Composer of the Year" by the Victoires de la Musique Classique in 2004 and 2008, he studied under Horatiu Radulescu, Ivo Malec, Gérard Grisey, and Betsy Jolas at the Conservatoire National Supérieur de Musique in Paris.

His catalogue contains over one hundred compositions, ranging from solo works to concertos, vocal works and symphonies, performed by many of today's greatest conductors (Lionel Bringuier, Semyon Bychkov, Seiji Ozawa, Michel Plasson, Esa-Pekka Salonen, etc.), soloists, and chamber music groups. In 2001, Mstislav Rostropovitch premiered Tanguy's Cello Concerto No. 2 in France before bringing the work to the United States, performing in Boston and at Carnegie Hall with Seiji Ozawa and the Boston Symphony Orchestra.

His Trio for Violin, Cello, and Piano premiered at Radio France with Marie-Joseph Jude, Stéphanie-Marie Degand, and Cécilia Tsan (who commissioned the work), and was later performed in 2011 by the Pantoum Trio during the Jacaranda Music Festival in Los Angeles.

In January 2014, Paavo Järvi conducted the premiere of Tanguy's symphonic work Affettuoso with the Orchestre de Paris. In December 2015, Matka — an orchestral work commissioned by Jyväskylä Sinfonia and Ville Matvejeff — premiered with the support of the Kone Foundation to mark the 150th anniversary of the birth of Jean Sibelius. In February 2016, Esa-Pekka Salonen conducted three performances of Affettuoso with the Los Angeles Philharmonic at the Walt Disney Concert Hall, and, in November 2017, Pierre Génisson and the Orchestre Royal de Liège premiered Tanguy's Clarinet Concerto. The works of Éric Tanguyhave been published by the Éditions Salabert since 1989, and many of these have been recorded (Decca, Erato, Naïve, Transart, Intrada, Ohems Classics, and Genuin).
Elissa Johnston, Soprano
Recently cited by The New York Times for her "especially lovely" singing, Elissa Johnston's repertoire ranges from Bach, Handel, and Mozart to Messiaen, Carter, and Unsuk Chin. Johnston made her Carnegie Hall debut in 2018 with the Pacific Symphony under Carl St. Clair, singing the role of Sarada Devi in Philip Glass' The Passion of Ramakrishna, as part of Carnegie's yearlong celebration of Philip Glass' 80th birthday. In the 2020-2021 season, Johnston performed in several live capture concerts, with the Los Angeles Philharmonic under Gustavo Dudamel in John Adams' Grand Pianola Music, with Pacific Symphony under Carl St. Clair in Canteloube's Chants d'Auvergne, and with Pittance Chamber Music, singing music of André Previn.
Johnston appeared as soloist in both the West Coast premiere of Reena Esmail's This Love Between Us at Walt Disney Concert Hall with the Los Angeles Master Chorale, and in the world premiere of Michael Daugherty's To the New World with Pacific Symphony. Recent performances include Haydn's Creation with Pacific Chorale, and, as a member of the ensemble, performances worldwide of the Peter Sellars production of Lagrime di San Pietro with the Los Angeles Master Chorale.
Recent chamber music appearances include David Lang's The Little Match Girl Passion at the Ravinia Festival, Schoenberg's String Quartet No. 2 with Quator Diotima at Jacaranda Music, and performances of SPIRAL XII and AURA, both by Chinary Ung in San Diego and Syracuse.
Ambrose Aubrun, Violin
French violinist Ambroise Aubrun enjoys a career as a soloist, recitalist, chamber and orchestral musician and pedagogue. He has performed extensively in Europe and North America in halls such as Salzburg Haus Für Mozart, Yerevan Khachaturian Grand Hall, Los Angeles' Broad Stage, Zipper Hall, Chicago Bradley Hall, and Paris Hotel des Invalides. He has shared the stage with Jean-Yves Thibaudet, Scott St. John, Martin Chalifour, Fred Sherry, Clive Greensmith, Carrie Dennis, Richard O'Neill, Rohan de Saram, and the Borroméo and Ebène string quartets, among others.
An advocate for contemporary music, Aubrun has premiered over 20 works and recently recorded an album dedicated to the music of composer Éric Tanguy alongside violinist Martin Chalifour, cellist Cécilia Tsan, and pianist Steven Vanhauwaert.
Currently Assistant Professor of Violin at the University of Nevada, Las Vegas, Aubrun previously taught Violin and Chamber Music at the UCLA Herb Alpert School of Music, and UC Santa Barbara.
He plays a Matteo Goffriller violin, on a generous loan by the Langart Foundation.
Henry Gronnier, Violin
Henry Gronnier, is a founding member and the First Violinist of the Rossetti String Quartet. Early musical studies took place at the Conservatoire in his native town of Saint Quentin, France, where he was awarded the Premier Prix in both piano and violin. He attended the Conservatoire National de Region de Versailles, receiving the Gold Medal in the class of Madeleine Thuillier Deverge, and continued with Michèle Auclair of the Conservatoire National Supérieur de Musique de Paris. He concluded his studies with Nell Gotkovsky, Sally Thomas, and Zino Francescatti.
Mr. Gronnier made his New York debut at Carnegie Hall's Weill Recital Hall, and his London debut at Wigmore Hall. As a soloist with orchestra and in chamber music ensembles, he has appeared at a number of the world's most prestigious festivals including the Festival of Two Worlds, Spoleto (both in Italy and Charleston, South Carolina), Lucerne Festival (Switzerland), Mostly Mozart at Lincoln Center (NY), Caramoor (NY), Casals Festival (Puerto Rico), and the Festival de San Miguel de Allende (Mexico).
Henry Gronnier is the chair of the string department and on the faculty at the Academy and Colburn School of Performing Arts in Los Angeles, Bob Cole Conservatory at Cal State Long Beach, and on the Advisory Board of the Rocky Mountain Ballet Theater.
Alma Fernandez, Viola
Alma Lisa Fernandez, violist, attended the Oberlin Conservatory of Music and UCLA, where she received a Master's Degree in Viola Performance. She performs regularly with ensembles including the Los Angeles Opera, Long Beach Symphony, and Los Angeles Master Chorale. She is also a member of the Eclipse Quartet, an ensemble devoted to contemporary music, which has released recordings under Bridge Records, New World, and Microfest.
Fernandez has been featured as a soloist with the Pepperdine University Orchestra, the Jacaranda Chamber Music series, People Inside Electronics, and Electronics Live! at UC Riverside, where she premiered new works for viola and electronics. She is also active in the Los Angeles recording industry, having played for numerous motion picture soundtracks, television shows, and record albums.
Cécilia Tsan, Cello, Artistic Director
Born in France, Cécilia Tsan began playing the cello with the same teacher as her childhood friend Yo-Yo Ma. A Philosophy and Chinese Major, she also graduated from the Conservatoire National Supérieur de Musique de Paris under André Navarra. She is a prizewinner at the Barcelona, Florence, and Paris International competitions. Tsan tours throughout the world as a soloist and as a chamber musician with Rudolf Firkusny, Jean-Yves Thibaudet, Michel Dalberto, Pascal Rogé, Simone Pedroni, Pierre Amoyal, Augustin Dumay, and Martin Chalifour. She has also recorded hundreds of movie soundtracks with John Williams, James Newton-Howard, James Horner, Randy Newman, Danny Elfman, Alexandre Desplat, and others.
Tsan is the Principal Cellist for the Long Beach Symphony Orchestra and the LA Master Chorale. She is the Co-founder and Artistic Director of Mount Wilson Observatory's music series: Sunday Afternoon Concerts in the Dome.
Tsan has also served as Principal Cellist for the Pasadena Symphony, the Los Angeles Chamber Orchestra, the New West Symphony, the Santa Barbara Symphony, the Academy Awards, the Emmys, American Idol, Dancing with the Stars, and America's Got Talent.

ABOUT MOUNT WILSON OBSERVATORY:
Since its founding in 1904 by astronomer and visionary George Ellery Hale, Mount Wilson Observatory (MWO) has played host to some of the most important discoveries in modern astronomy. Located on Mount Wilson, a 5,710-foot (1,740-meter) peak in the San Gabriel Mountains of the Angeles National Forest, near Pasadena California, MWO features the Snow Solar Telescope (the mountain's first installation, the largest in the word at the time), its 60-inch telescope (the world's largest operational telescope from 1908 to 1917) and the 100-inch Hooker telescope (which featured the world's largest aperture from 1917 to 1949). Mount Wilson Institute has independently operated and maintained the Observatory since 1989 under a long-term agreement with the Carnegie Institution of Washington. For more information, please visit, https://www.mtwilson.edu.

ABOUT THE VENUE:
The 100-inch telescope is the instrument with which astronomer Edwin Hubble discovered our place in an expanding universe and so expanded our comprehension. The dome for the telescope—designed by Chicago architect D.H. Burnham—is a 20th century temple to science whose acoustics rival the great cathedrals of Europe and provides a unique setting for this ambitious music series.
Albert Einstein wrote that, "There exists a passion for comprehension, just as there exists a passion for music." This extraordinary venue, a monument to the pursuit of comprehension, energizes that passion for music.

Second 2021 Sunday Afternoon Concerts in the Dome:
Sunday, September 5, 2021
The sublime Lounge Art Ensemble returns. Led by Weather Report drummer extraordinaire Peter Erskine, this jazz trio features saxophonist Bob Sheppard and bassist Darek Oles with another 'carte blanche' program of jazz standards.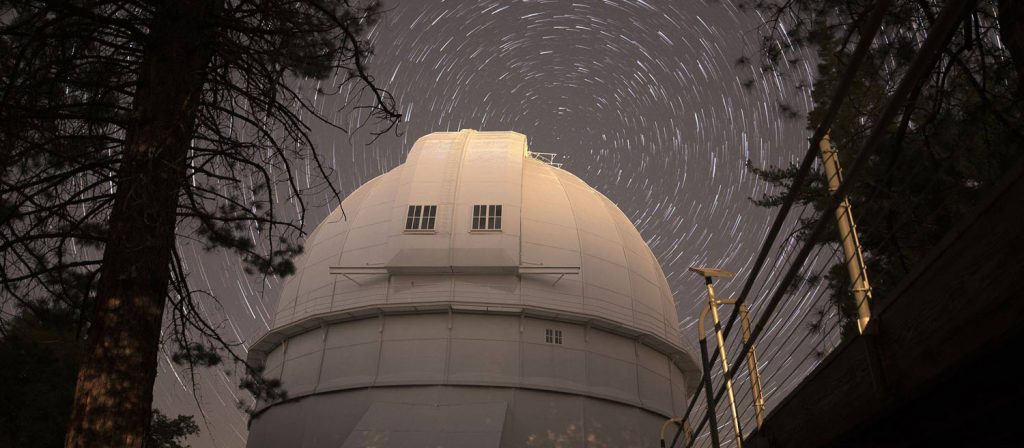 LINKS:
• Mt. Wilson Observatory – https://www.mtwilson.edu
• Sunday Afternoon Concerts in the Dome – https://www.mtwilson.edu/concerts
• MWO Facebook – https://www.facebook.com/WilsonObs
• MWO Twitter – https://twitter.com/mtwilsonobs
• MWO Instagram – https://www.instagram.com/mtwilsonobservatory