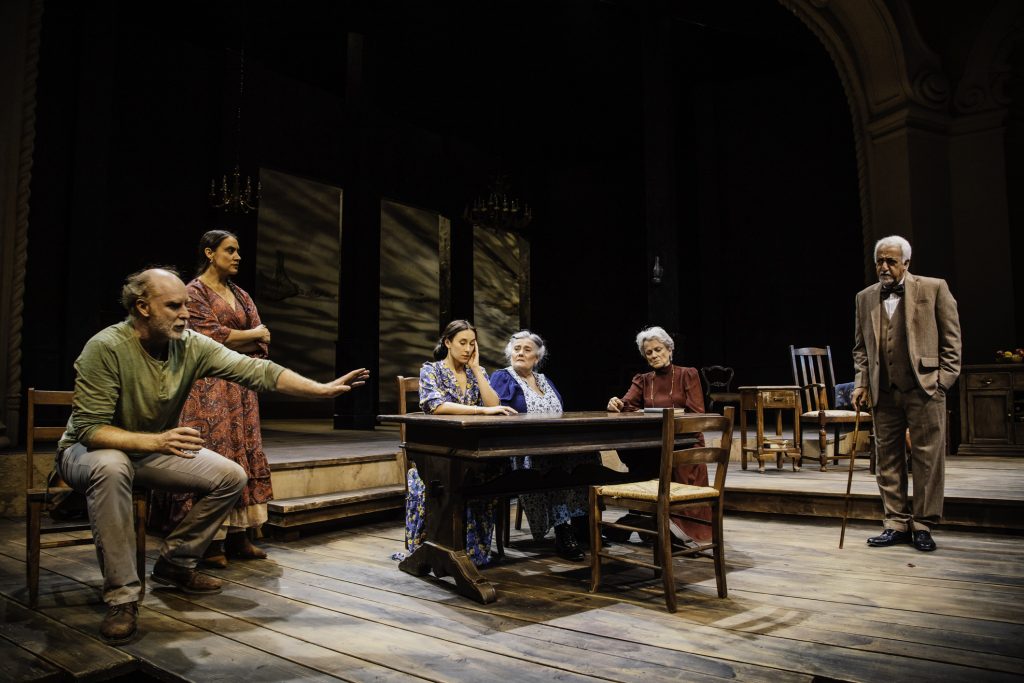 As the saying goes, the more things change, the more they stay the same. Technology zooms forward, but human nature remains stubbornly persistent. Thus a play such as Anton Chekhov's Uncle Vanya, which premiered in 1899, can still speak to us today, can still cause us to laugh or cry at its characters' folly or heartbreak. The new production of Vanya at the Pasadena Playhouse, featuring a powerhouse lead performance from Hugo Armstrong, is a clear and entertaining demonstration that humanity is the same regardless of the century it's in.
Retired professor Serebryakov (Brian George) and his young second wife, Elena (Chelsea Yakura-Kurtz), have returned to spend some time at his rarely visited rural estate, which he inherited from his deceased first wife. His brother-in-law, Vanya (Armstrong), and his daughter, Sonya (Sabina Zúñiga Verela), have been managing the estate for him for a long time, and Vanya is feeling unappreciated and duped. Sonya is more concerned with her infatuation with visiting doctor Astrov (Brandon Mendez Homer), although Astrov (and Vanya) are both smitten with Elena. Eventually all of this unhappiness and frustrated longing will come to a head, albeit to nobody's satisfaction.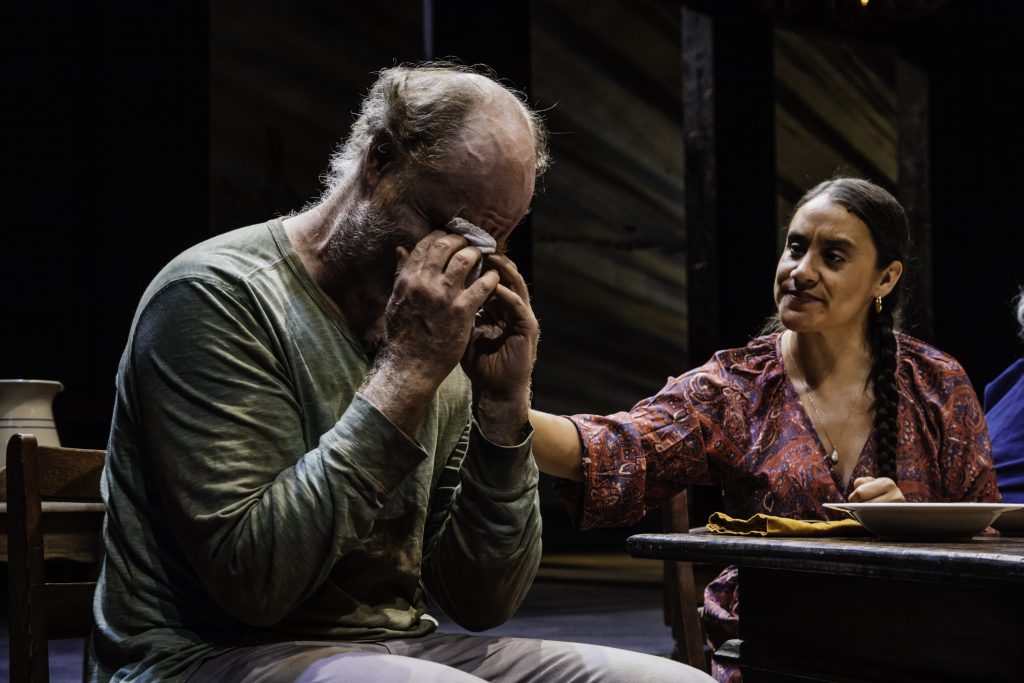 Armstrong is a marvel, finding all of the comedy and tragedy in the role, often in the same moments, and the audience loves him. His Vanya is a drunken comedian, polished barbs tossed off knowing they'll likely be ignored, with a core of growing bitterness. All of his physicality, from silly visual jokes to evidences of despair, bespeaks an underlying tension that finally explodes in a stunning display of rage and self-disgust. This is one of the best performances you'll see onstage this year.
Homer is also excellent, delivering his speech about the Russian forests with passionate fervor, but able to play his romantic scenes with quiet reasonableness. Verela seems less depressed than previous Sonyas I've seen, but instead has an underlying core of joy, which comes out in scenes of happy excitement where she hopes that Astrov will love her. Yakura-Kurtz plays Elena well as a woman who wants to do the right thing but fails, and George is quite good as the oblivious Serebryakov, the cause of everyone's misery but his own.
Director Michael Michetti gets strong performances from his cast, and his decision to place the main set on a lower level in the front of the stage pays dividends in creating a sense of casual intimacy. Tesshi Nakagawa's scenic design of simple rustic furniture and old chandeliers works well, although I was never entirely sure what the decaying wall with lights projected upon it towards the back was supposed to represent exactly. The streamlined new translation by Richard Nelson, Richard Pevear and Larissa Volokhonsky is very clear and funny. I don't remember if the original play had the characters speaking internal monologues to the audience quite so much, but this technique succeeds.
This production of Uncle Vanya is robust and entertaining – fans of Chekhov and great theater shouldn't miss it.
 Uncle Vanya, presented by the Pasadena Playhouse and plays through June 26, 2022.
Tickets are available online here.