The epigraph of E. M. Forster's 1910 novel, Howards End, is "Only connect…" This motto mainly referred to opening oneself up to the world and other people for greater understanding and potential happiness, but it is also about the importance of remembering the past and seeing how it affects the present. When playwright Matthew López took Forster's book as the inspiration for his play The Inheritance, he retained this theme of connection and remembrance but created something new and powerful with it in his story of modern gay men grappling with a complicated present and the legacy of AIDS. The current production of this work at the Geffen Playhouse is magnificent, a tour de force on every level, and definitely one the best plays of the year.
In 2015 New York, gay couple Eric (Adam Kantor) and Toby (Juan Castano) are living together in a nice apartment Eric has inherited. Toby, an ambitious if troubled writer, is adapting the novel he's written into a play. A chance meeting with young actor Adam (Bradley James Tejeda) becomes a strong friendship between him and the couple, but perhaps something more specifically with Toby. Eric, who discovers that he's going to lose the apartment soon, becomes friends with the older and initially more formal Walter (Bill Brochtrup), who opens up to him about his beloved house and how what he did with it drove a wedge into the relationship with his rich husband, Henry (Tuc Watkins). As the relationships/friendships with Adam and Walter progress, everything will change for Eric and Toby, as the events of the past begin to affect their futures.
Kantor impresses as Eric, the more sympathetic and gentle of the two protagonists, the calm center amidst the storm of multiple dramas. Castano excels in the morally trickier role of Toby, bringing the horny ego-driven writer to vivid life, but he also creates audience empathy for the damage Toby is clearly dealing with. Tejeda is good as the charming Adam, but he's even better as the sad prostitute Leo in a very moving performance. Watkins does the neat trick of taking a character that could be somewhat unlikeable and making him compelling mostly due to his own charisma and acting skill, which is no mean feat.
Brochtrup, however, is the warm and beating heart of the show as Walter and author Morgan. As the latter he shows off his estimable comedic skills, especially in a scene in which he narrates a sexual encounter in a perfect, almost Pythonesque deadpan. It's the sequence in which Walter tells the heartbreaking story of why his house is so important to him that will be indelible in the memory of the audience, though, where his quiet mastery of his art commands the attention of the theater and leaves them shaken. In a lauded career filled with many excellent performances, I think this is Brochtrup's masterpiece.
The entire ensemble of this show is superb, demonstrating more talent than I have space for here, but these are a few that stood out for me. Tantoo Cardinal's delivery of her character's monologue about her son's death from AIDS is rueful and direct and expertly done. Jay Donnell is very funny as physician Tristan, particularly in a scene wherein he chastises those who shouldn't be using the saying, "Yas, queen." Kasey Mahaffy is sharply amusing as activist Jasper, and Avi Roque is full of boisterous energy as prospective parent Jason.
Mike Donahue's direction is an astonishing accomplishment. There is no traditional set in this show, and few props. There is only the ensemble of 14 actors, most of whom are onstage at any given time, providing commentary as a loose chorus or performing in the main story, and six-and-a-half hours to tell the entire tale through performance and movement alone. He succeeds brilliantly at this herculean task, keeping all the storylines clear and staging it with consistent creativity. One example of this is a sex scene in which the entire act is depicted via physical movements which look nothing like sex but instead convey the physical intensity of it, which is very cleverly done.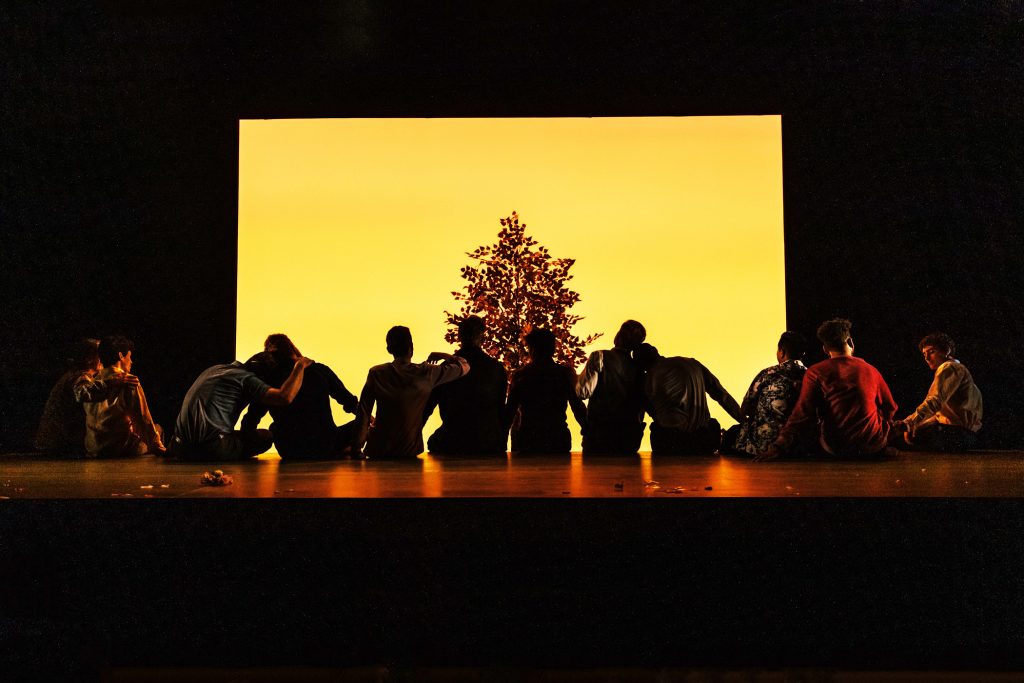 López's achievement here is incredible. It approaches Angels in America in its ambition and success. Simply the fact that it's a six-and-a-half hour long show that is fascinating throughout is high praise, but it's funny, erudite, thoughtful and moving as well. It also provides a theatrical moment unlike anything I've seen in 25 years of reviewing plays. At one point (without going into spoiler territory), toward the end of Part One, a very emotionally powerful scene occurs. As the scene progresses, a gentleman behind me starts loudly sobbing. Clearly this is bringing up some things for him. And then another person starts sobbing. And another. Soon it seems as if a third of the audience have been brought to an open expression of grief. It's a truly unique moment, the most communal sharing of deep emotion I've ever experienced in a theater. It feels so delicate and evanescent that I almost don't want to breathe, so as not to break it. It feels like healing.
The Inheritance is a first-rate production of an extraordinary play. Don't be put off by its running time. If you're a theatre fan, you need to see this.
The Inheritance is presented by and at Geffen Playhouse and plays through November 27, 2022. Tickets are available at www.geffenplayhouse.org.