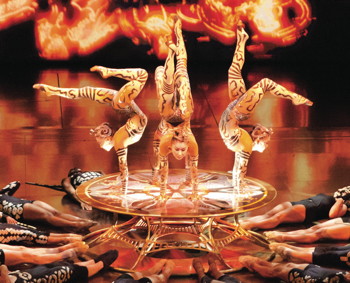 Dazzling spectacle, breathtaking artistry, effortless grace and elegance – superlatives just keep flowing when you are experiencing Cirque du Soleil's $100 million dollar show Iris now playing exclusively at the Kodak Theatre, in the heart of Hollywood. This gorgeous show delivers all the acrobatic mastery and dramatic wizardry that audiences might expect, especially if they've experienced any of the dozens of other Cirque du Soleil productions over the past couple of decades or so.
Tumbling, contortion, balancing, acrobatics, trapeze as well as some mild comedy (clowning) antics for light comic relief, this new Cirque production has it all. Iris: a journey through the world of Cinema was three years in the making, from concept to opening night, and uses its location of Hollywood as its inspiration, presenting scenes and themes from the early days of movie making.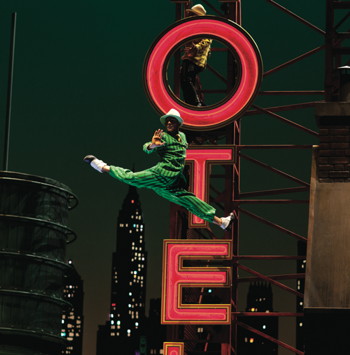 Iris is a lyrical, fanciful and kinetic foray into the seventh art, bringing together dance, acrobatics, projected filmed sequences mixed with live video and animation to take spectators on a fantastic voyage through the history of cinema and its genres, taking them into the heart of the movie-making process. From illustration to animation, black and white to color, silent films to talkies, fixed shots to swooping camera movements, the audience witnesses the poetic construction/deconstruction of the art or cinema as an object and as a way of transcending reality.
The stunning and detailed set design by Jean Rabasse celebrates a love, not just of cinema, but of the whole process of film-making, from the technicians to the sound stage, to the nuts and bolts of the machinery and equipment. The set suggests a fairground attraction inspired by Coney Island where movies were screened to an audience for the first time.
Danny Elfman's original musical score for once was not too over the top or bombastic but rather ideally suited for this kind of spectacle.
The Atherton Twins, Andrew and Kevin, opened the show with a mind blowing dual trapeze act, swooping above our heads while hanging by aerial straps in a death-defying feat of strength and suspension. Your heart is in your throat as you watch the brothers spin, flip and balance on each other while swinging through the air. At one time, one brother was held aloft by his twin's grip on a single wrist. It was breathtaking stuff.  Interview with these talented artistes to follow.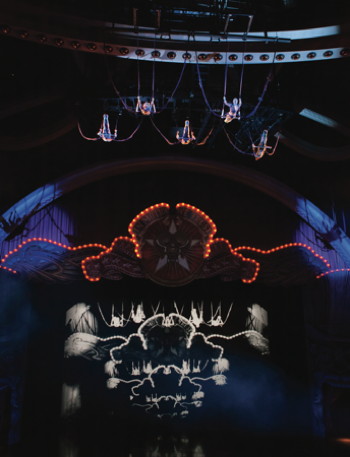 Of the reported $100,000,000 budget, a whopping $40 mill was spent on refitting the Kodak Theatre to support this show that will remain in residence for the next ten years. This included excavation beneath the stage for trap doors and scenery descents as well as a rock solid steel ceiling structure to suspend five hardworking aerialists during the evening's glittering aerial ballet that concludes the show.
The most rewarding aspect of this almost overwhelming experience is the precision and perfection in its execution. Every move, pose and stunt is perfectly calibrated and designed to match another's gesture.
Do not miss this show!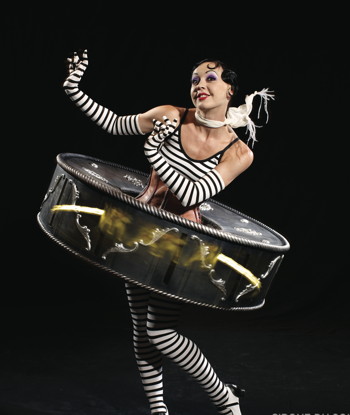 Iris – Cirque du Soleil  
Kodak Theatre
6801 Hollywood Blvd.,
Hollywood CA 90028
Performances:
2011 performances are held from Tuesday through Friday at 8pm, Saturdays at 2pm & 8pm and Sundays at 1pm (with the exception of July 24 & 31 at 6:30pm) and 6:30pm. There are no performances on Monday.
Show schedule:
Iris will not perform on the following dates in 2011:
October 10-19
November 24
December 5, 6, 7, 25
Running time:
Approximately 2 hours, 15 minutes, including a 15-minute intermission.
TICKETS:
Tickets range from $43 to $133 (VIP tickets are available at $253).
Box Office:
Tickets can be purchased on line here or by calling 1-877-943-IRIS.
About Cirque du Soleil

From a group of 20 street performers at its beginnings in 1984, Cirque du Soleil is now a major Quebec-based organization providing high-quality artistic entertainment. The company has 5,000 employees, including more than 1,500 performing artists from close to 50 different countries. Cirque du Soleil has brought wonder and delight to more than 100 million spectators in nearly 300 cities on six continents.

For more information, visit their official site.

To find out more about the One Drop Foundation, go here.