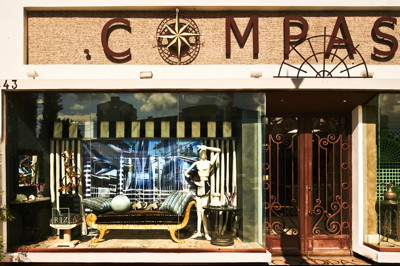 Held for its fifth consecutive year in May at La Cienega Design Quarter (LCDQ), LEGENDS is a three-day celebration of design. This year, as always, the luxe event brought together VIPs and tastemakers from the worlds of interior design, decor, art, fashion and architecture to gather and mingle for receptions, keynote panel discussions, cocktail parties, exhibitions, book signings, personal appearances and special events.
Lawrence J. Rizkowsky of L Riz Design transformed the Compas window into a representation of the best of the past, reinterpreted for a modern world of the future, expertly incorporating this year's LEGENDS of LCDQ's "Time Capsule" theme.
Presenting a different take on the cyclical nature of fashion and design, the interior design concept for Lawrence J. Rizkowsky's LEGENDS 'past present future' window design for Compas was inspired by the 1997 pop hit tune "History Repeating" by The Propellerheads. In the song, the robust vocals of legendary Welsh singer Shirley Bassey belt out the snappy lyrics "…it's all just a little bit of history repeating. And I've seen it before, and I'll see it again…"
This LA-based designer has forged a signature style of incorporating classics into contemporary environments that defy trend. Rizkowsky's inspiration for his "penthouse from the future" window concept came from the song's lyrics, which inspired Rizkowsky to think of how design is inspired by innovative concepts, styles and experiences throughout history, and also how they have moved us in some way.
Rizkowsky's "penthouse from the future" was decorated with iconic furnishings from the past and present that he imagined would be well-suited for future living, including a 19th Century English Egyptian style chaise from J.F. Chen Antiques, a circa 1970's Kieff Sculpture from Connoisseur Antiques, Neapolitan 17th Century Lion's Feet from Compas and a Deco Iron and Glass table, circa 2013, custom designed by L Riz Design.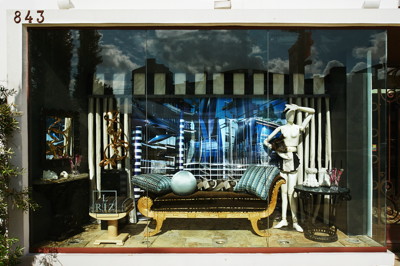 In addition to his futuristic "City" window covering by Mauel Canovas that served as the perfect backdrop for this mélange of furnishings, Rizkowsky completed his urbane pad-from-the-future with an apron-clad mannequin circa 1960, also from J.F. Chen Antiques.
About the Designer:

A native of LA, Lawrence J. Rizkowsky of L Riz Design is a veteran in the Los Angeles design community, with 25 years of design experience. Rizkowsky is adroitly creates progressively stylish interiors for high-end residential and commercial projects. His eclectic client base has included those from the worlds of business, entertainment and finance, as well as legal and medical practitioners. His signature style is that of refined, subtle luxury, combined with novel accessories, rare period pieces and a lush palette of subdued tones that results in an environment that is graceful, laid back and elegant.
About Compas:
For over 30 years, Compas has procured the finest French Limestone, rare marble, reclaimed antique stone flooring, terra cotta, distinctive architectural appointments and fireplaces for the finest estates and homes in America.
To complement these stone refinements, Compas also designs and manufactures artistically detailed European bath systems, faucets and accessories caste in bronze and fitted with state-of-the-art components.
For years, Compas' dedication and attention to detail has made them a preferred resource amongst prestigious Architects, Interior Designers and high-end builders worldwide.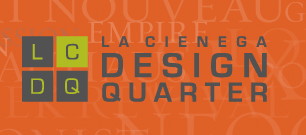 L Riz Design LCDQ window design for Compas – List of Credits:
Paint:
Sydney Harbour Paint Company
Window coverings:
Manuel Canovas  " City"
Larsen " Brno"
Valley Drapery
19th Century English Egyptian style chaise:
J.F. Chen Antiques
Pillows on the chaise:
Larsen "Toshibi"
Cowtan and Tout "Atelier"
Canovas "Varenne"
Kieff Sculpture c1970:
Connoisseur Antiques
Deco Iron and Glass table c2013:
L Riz Design
Val Saint Lambert Candle sticks c1960:
Joannes Lucas
Geneva the maid c1960:
J.F. Chen Antiques
Geneva's apron:
Manuel Canovas  "City"
Michelle Ramage
Francis Elkins Console and Mirror c1940:
Dragonette Ltd
Oak Modern Stools c2013:
L Riz Design
Cushions on the Oak Modern stools:
Larsen "Gotham"
Neapolitan 17th Century Lion's Feet:
Compas