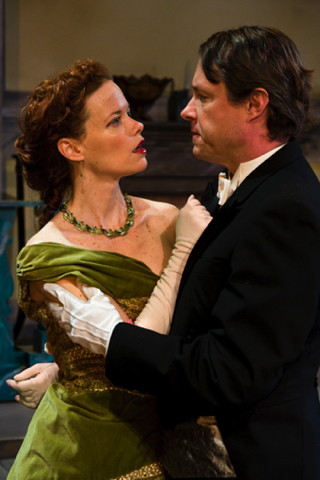 Oscar Wilde is famous for his sparkling wit, but there's not much spark to this humdrum production of An Ideal Husband, Wilde's moral-minded comedy about a prominent public figure facing a choice between sacrificing his principles or destroying his career.
The  individual in question, Sir Robert Chiltern (Jonathan Lamer), is a widely-respected member of the House of Commons, a happily married man whose life is progressing swimmingly until a woman of dubious reputation, Mrs. Cheveley (Ann Noble) threatens to expose a "youthful indiscretion" of his from two decades prior. In financial straits at the time, Chiltern's misstep was to accept money from a wealthy and powerful individual in exchange for a piece of government information.  Boasting a letter to prove her allegations, she threatens to publicize it unless Sir Robert withdraws his objections to a faulty construction project in which she's heavily invested. The stressed-out aristocrat fears not only for his public reputation; he's also concerned about losing the respect of his wife (Gaby Santinelli), a woman of strong moral convictions who went to school with the unscrupulous Mrs. Cheveley and already has her number. Luckily for Chiltern, he has a clever friend, Lord Goring (Michael Matthys), a sometime wooer of his sister Mabel (understudy Jen Faith Brown) as well as a former lover, briefly, of Chiltern's vixenish nemesis. The play's numerable messages – on marriage, the media, materialism, money and morality – are pronounced upon smartly and often by this gentleman; as Wilde's portrait of a stylish sophisticate, he serves as the playwright's alter ego and ultimately outmaneuvers Sir Robert's blackmailer by devising a blackmail scheme of his own.
All of which – clever language, fun plot, singular characters and a clear ethical dilemma  – should make for an entertaining couple of hours at the theater, and the theatrical pedigree of director Gigi Bermingham is yet another reason for high expectations. But while there are some laughs to be had, mostly due to the script, as well as a few moments of truth, this production is basically a stiff and stagy affair: The actors never seem to lose their sense of being on a proscenium, nor do they appear optimally at home on designer Cesar Retana-Holguin's drawing room setting. Noble, a veteran actress with a background in the classics and much fine work to her credit, looks uncharacteristically ill at ease as the seductive siren, and Matthys' astute dandy is serviceable but not awfully charismatic, given the comic latitude of his role. Lamer is most off the mark, yielding most often to melodrama rather than crafting a character with some depth and detail. There's nothing downright terrible about this show, but there's nothing very memorable about it either.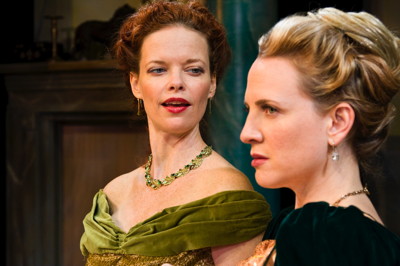 An Ideal Husband by Oscar Wilde
The Sierra Madre Playhouse
87 W. Sierra Madre  Blvd.
Sierra Madre
Performances:
Fridays & Saturdays at 8:00 pm
Sundays at 2:30 pm.
Thursday February 13 and February 20 at 8:00 pm
Runs through Sunday, February 23, 2014
Review by Deborah Klugman.