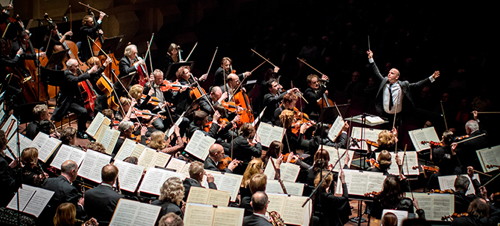 The electrifying young conductor Yannick Nézet-Séguin and the renowned Dutch Orchestra, the Rotterdam Philharmonic, known for the intense energy of its performances, present a sizzling evening of Prokofiev's and Tchaikovsky's fifth symphonies on Tuesday February 10 at 7:30pm at the Valley Performing Arts Center.
Tickets range from $40 – $65.00, plus booking fees, and can be purchased here.
The Rotterdam Philharmonic is a modern orchestra with roots deep in the classical music tradition. It embodies the temperament of its home base, Rotterdam. Experts say that it distinguishes itself by the intensity of its concerts, the rich variety of its sound and the bold way in which it communicates with its audiences. Critics are unanimous: this orchestra, together with its music director Yannick Nézet-Séguin, is among the best in the world.
In addition to his work with the Rotterdam Philharmonic, Yannick Nézet-Séguin is Music Director of The Philadelphia Orchestra.  He has conducted all the major ensembles in his native Canada and has been Artistic Director and Principal Conductor of the Orchestre Métropolitain (Montreal) since 2000.  He continues to enjoy a close collaboration with the London Philharmonic Orchestra, of which he was Principal Guest Conductor 2008-14.
Mr Nézet-Séguin has worked with many fine ensembles in Europe, including the Dresden Staatskapelle, Berliner Philharmoniker, Staatskapelle Berlin, Bavarian Radio Symphony, Wiener Philharmoniker and Chamber Orchestra of Europe. Festivals he has visited include the BBC Proms, Edinburgh, San Sebastian, Santander and Grafenegg.  In North America, he has conducted at the Lanaudiere, Vail Valley, Saratoga and Mostly Mozart festivals.
Highlights in Mr Nézet-Séguin's 2014/15 also include this North American tour with the Rotterdam Philharmonic, a European tour with The Philadelphia Orchestra and two separate projects with the Bavarian Radio Symphony. He also continues as Artist-in-Residence at Konzerthaus Dortmund.
Recent additions to Mr Nézet-Séguin's extensive discography include the complete Schumann symphonies and Cosi fan tutte with the Chamber Orchestra of Europe, The Rite of Spring with The Philadelphia Orchestra and a Tchaikovsky disc with the Rotterdam Philharmonic, all for Deutsche Grammophon.  He also continues to enjoy a fruitful recording relationship with the London Philharmonic for its own label and with the Orchestre Métropolitain for ATMA Classique.
A native of Montreal, Mr Nézet-Séguin studied piano, conducting, composition, and chamber music at the Conservatoire de musique du Québec in Montreal and choral conducting at the Westminster Choir College in Princeton, New Jersey before going on to study with renowned conductors, most notably the Italian maestro Carlo Maria Giulini.  His honors include a prestigious Royal Philharmonic Society Award; Canada's National Arts Centre Award and the Prix Denise-Pelletier, the highest distinction for the arts in Quebec awarded by the Quebec government.  He has honorary doctorates from the University of Quebec in Montreal (2011) and Curtis Institute in Philadelphia (2014).  He was appointed a Companion of the Order of Canada in 2012.
The Rotterdam Philharmonic was founded in 1918. In the 1930s it evolved under chief conductor Eduard Flipse into one of the Netherlands' leading orchestras. With music directors Jean Fournet and Edo de Waart, the orchestra entered a new era and gained international recognition for its recordings and tours. Valery Gergiev's appointment as music director in 1995 heralded a new golden era. Yannick Nézet-Séguin succeeded Gergiev as music director at the start of the 2008/2009 season. The orchestra is based at de Doelen concert hall. It has also had a residency for several seasons at Paris' Théâtre des Champs-Élysées.
Rotterdam Philharmonic
Conducted by Yannick Nézet-Séguin.
Tuesday February 10, 2015 at 7:30 p.m.
California State University Northridge's Valley Performing Arts Center
18111 Nordhoff St,
Northridge, CA 91330
Orchestra – $65.00; Parterre – $50.00 (including fees).
Orchestra – $65 | Parterre – $50
Orchestra – $65 | Parterre – $50
For more information about the center or performances, visit their official site or call the ticket office at (818) 677-3000.
About Valley Performing Arts Center:
The 1,700-seat LEED Gold certified Valley Performing Arts Center has established California State University, Northridge, as a hub for culture and live performing arts in the region. It was recently ranked number three on the Best College Ranking's list of "The 25 Most Amazing College Campus Theaters" in the U.S. and was voted one of the top ten performing arts centers and theaters in Los Angeles by Time Out Los Angeles.