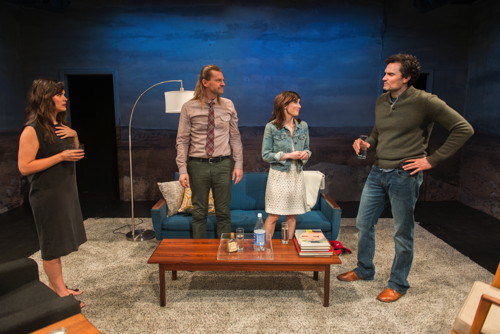 Hello dear readers and #LAThtr aficionadi,
Here follows my latest review for the critical website Stage Raw — which contains current arts and theater coverage from our intrepid team of journalists & critics.
Happy reading!
A Dog's House.
A couple debates their options after their untrained Rottweiler dismembers the new neighbors' small dog. But a series of lies and missteps brings Eden and Michael (Christine Woods and Graham Sibley) into an awkward friendship with their unsuspecting neighbors (the missing dog's owners) Nicole (Katie Lowes and Amy Rosoff share the role) and Bill (Dean Chekvala). Pretty soon the cracks in Eden and Michael's relationship form into crevasses.
Micah Schraft's domestic drama, A Dog's House, begins as a black comedy then proceeds into even darker terrain. At first you'll laugh at the edgy premise and all of the spot-on line readings of the caustic dialogue, but prepare to be shell-shocked by the play's startlingly dramatic conclusion. This play is neither for the squeamish nor the highly sentimental.
Schraft's play is brilliantly crafted, kicking off with a tantalizing predicament and immediately immersing us in his examination of the moral dilemma this couple is confronted with.
You can read the rest of this review here.
*** Go here to watch my Exit Review – which is a brief (2-minute) first impression vlog (video) review.***
A Dog's House by Micah Schraft plays on Fridays, Saturdays at 8:00pm & Sundays at 7:00pm.
IAMA Theatre Company.
Runs through Sunday April 26, 2015 at the Elephant Theatre, 6322 Santa Monica Blvd. (one block west of Vine) in Hollywood.
Tickets are $25.00 and may be purchased online here.