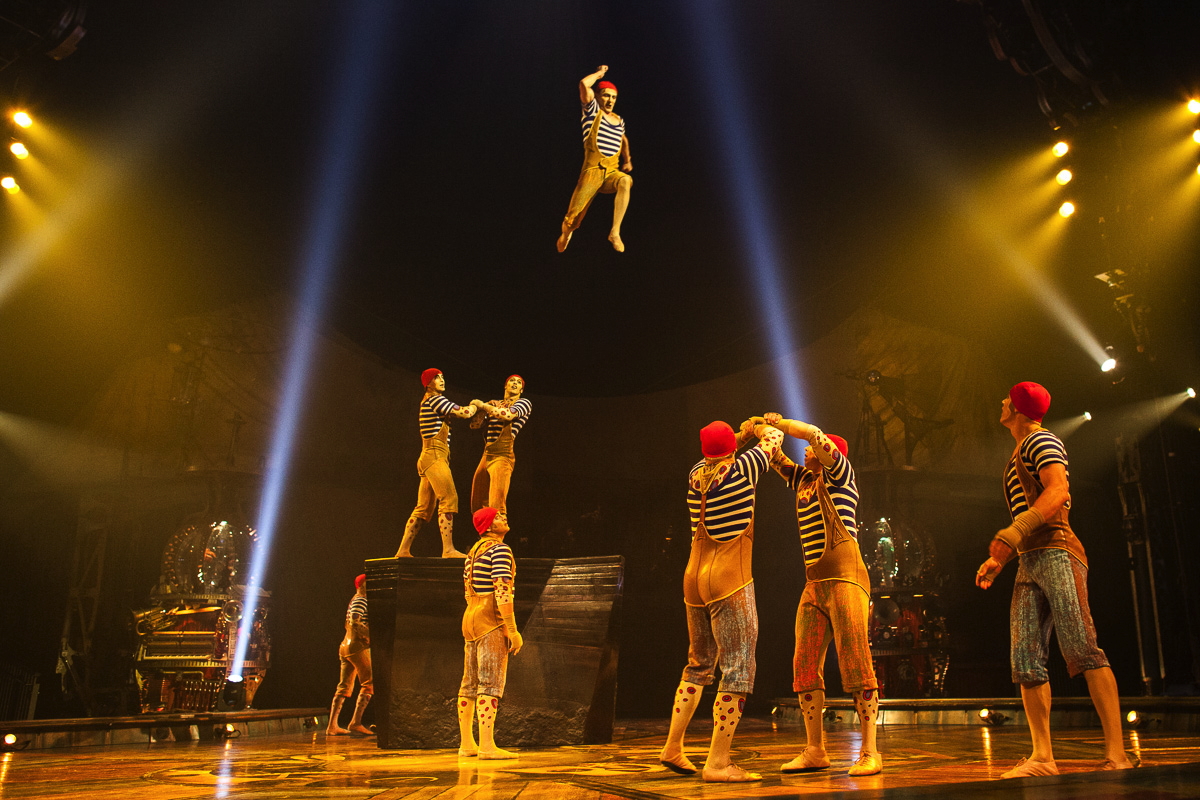 Elegant and whimsical — another magically dazzling circus show from the Canadian entertainment company Cirque du Soleil opened at Dodger Stadium last week. Created by writer/director Michel Laprise, KURIOS – Cabinet of Curiosities™ is a celebration of human imagination, transporting the audience into a fantasy world where everything is possible.
You can read my interview with show creator (writer and director) Michel Laprise here.
There's a complicated storyline underpinning the series of circus acts, songs and music that makes up the two-hour, two act evening of entertainment. It centers around a late-19th century world inventor — the "Seeker" — who invents a steampunk style machine that defies the laws of time, space and dimension in order to reinvent the physical world and permit characters from another dimension to interact with him. Throughout the show we meet the strange and gifted characters that inhabit the Seeker's Cabinet of Curiosities.
Astounding spectacle, breathtaking artistry, effortless grace — Cirque du Soleil's KURIOS – Cabinet of Curiosities™ is a gorgeous show. Featuring inventive takes on tumbling, contortion, balancing and trapeze, you will experience all the acrobatic mastery and dramatic staging wizardry that audiences across the world have come to expect, if they've experienced any of the dozens of other Cirque du Soleil productions.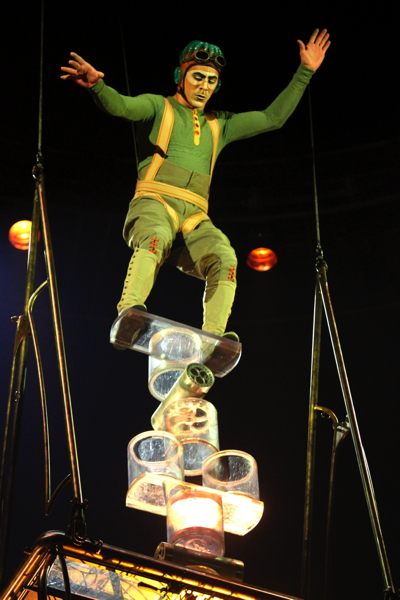 There are numerous gravity-defying acts, such as 'Rola Bola'  in which a fearless Aviator makes a soft, graceful landing in his small propeller plane, which he then uses as a platform. Balanced on his impressive, tottering structure, the artist and his cylinders and planks rest on a moving platform. The suspended apparatus moves up and down and swings in a long pendulum motion – an incredible feat requiring an extraordinary sense of balance.
A very silly act is the Invisible Circus, where an oddball ringmaster conducts a miniature circus with invisible artists. Ranging from teeterboard to high diving to riding a unicycle on a tightrope, the acts all materialize in our minds by the sheer power of visual and sound effects.
A highlight is Act II's Aerial Straps — aka the 'Siamese Twins'  — which is a mind blowing dual trapeze act. Roman and Vitali Tomanov (USA) are seen swooping and soaring above our heads, performing a series of acrobatic figures while hanging by aerial straps in a death-defying feat of strength and suspension. Your heart is in your throat as you watch the pair spin and flip while swinging through the air.
Another highly creative act is a reimagining of the standard rings trapeze act by substituting a bicycle as the element of suspension. As it flies through the air, Anne Wessbeicker (France) hangs from her bicycle in a variety of nerve-racking positions.
For the act entitled Banquine, a group of 13 artists perform spectacular sequences of perfectly synchronized acrobatics and human pyramids that showcase the amazing agility of the human body. In addition to standing three and four high on each other's shoulders, the artists take off, somersault and crisscross in the air on three levels: the ground, a monolith positioned centre-stage, and in the audience.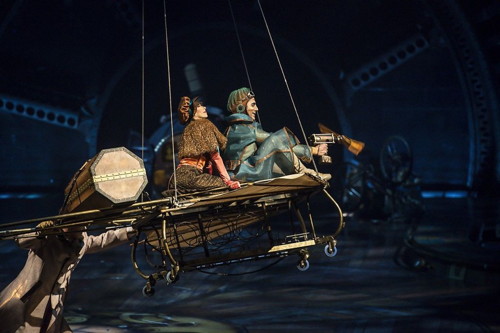 One of my favorite acts was the Acro Net. Conceived as an ocean that contains underwater creatures, the enormous and springy net stretches across the entire stage and the odd-looking performers pirouette, bounce and rebound on it using street-style performance and pure trampoline techniques.
The costumes of the Acro Net performers are a nod to the early films of director Georges Méliès and his vision of Martians, with scales as well as fins and fishtail. All the colorful and almost endlessly creative costumes are designed by Philippe Guillotel and more than 100 costumes were created for the large cast.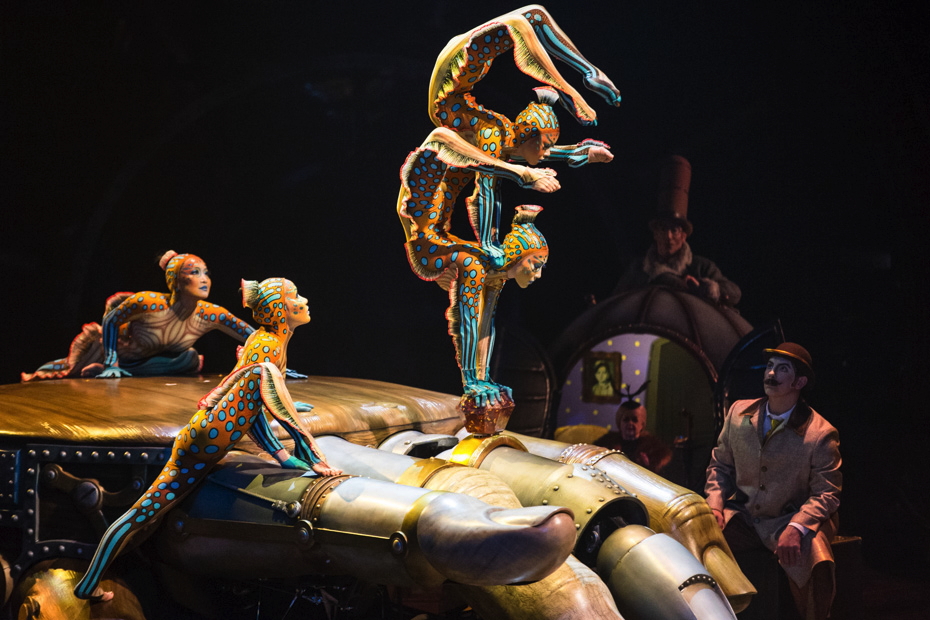 KURIOS – Cabinet of Curiosities™
Dodger Stadium, Los Angeles.
Runs through February 7, 2016 only.
Tickets for all performances in Los Angeles range in price from $50 – $165 and are available online here or call 1-877-9 CIRQUE (1-877-924-7783).
About the Big Top and the Cirque du Soleil village:
•    The site takes 6 days to completely set up and 2 days to tear down. This includes the installation of the Big Top, entrance and artistic tents, box office, administrative offices, and a kitchen and dining area for cast and crew.
•    Approximately 65 trucks transport nearly 2,000 tons of equipment for KURIOS.
•    The Big Top stands 62 feet high, is 168 feet in diameter and is supported by 4 masts, each 85 feet tall. It seats around 2,700 people and requires a team of approximately 50 people to raise it. There are over 1200 stakes dug 4 feet into the ground to hold the tents in place.
•    Flags posted at the Big Top entrance represent the 19 nationalities of the cast and crew.
•    The stage is one of the lowest of all Cirque du Soleil big top shows. It is 24 inches high.  This decision was made by director Michel Laprise so that the artists have a closer proximity to the public.
About Cirque du Soleil:

From a group of 20 street performers at its beginnings in 1984, Cirque du Soleil is now a major Quebec-based organization providing high-quality artistic entertainment. The company has 5,000 employees, including more than 1,500 performing artists from close to 50 different countries. Cirque du Soleil has brought wonder and delight to more than 100 million spectators in nearly 300 cities on six continents.

For more information, visit their official site.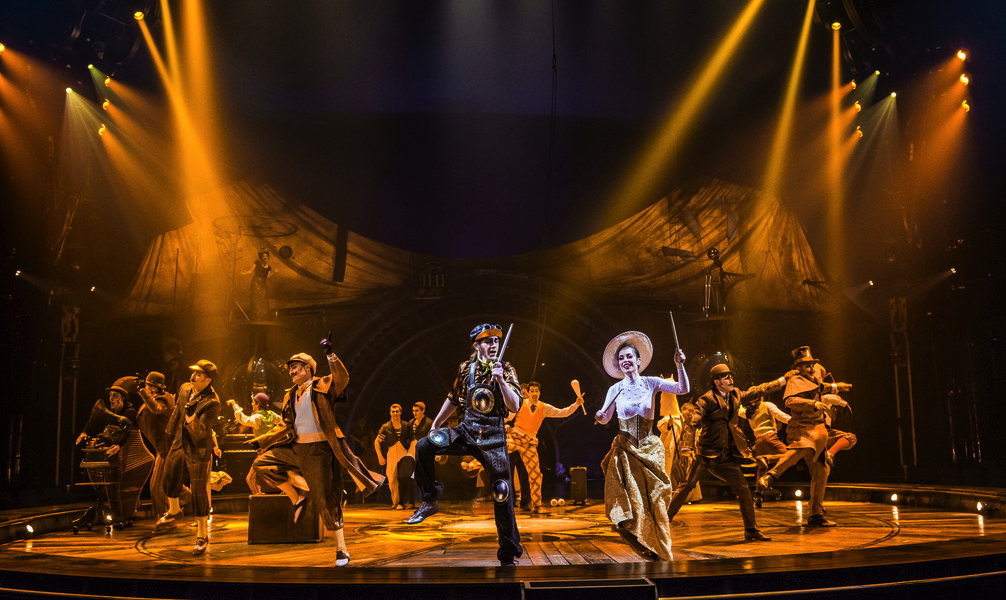 CAST LIST:
ANIMATION
CHAOS SYNCHRO 1900
Gabriel Beaudoin (Canada)
Christa Mercey (Canada)
Kit Chatham (USA)
(and most artists from the cast)
CHINESE POLE
Maude Arseneault (Canada)
Mikaël Bruyère-L'Abbé (Canada)
AERIAL BIKE
Anne Wessbeicker (France)
INVISIBLE CIRCUS
Tonight's performance by David-Alexandre Despres (Canada)
CONTORTION
Bayarma Zodboeva (Russia)
AyagmaTsybenova (Russia)
Khaliuka Narankhuu (Russia)
UPSIDE DOWN DINER
Andreii Bondarenko (Ukraine)
ROLA BOLA
James Eulises Gonzalez Correa  (Colombia)
INTERMISSION
ACRONET
Mathieu Hubener (France), Karl L'Ecuyer (Canada), Ryan Shinji Murray (USA)
Victor Degtyarev (Russia), Arnaud Caizergues (France)
Jack Helme (UK), Nathan Dennis (Australia)
COMIC
Tonight's performance by David-Alexandre Despres (Canada)
AERIAL STRAPS
Roman Tomanov (USA)
Vitali Tomanov (USA)
YO-YOS
Tomonari Ishiguro (Japan)
HAND THEATER
Nico Baixas (Spain)
BANQUINE
Igor Strizhanov (Russia), Elena Kolesnikova (Russia),
Roman Polishchuk (Ukraine), Serguei Okhai (Ukraine), Nikolay Atashkin (Kazakhstan)
Sergey Kudryavstev (Russia), Roman Kenzhayev (Russia)
Alexey Starodubsev (Russia), Ekaterina Evdokimova (Russia) Anton Lyapunov (Ukraine) Dimitri Parmenov (Russia)
-FINALE-
Singer
Eirini Tornesaki (Greece)
Musicians
Band Leader / bass/ double bass – Marc Sohier (Canada)
Drums – Kit Chatham (USA)
Percussions – Christa Mercey (Canada)
Cello / Keyboard – Michael Levin (USA)
Accordion / Keyboard – Lydia Kaminska (Poland)
Violins – Paul Lazar (France)
Guitars – Patrick Kelly (Canada)
Characters
Klara – Ekaterina Pirogovskaya (Russia)
The Accordion Man – Nico Baixas (Spain)
Mr. Microcosmos –Karl L'Ecuyer (Canada)
Mini Lili: Antanina Satsura (Belarussia)
The Seeker : Anton Valen (Spain)