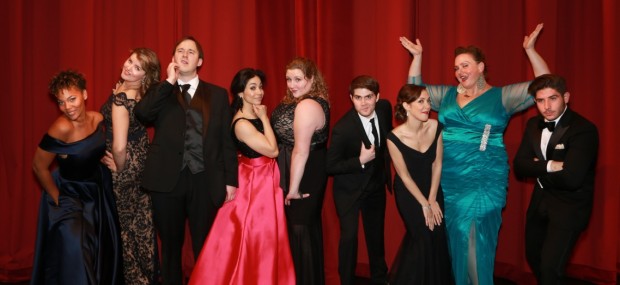 Last weekend, the Palm Springs Opera Guild of the Desert held its 32nd Annual Voice Competition at the Helene Galen Performing Arts Center at Rancho Mirage High School. The Guild, approaching its 50th anniversary, is an organization dedicated to encouraging and supporting young opera singers with financial assistance and performance opportunities. It also works to promote opera in the community through student and adult outreach programs throughout the Coachella Valley.
The competition offered eight talented young singers an opportunity to perform before an audience and win scholarships to further their education. Past winners have included an impressive array of talented performers, including sopranos Sondra Radvanovsky and Amber Wagner, mezzo soprano Renee Rapier, who was heard at LA Opera earlier this year in Ghosts of Versailles (previously reviewed) and Le Nozze di Figaro (previously reviewed), and tenors Charles Castronovo and Bruce Sledge.
Soprano Angela Meade, winner of the 2003 Guild Competition, is currently singing the title role in Bellini's Norma at LA Opera (reviewed here). Ms Meade returned to the competition as one of the three judges this year. Along with Ms Meade, the judges were David Bennett, the General Director of the San Diego Opera, and Christopher Hahn, General Director of the Pittsburgh Opera.
All the singers were excellent. Among the runners up, tenor Arnold Geis, singing "Vieni fra queste braccia" from Rossini's La gazza ladra, showed a real gift for Rossini style. Soprano Alyssa Wills gave a captivating performance as Pat Nixon of "This is prophetic" from Adams' Nixon in China. Soprano Aniska Lee-Skorepa showed a flair for drama in a heartbreaking rendition of "Senza Mamma" from Puccini's Suor Angelica. Yelena Dyachek, another soprano, ably handled the florid demands of "Come scoglio" from Mozart's Cosi fan tutte. Soprano Aurelie Veruni showed fire in her performance of Cleopatra's aria "Piangero la sorte mia".
In a crowded field of talent, tenor Mario Rojas was the Third Place winner. Rojas sang an enchanting aria "Ah! Leve-toi soleil!" from Gounod's Romeo et Juliette, managing a beautiful diminuendo to end the passionate aria.
Soprano Lauren Michelle was the Second Place winner and also won the audience choice award, with a touching performance of "Ain't it a pretty night?" from Carlisle Floyd's Susannah and an impressive performance of Violetta's big scene "E strano!… Ah fors'e lui… Sempre libera" from Verdi's La Traviata.
The competition winner was baritone Alex DeSocio, whose lively performance of Figaro's aria "Largo al factotum" from Rossini's Il Barbiere di Siviglia, was totally realized both vocally and dramatically. DeSocio's mix of charm and vocal ability should carry him far.
Rossini's music featured strongly in the afternoon's program. In addition to the Competition, the Guild also inaugurated the Peggy Cravens Rossini Award, the first award of dedicated to Rossini singing in the United States. Guild President Bruce Johansen, also the afternoon's emcee, said that singing Rossini requires artists who are technically proficient, with an ability to negotiate lots of notes very quickly, creating a vivid character while performing technically demanding music. The Guild wanted to encourage young artists in this very challenging area and so they instituted this award starting this year.
The Rossini prize winner, mezzo-soprano Guadalupe Paz, was selected at a competition in November. She received her prize from Peggy Cravens and a representative of the Italian consulate, Valeria Rumori, and then ended the first half of the program at Sunday's concert by singing Cinderella's "Nacqui all'affano…Non piu mesta" from Rossini's La Cenerentola. The performance was dazzling, giving promise of a bright future for her. Indeed, all these young singers showed significant promise. Bravi to all involved in this worthwhile and entertaining endeavor!
For more information about the Palm Springs Opera Guild of the Desert and their future programs, visit their official website.