There are numerous delights to be found in A Gentleman's Guide to Love & Murder — the raucously hilarious musical play that opened last night at the Ahmanson Theatre. The ingenious and lavish puppet theater-like set, designed by Alexander Dodge; the gorgeously detailed period costumes, designed by Linda Cho; the clever book and lyrics by Robert L. Freedman and lovely music and lyrics by Steven Lutvak, all beautifully played by a live orchestra and sung by a cast with astounding voices. The deliciously dark storyline supports an abundance of incisively witty dialogue exchanges, jokey banter and conversational volleys and parries.
The visual style and tone is reminiscent of the ghoulish, gothic cartoons of Charles Addams. (There's even a disembodied hand that appears a couple of times presenting a postal delivery, reminiscent of "Thing" from the Addams Family TV show.) Thanks to Darko Tresnjak's crisp direction, there are plenty of wonderful sight gags and comedic flourishes sprinkled throughout, such as the springy 'boing' sound we hear when a jewelry box is opened, a decapitated head twitching gruesomely or some old family portraits coming to life. The layers of comedy contained within this show are impressively abundant.
In the opening number, a group of mourners address the audience with song, advising "those of you of weaker constitution" to leave the theatre, as the show may prove disturbing ("Prologue: A Warning to the Audience").
The story begins in 1909. We meet Lord Montague "Monty" D'Ysquith Navarro, Ninth Earl of Highhurst, languishing in a prison cell awaiting a verdict. He informs us that he is writing his memoirs on the eve of his possible execution, and that his story – which is full of "factual events" – could be called "A Gentleman's Guide to Love and Murder."
"Gentleman's Guide" then flashes back to two years earlier. Monty Navarro (a superb Kevin Massey) is an impoverished fellow who, shortly after his mother passes away, discovers he is the distant heir to a family fortune. Elated, Monty finds the prospect of swapping poverty for wealth highly appealing and resolves to reunite with his long-lost family. When some of his mothers old letters are unearthed, he learns of his mother's anguish at being disinherited and disavowed by her snobby family after she "married for love." Incensed, Monty hatches a dastardly plan: do away with all eight of his mother's family members who stand between him and an Earldom. What unfolds is a riot of murderous acts and mishaps. 
Background:

A Gentleman's Guide to Love & Murder is a musical comedy, with the book and lyrics by Robert L. Freedman and the music and lyrics by Steven Lutvak. It is based on the 1907 novel Israel Rank: The Autobiography of a Criminal by Roy Horniman.

The novel was also the source for the 1949 British film Kind Hearts and Coronets, starring Alec Guinness. Apparently for legal reasons, that title was not permitted to be used.

The show opened on Broadway at the Walter Kerr Theatre in November 2013, running until January 2016. Considered the most celebrated musical of the 2013-14 Broadway season, "Gentleman's Guide" received ten 2014 Tony Award nominations, eventually winning four awards at the 68th Tony Awards ceremony: Best Musical, Direction of a Musical, Book of a Musical, and Best Costume Design. In addition, it won the Best Musical prizes from the Drama League, Drama Desk and Outer Critics Circle, and received a 2015 Grammy Award nomination for Best Musical Show Album.
John Rapson practically earns an Olympic medal for portraying eight distinct characters — each of the hapless D'Ysquith heirs, male and female. Each is more revolting than the last. The first is a cranky toff in breeches and a top hat, fresh off a fox hunt and brandishing the spoils (a dead fox!) Later we meet a cousin who is a reverend — barking mad and buck-toothed, slobbering and garrulous. His demise is cleverly staged with visual effects and back projection, creating a direct reference to Hitchcock's Vertigo. Next is Lady Hyacinth – a blowsy battleship of a woman who is devoted to saving the "simple minded." A pumped up, muscle-bound fitness fanatic — Lord D'Ysquith — is another colorful character who meets an untimely end. And so on… 
When we first meet Monty's beloved Sibella Hallward (played brilliantly by Kristen Beth Williams) she launches into a song all about herself that begins with the line "Don't you just love me in pink?" while transfixed by her reflection in a hand mirror. Shallow and vain, she is narcissism personified. Once Monty gets a word in edgewise, he shares his exciting news. Sibella's immediate reaction is to scoff. She also has another (unseen) suitor, so Monty has further motivation to enact his murderous plan, attain his fortune and win the heart of this gold digger. Interestingly enough, the plot is more interesting and complicated than that. Monty soon meets the lovely Phoebe D'Ysquith (played by Adrienne Eller). She a cousin but not in line for a fortune, so a romance evolves. Soon he has to contend with a complicated love triangle.
One aspect that makes this show so compelling is our anti-hero's story arc. Although he is driven by raw revenge, and he manages to dispatch most of his victims swiftly, we do see some remorse pricking his conscience. Elements of farce are also used sparingly but effectively. A highlight is an extremely sexy scene between Sibella and Monty that perfectly captures their passion and the allure of their clandestine relationship.
With its cracking pace and scintillating wit, this truly brilliant production is not to be missed!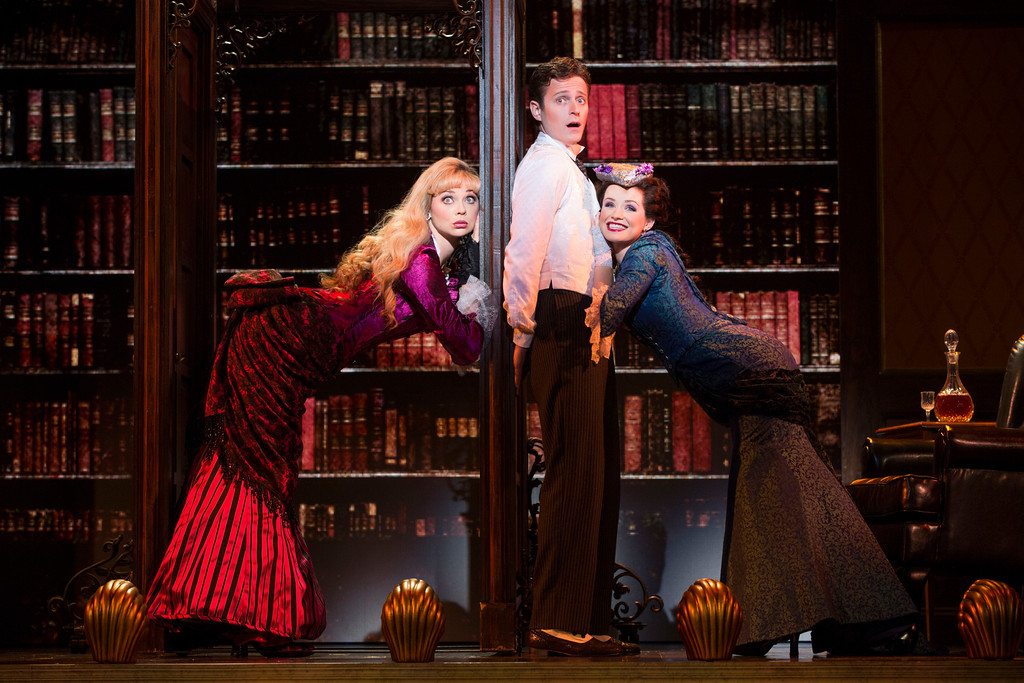 A Gentleman's Guide to Love & Murder
The Ahmanson Theatre, at the Music Center
135 N. Grand Avenue
Downtown L.A. 90012
Runs until May 1, 2016.
Running time – two hours and 30 minutes, with one intermission.
Go here for more information on performance dates and times.
Tickets for "Gentleman's Guide" are currently available by subscription only, as part of the Ahmanson Theatre's 49th season. For information, and to purchase subscriptions online, visit CenterTheatreGroup.org/Season or call the Exclusive Season Ticket Hotline at (213) 972-4444.