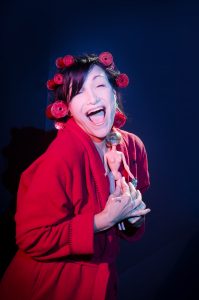 Hello dear readers and #LAThtr aficionadi,
Here follows my latest review for the critical website Stage Raw — which contains current arts and theater coverage from our intrepid team of journalists & critics.
We recommend this fine play.
Happy reading!
Waiting for Johnny Depp.
Janet Valdez Cole's semi-autobiographical one-person musical, co-written by its star Deedee O'Malley, is a fun romp that traces the trials and tribulations of an aspiring actress. When we first meet Rita Donatella (O'Malley), we learn the perky New Yorker has been informed by her agent that she is inches away from being cast in a starring role in a major studio movie opposite Johnny Depp. But conflicting instructions and various requirements such as "lose 20 pounds," "ditch the thick 'Noo Yawk' accent," "send photos of yourself dressed as a man," and so on, all conspire to frustrate and perplex our starry-eyed heroine, who remains convinced she's poised on the cusp of her big Hollywood break.
As the studio contract keeps failing to materialize, we watch Rita grow increasingly desperate and destitute. Ultimately Cole and O'Malley's comedy musical demonstrates how Rita comes to terms with some of life's most important questions: how to survive financially, how to recognize true love, how to balance the demands of career and family, and ultimately, what really matters beyond those elusive dreams of stardom.
You can read the rest of this review here.
Waiting for Johnny Depp
K.I.S.S. Theatricals at the Whitefire Theatre
13500 Ventura Blvd.,
Sherman Oaks.
Fridays only, 8 p.m.
(323) 960-5521 or www.plays411.com/johnnydepp
Running time: 2 hours, with one intermission.
Run through April 29, 2016..