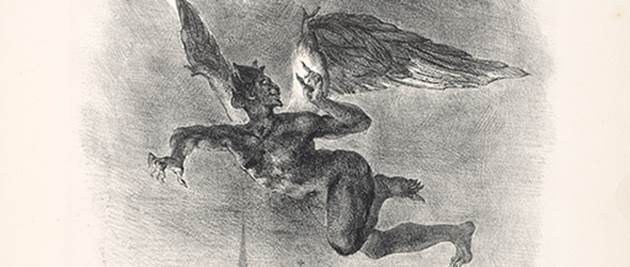 A gorgeous and exhaustive exhibition of spooky art works is in its final days at the Getty Center.
Noir: The Romance of Black in 19th-Century French Drawings and Prints
 is presently on view, but must close Sunday May 15, 2016.
From the press notes:

Beginning around 1840, French artists began depicting shadowy, often nocturnal or twilight scenes in which forms emerge and sink back into darkness. This quest for darkened realms accompanied an exploration of new forms of subject matter, such as dream states and non-idealized representations of the poor and working class. 
Concurrently, new black drawing materials, such as man-made charcoal, black chalk, and conté crayon, came into use. [Conté, also known as Conté sticks or Conté crayons, are a drawing medium composed of compressed powdered graphite or charcoal mixed with a wax or clay]. Contemporary fixative solutions assisted the artists in their exploration, by helping them to produce works that would endure.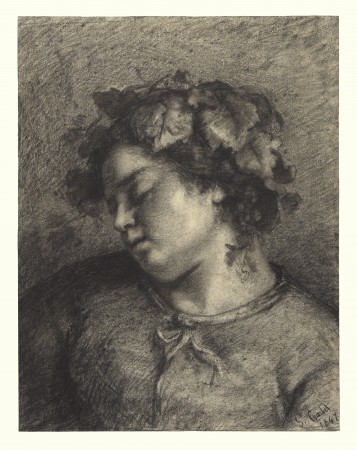 Using drawings and prints from the Getty's permanent collection, as well as loans from private and public Los Angeles collections, Noir: The Romance of Black in 19th-Century French Drawings and Prints examines how artists such as Rodolphe Bresdin, Maxime Lalanne, Odilon Redon, and Georges Seurat championed these new, dark subjects.
The in-depth exhibition now on display was inspired by an incident related by Lee Hendrix, the Getty's senior curator of drawings. She explained that she came up with the concept for the exhibit when a charcoal drawing passed across her desk. At first, Hendrix recalls, the artwork was not initially fully appreciated when it was first donated to the museum. Upon further examination, Hendrix says she realized that the complexity of the drawing was "mind-boggling."Hendrix was inspired to set off on a journey of further exploration, and this unique exhibition was created and curated.
Noir: The Romance of Black in Nineteenth-Century French Drawings and Prints
Exhibition runs until May 15, 2016
The J. Paul Getty Museum at the Getty Center
1200 Getty Center Drive, Los Angeles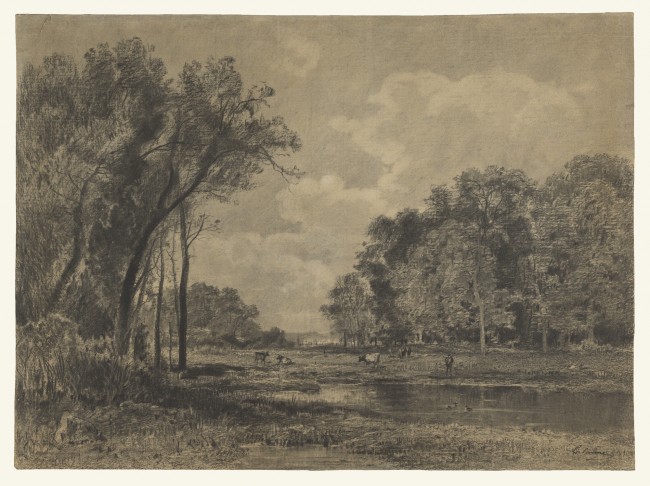 The J. Paul Getty Trust is an international cultural and philanthropic institution devoted to the visual arts that includes the J. Paul Getty Museum, the Getty Research Institute, the Getty Conservation Institute, and the Getty Foundation. The J. Paul Getty Trust and Getty programs serve a varied audience from two locations:  the Getty Center in Los Angeles and the Getty Villa in Malibu.

The J. Paul Getty Museum collects in seven distinct areas, including Greek and Roman antiquities, European paintings, drawings, manuscripts, sculpture and decorative arts, and photographs gathered internationally. The Museum's mission is to make the collection meaningful and attractive to a broad audience by presenting and interpreting the works of art through educational programs, special exhibitions, publications, conservation, and research.

Visiting the Getty Center:

The Getty Center is open Tuesday through Friday and Sunday from 10 a.m. to 5:30 p.m., and Saturday from 10 a.m. to 9 p.m. It is closed Monday and most major holidays, open on July 4. Admission to the Getty Center is always free. Parking is $15 per car, but reduced to $10 after 5 p.m. on Saturdays and for evening events throughout the week. No reservation is required for parking or general admission. Reservations are required for event seating and groups of 15 or more. Please call (310) 440-7300 (English or Spanish) for reservations and information. The TTY line for callers who are deaf or hearing impaired is (310) 440-7305. The Getty Center is at 1200 Getty Center Drive, Los Angeles, California.

Additional information is available here.




Sign up for e-Getty at www.getty.edu/subscribe to receive free monthly highlights of events at the Getty Center and the Getty Villa via e-mail, or visit www.getty.edu for a complete calendar of public programs.