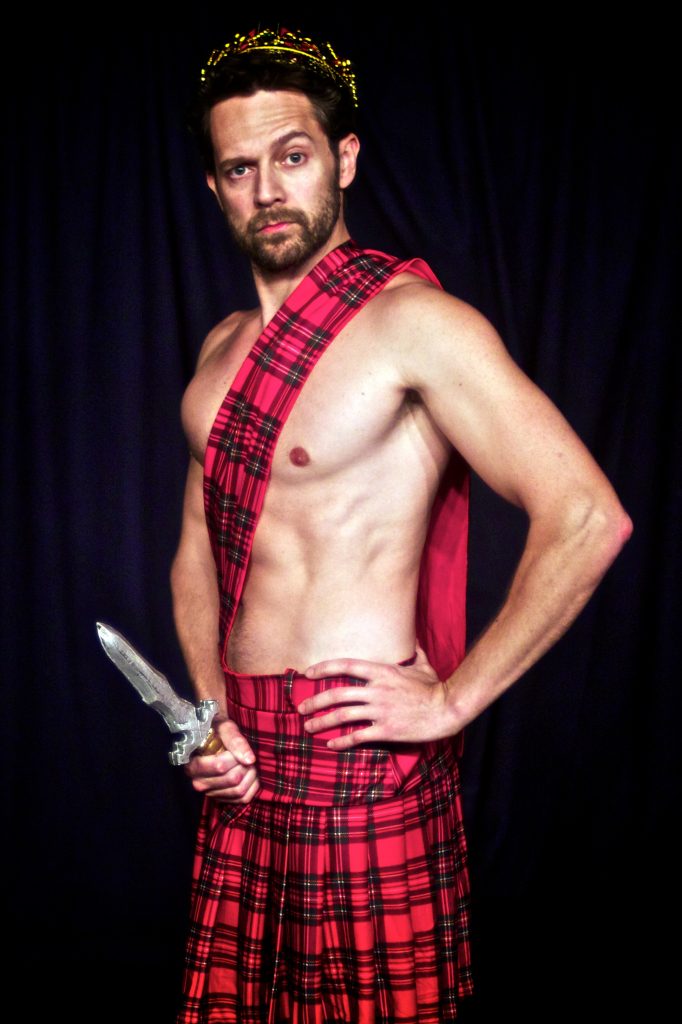 Sendups of two Shakespeare classics make their world premieres at this year's Hollywood Fringe.
MacDeth!
Written and Directed by Ryan J-W Smith
Fringe Premiere
Fringe award-winner Ryan J-W Smith, no stranger to the words of the Bard, offers up an abbreviated version of the the Scottish Play that races along at lightning speed, peppered with comedic asides and modern references. The result is a Monty Python-style spoof that challenges audiences to keep up with the plot while allowing the amusing performances to shine through.
Smith himself takes the lead role, portraying MacDeth as an arrogantly fearless leader with a Sean Connery accent and a penchant for delivering acerbic asides. Helena Grace Donald is a good match as the cruelly ambitious Lady MacDeth, forcing her husband into greater and greater acts of treachery before her descent into madness. As the betrayed King Duncan, Ryan Stiffelman amusingly delivers the characters lines as a country bumpkin. The actor also makes an effective 180-degree transformation to portray MacDeths ally-turned-enemy Macbuff.
Jason Linforth, Faith Kerns, andLisa Lynn provide further amusement as Banquo, Clinton, and Ross, but its Lance Frantzich who dominates as the scene-stealing witch who serves as the narrator. Red-tressed and clad in a skintight green gown, she hurls her curses and proclamations with flair as she lusts after the male cast members and hawks her new book.
As Smiths adaptation mixes large portions of Shakespeares text with modern references, comedic asides, and intentionally bad jokes, familiarity with the original piece is highly recommended in order to get all of the added comedy.
MacDeth! plays the Hollywood Fringe June 17, 23 and 25at the Complex Theatre, 6476 Santa Monica Blvd. More information and tickets can be obtained here.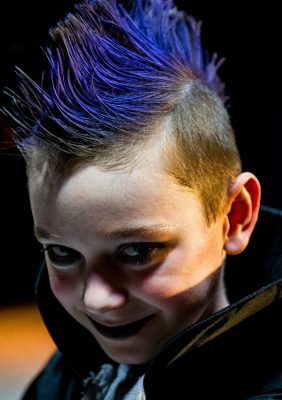 Titus Andronicus Jr.
Written and Directed by Troy Heard
Fringe Premiere
A middle-school teacher in the midst of a personal crisis stages a radical version of Shakespeares most notoriously violent play with his class of young actors in this hilariously dark comedy.
Mr. Benjamin (Thomas Chrastka), an art teacher at Dawson Middle School, has been assigned to direct the schools spring play. As he is currently going through a particularly acrimonious divorce, he decides to vent his rage by casting his students in the most age-inappropriate play he can think of Shakespeares Titus Andronicus, a piece notorious for its excessive violence and controversial content.
In addition to streamlining the lengthy play, he has also altered the Bards text to inject angry ravings directed at his soon-to-be ex, forcing the kids to relive the unsavory aspects of his failed marriage alongside the 16th-century mayhem. When she reneges on her promise to attend the performance, Benjamins mind completely snaps and all hell breaks loose.
Writer/director Troy Heard displays a finely-tuned ear for the absurd as he intersperses Shakespeares classic tale with the contemporary agonies of the schoolteacher. He walks the fine line between hilarious and appalling, and at its best moments, Titus Andronicus Jr. is appallingly hilarious.
What really makes it work is Heards casting of actual children; had it been adults playing kids, the subversive element (and thus much of the comedy) would have been lost. The young ensemble cast is delightfully precocious, able to deliver the complicated prose while expressing their dismay at Mr. Benjamins increasingly bizarre behavior.
Chrasta does a great job keeping his character grounded as a real human being in pain, even as his actions become more and more alarmingly cartoonish. Among the standouts in the young cast are Ken Haley as a hesitant Titus, Maxwell Claydon as Aaron, struck with a profound case of stage fright, and Noa Agatstein as Tamora, whose character stands in for Benjamins identically-named, wayward wife. But really all of the cast is good.
Heard pulls no punches in subjecting the youngsters to all manner of mayhem. And just when you think Benjamins actions have pushed the dark humor too far, he throws in a surprising twist, resulting in a clever and satisfying conclusion.
Titus Andronicus Jr. has but two performances left June 17 and 18, and its highly recommended that you seek out tickets. Its playing at the Sacred Fools Theatre, 6320 Santa Monica Blvd. Get more information here.