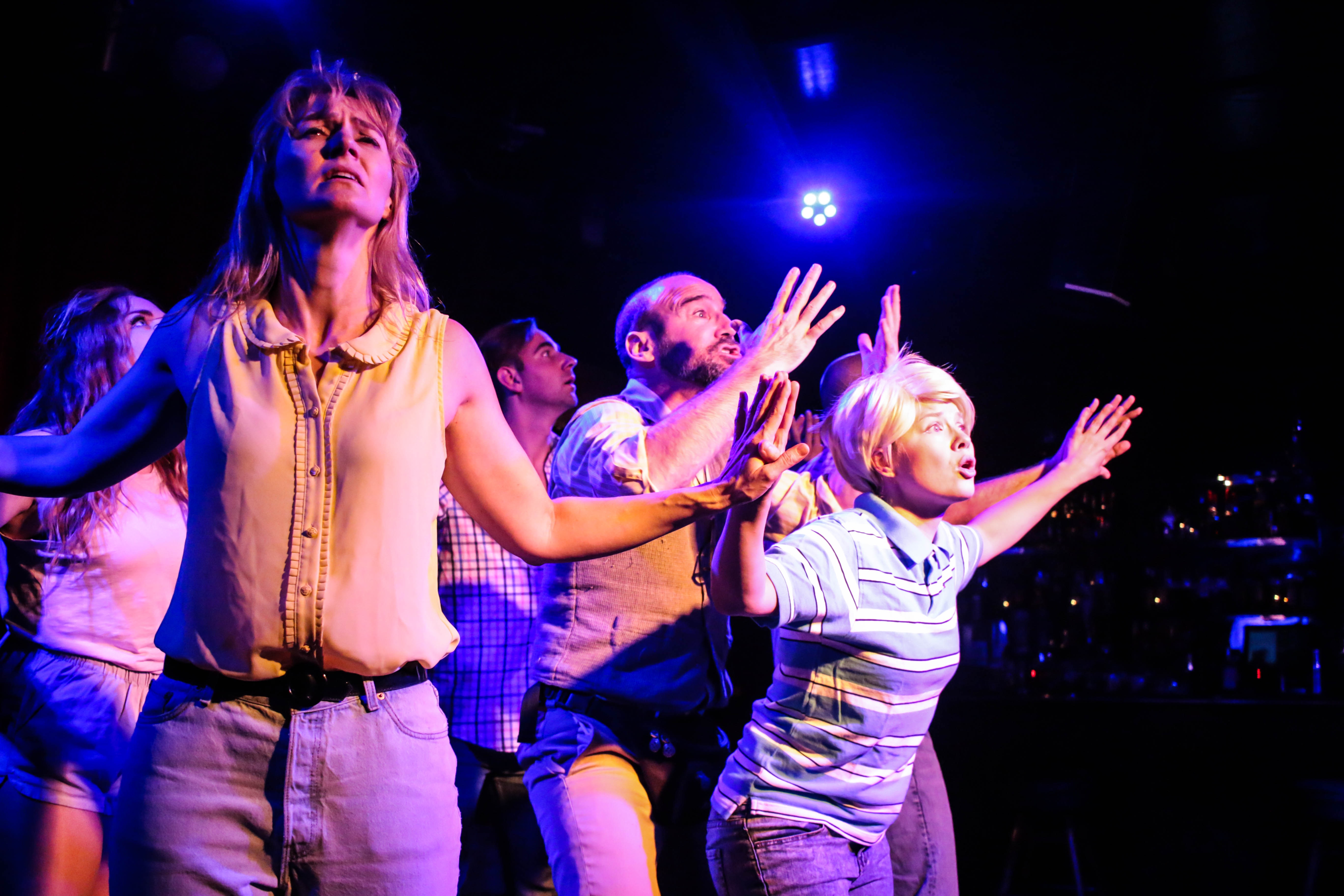 Two amusing comedies one based on a terrible movie, the other set in a strange, retro amusement park make solid debuts at this year's Fringe.
NILBOG: The Unauthorized Musical Parody of Troll II
Lyrics and Book by Tiffany Asta, Kristen Boul and Kate Bowman
Music by Juan Lozano
Directed by Kristen Boul
Fringe Premiere
Musical spoofs of cult horror films have been popping up like zombies over the past several years, among the best being Silence! The Musical and Re-Animator: the Musical. But how do you spoof a film thats so wretched in its original incarnation that its already a spoof of itself?
Thats the challenge the 2cents Theatre Group took on when bringing the legendary 1990 disaster known as Troll II to the stage. This sequel-in-name-only to 1986s Troll doesnt even have any trolls in it. What it does feature, however, is wall-to-wall cheese.
Asta, Boul and Bowman clearly have an abiding affection for this trash classic, and theyve done an admirable job of trimming it down to a palatable 70 minutes (including musical numbers) while making sure that fans get all the groans theyve come for. Songs like Were All Vegetarians in Nilbog, You Dont Piss on Hospitality, and Damn You, Stonehenge advance the plot and add new dimensions of hilarity.
Asta is uncanny as young Joshua, the boy with the perpetually pained expression upon whose shoulders the familys survival rests. Francesca Manzi is also good as his heavily-tranquilized mother, entreating him to sing her favorite song Row, Row, Row Your Boat. Megan Harwick delivers the perfect Valley Girl-with-brain-damage accent as his sister, Holly, and Cory Robinson is fun as her closet case boyfriend, Elliott.
Bowman camps it up as the Goblin queen Creedence (This is my house!) and has a good set of pipes to boot. Kevin Herrmann and Eric Geller complete the main cast as Joshs hothead father and his dearly departed Grandpa Seth, who pops up occasionally to warn Joshua about the dangers of eating the green goo that the goblins are constantly offering them.
Though its presented at the Fringe in an appropriately shoestring manner, I can easily see it being developed into a more substantially-staged piece that could play successfully on both coasts, much like Re-Animator and Silence!
Nilbog: The Unauthorized Musical Parody of Troll II plays the Hollywood Fringe June 23 and 25 at Three Clubs, 1123 North Vine Street.
More information and tickets can be obtained on the Fringe site. But dont delay we need some time for some things to happen!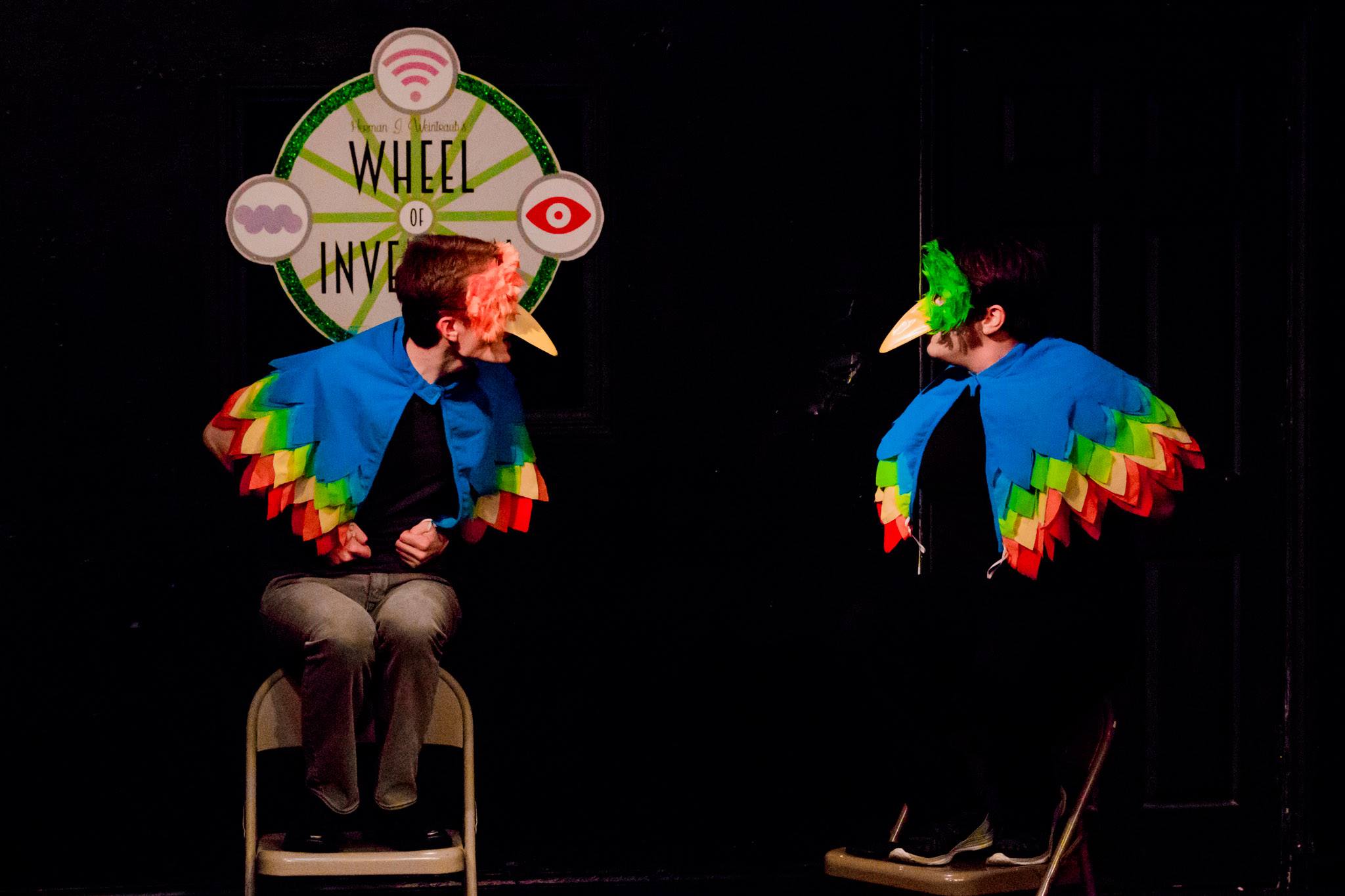 The Wheel of Invention
Written and Directed by Brandon Beck
Fringe Premiere
Part sketch comedy and part theme park ride, The Wheel of Invention is an agreeably bizarre, retro tour of a Disneyland-style amusement (Tomorrowland in particular).
As the show begins, we are welcomed to Weintraubsylvania by a saccharine tour guide who introduces us to the parks founder, the rather grim Herman J. Weintraub. Then, were treated to a couple of his parks most popular attractions.
These Talkin Birds Ovah Here! is Weintraubsylvanias take on Disneys Enchanted Tiki Room, except that the boids youll find here are foul-mouthed Southies. Then, were off to see The Banjo Bears, a sendup of the Country Bear Jamboree, which finds our trigger-happy ursines getting in trouble with the law.
Finally, were treated to a presentation of Weintraubsylvanias famous Wheel of Invention show, which debuted at the 1964 Worlds Fair (in 1979). It takes us on a whirlwind tour through time with a typical 1950s nuclear family whose lives become more horrible as they are transported further into the future.
Wheels talented cast, which includes James Madejski, Brook Banks, Megan Duquette, Angel M. Castillo, Kelsey Goldberg, Diana De Luna and SokratesFrantzis, are all engaging in multiple roles, withFrantzis booming-voiced Weintraub, Duquettes too-cute tour guide, and Madejskis father from the future being particularly notable.
Writer/director Beck has some pointed things to say about class struggles, authority, and society in general, but he envelops his message in a such a brightly-colored wrapping that it never becomes a lecture. And with its brisk one-hour run time, it certainly doesnt wear out its welcome.
The Wheel of Invention plays the Hollywood Fringe June 24 and 25 at Asylum @ 6470, 6470 Santa Monica Blvd. More information and tickets can be obtained on the main site.