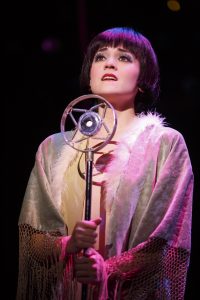 Seedy nightclubs, fluid sexuality, black berets and suspenders — from the first moment we see a beckons finger in a tight spotlight, we are immersed in the exhilarating world of Berlin during pre-WWII. This famously dark but lively musical Cabaret is enjoying a limited three-week run at the Pantages Theatre in Hollywood until August 7, 2016.
This is director Sam Mendes (filmmaker of Spectre, American Beauty) and Rob Marshall's (Into the Woods and Chicago, the films) superb Tony Award®-winning production, featuring a hot young jazzy band of mostly women and some fabulously sexy choreography recreated by Cynthia Onrubia. (Original co-direction and choreography is by Rob Marshall.) For the most part, the cast are all gorgeous and heavily made up tramps or rent boys clad in scanty lingerie.
True quadruple threats, many of the cast members also double as the Kit Kat Band includes Kelsey Beckert, Sarah Bishop, Margaret Dudasik, Lori Eure, Aisling Halpin, Leeds Hill, Andrew Hubacher, Joey Khoury, Tommy McDowell, Samantha Shafer, Evan D. Siegel, Dani Spieler and Steven Wenslawski.
From the press release:

Cabaret is a musical based on a book written by Christopher Isherwood, music by John Kander and lyrics by Fred Ebb. The 1966 Broadway production became a hit, inspiring numerous subsequent productions in London and New York, as well as the 1972 film by the same name.

John Kander, Fred Ebb and Joe Masteroff's Tony-winning musical features some of the most memorable songs in theatre history, including "Cabaret," "Willkommen" and "Maybe This Time." Cabaret is set in the infamous Kit Kat Klub, where the Emcee, Sally Bowles and a raucous ensemble take the stage nightly to tantalize the crowd–– and to leave their troubles outside.
Within this seedy and exciting milieu of the dark club scene of 1931 Berlin, just as the Nazis are rising to power, the story revolves around young American writer Cliff Bradshaw (played well by Lee Aaron Rosen) and his relationship with 19-year-old English cabaret performer Sally Bowles (nicely performed by Andrea Goss).
A sub-plot involves the doomed romance between German boarding house owner Fräulein Schneider and her elderly suitor Herr Schultz, a Jewish fruit vendor. Overseeing the action is the Master of Ceremonies at the Kit Kat Klub. The club serves as a metaphor for ominous political developments in late Weimar Germany.
Randy Harrison is fantastic as the Emcee — bringing plenty of raunchy sexuality to his performance yet relaxed and saucy without trying too hard to impress. At one point he leads a really lewd shadow play scene. (This show is not suitable for kids.) The superb choreography is deceptively simple and effective.
With her dark Louise Brooks bob and baby doll voice, Andrea Goss is perfectly sweet as the irrepressible teenager Sally Bowles. In Act II Goss gives a powerful and sad rendition of the title tune Cabaret, complete with mic drop.
All the voices were strong and really warm and the songs are all winners.
I was actually not completely prepared for the shocking and bleak ending, so be advised.
This is a wonderful production.
text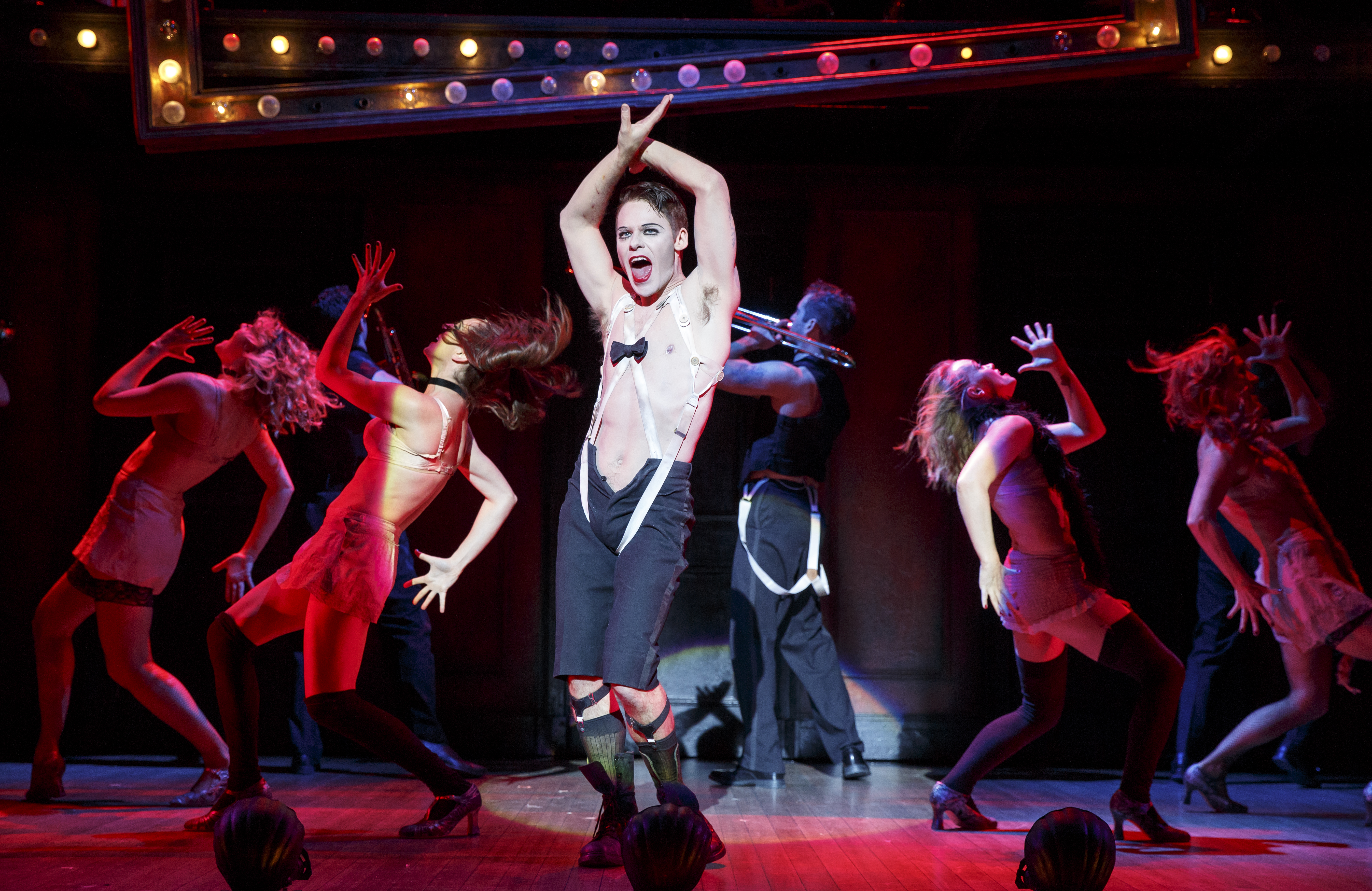 Cabaret
Runs from JULY 19 – AUGUST 7, 2016
HOLLYWOOD PANTAGES THEATRE
6233 Hollywood Blvd,
Los Angeles, CA 90028
Performance Schedule:       
Tuesday – Friday at 8pm                                               
Saturday at 2pm & 8pm                                     
Sunday at 1pm & 6:30pm
Individual Tickets:               
Individual tickets start at $29.00
Ticket prices subject to change without notice.
Parental Advisory:                
Ages 13 and up
Children under 5 will not be admitted to the theatre.
All patrons must have a ticket, regardless of age. 
Tickets:                                 
Online:             HollywoodPantages.com or ticketmaster.com
Phone:             1-800-982-2787
In Person:        Hollywood Pantages Box Office (opens daily at 10am)
and all Ticketmaster Outlets
Groups:           Groups of 10 or more may purchase at PantagesGroups.com