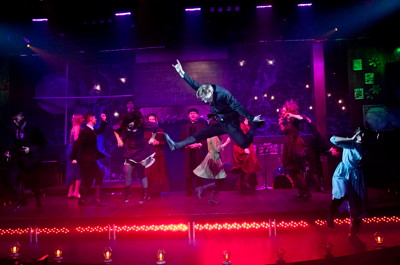 Review by Lucy Griffin
Angsty, eager and earnest – Spring Awakening broke out of the gate packing a whole lotta punch, with Over the Moon Productions presenting their take on the popular musical; Music by Duncan Sheik, book and lyrics by Steven Sater.
Background:

This is the rock musical adaptation of Spring Awakening, a controversial German play written in 1892 by Frank Wedekind.

Set in late-19th century Germany, it concerns a group of teenagers who are discovering the inner and outer tumult of their awakening sexuality and the complications that arise because of them.

This musical version of Spring Awakening received eleven 2007 Tony Award nominations, winning eight, including Tonys for best musical, direction, book, score and featured actor. Although the cultural landscape has changed quite a bit since Wedekind wrote his play in the late 1800's, the enduring themes are still as timely and topical as ever.
The problem was that the 'punch' seemed to push us out of the intimate space instead of including us…  Energy at full tilt and busting at the seams, it almost seemed to propel the audience out and away. Additionally, the rock concert vibe crammed into Over the Moon's small theater felt a bit forced. When the cast found their sweet spot, however, the play was extremely moving at times. The intimacy, on the other hand, added an extra thrill, almost as if we had stumbled across a diary we shouldn't be reading or were listening to a message not intended for us.
Set in a small German town during the 1890's, this story was clearly meant to cross time lines and push subject matter and perhaps if this critic had seen it at age 13 (the same time I saw RENT — which changed my life) or even in 2006 (when the musical version first premiered) it may have had the same RENT-like impact on me.  Who knows?  This was, after all, my first time too, not just Wendla and Melchior's (that's an inside plot line reference!)  Now the message somehow feels a bit overworked… Issues such as teen suicide and abortion are unfortunately more a part of our everyday. This was not at all the fault of the beautifully vulnerable cast, nor the effective direction by Kate Sullivan. Perhaps it's because I waited so long to experience Spring Awakening that I have become inured to its contentious subject matter.
The story of Spring Awakening mainly focuses on the wonders and wanderings of a group of teenagers discovering their bodies and their thoughts. Struggling with curiosities not quenched by their often dismissive, ignorant and sometimes abusive parents, these teens are forced to figure out things on their own, and often the wrong way…
Directed by Kate Sullivan, this cast was wonderful as an ensemble, melting together to form delicious harmonies, yet there was a tendency in certain actor's performances that felt a bit like "me, me – look at me!"  Tiffany Gray (who plays Martha) used exactly the right blend of star quality and supportive ensemble work to leave me thinking about her performance. She brought honesty and beauty to the role, bringing me to tears with her powerful rendition of 'The Dark I Know Well.'  Also impressive were actors Mat Vairo as Melchior, Christopher Higgens (wide-eyed and precious) as Ernst, Payson Lewis as Georg and Hope Lauren as Thea.
A thoroughly entertaining and sometimes powerful show, Spring Awakening continues its successful run this time by Over the Moon Production at Theatre of Arts Arena Stage
The show was impeccably lit by Brandon Baruch and featured a solid band of musicians backing the hard working actors.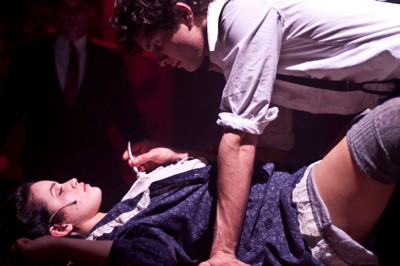 Spring Awakening
The Theatre of Arts Egyptian Arena Stage
1625 N. Las Palmas Ave, Hollywood.
Performances:
Thursdays–Sundays at 8pm (with no performance April 5th) through April 22, 2012.
Running time:
Approx. 2 hours, with an intermission
TICKETS:
$25.00 general.
Box Office:
For tickets, please visit this site and this site or call 310-903-6150.