BOOK SAVVY 2013 is coming up in March and here's the scoop.
Hosted by the Los Angeles Chapter of the Women's National Book Association (WNBA/LA), BOOK SAVVY 2013 is one of L.A.'s premier annual conferences, focused on all aspects of getting published.
The Marina del Rey Hotel provides a beautiful seaside location for this all-day workshop, on March 10, 2013, 9:00AM –4:30PM.
(Optional pitch prep session begins at 7:30AM.)
The daylong conference features four panel presentations for aspiring as well as established writers.
Conference admission includes a light breakfast, lunch buffet, beverages/snacks, and raffle prizes.
Learn to PITCH your BOOK

Listen to PANELS of EXPERTS

PITCH to a LITERARY AGENT over the lunch break

WIN wonderful PRIZES in their RAFFLE
The panel discussion topics include self-publishing, digital publishing (e-books and book apps), book promotion, author platform building, literary trends with an emphasis on children's fiction and YA (Young Adult) dystopian novels, and a special pitch preparation workshop and the opportunity to pitch to literary agents and film producers.
This year's panelists include National Book Critics Circle Award finalist Reyna Grande, memoir coach and publisher Ina Hillebrandt, bestselling children's author and international speaker Sheri Fink, author of two ALA/YALSA "Best Books for Young Adults" Andrew Smith, award-winning journalist and publisher of three weekly LA newspapers Kathleen Sterling––to name just a few.
See below for a full list of this year's panelists.
This all-day workshop includes:
• 7:30-8:30…pitch prep session (optional)
• 8:30-9:00…registration
• 9:00-4:30…continental breakfast, four panels of presentations, lunch, pitching to an agent at the lunch break, raffle prizes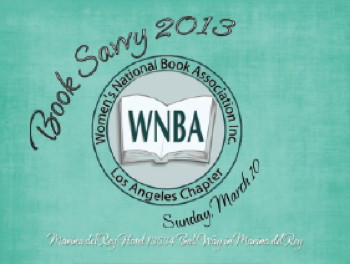 BOOK SAVVY 2013
Sunday, March 10, 2013
9AM—4PM
Marina del Rey Hotel
13534 Bali Way
Marina del Rey
FREE PARKING – for directions, visit the hotel website here.
Take advantage of Early Bird Registration here – deadline is TONIGHT Friday, March 1, 2013.
To register, and for more information, visit the WNBA/LA chapter website.
SPONSORSHIPS FOR BOOK SAVVY 2013:

Would you like to promote your book or your product in the program for Book Savvy 2013? The following sponsorships are available: 1/4 page ad: $50, 1/2 page ad: $75, or 1 full page ad, plus an ad in our next three newsletters: $100 (our newsletter reaches 375 people)

Contact Ruth via email if you are interested in a sponsorship, or you can select a sponsorship figure here.

ABOUT the Women's National Book Association (WNBA/LA):

Founded in 1917, WNBA is vibrant non-profit organization with three distinguished national awards, and a history of lively events in 9 chapter cities. The LA Chapter of WNBA brings together individuals with diverse backgrounds to exchange ideas, focus on issues, network, and support the local book community. Members include authors, screenwriters, poets, songwriters, performance artists, activists, readers, publishers, librarians, booksellers, educators, publicists, editors, production/graphics specialists, agents, and reviewers.

For more info, visit their official site.

This year's panelists include:
David Wogahn is managing partner of eBook publishing and digital media consulting firm Sellbox and the author of Successful eBook Publishing. He is a frequent speaker for the Independent Writers of Southern California and Publishers and Writers of San Diego, and is a regular contributor to the Independent Book Publishers Association's Independent magazine.
Before founding Sellbox in 2002 David worked at Los Angeles-based Times Mirror in information technology and business development. He was co-founder of Times Mirror Multimedia and later co-founded and served as COO of a venture capital-backed sports team web services company, the predecessor of today's CBS College Sports Network. For more info, visit www.sellbox.com
Flo Selfman, whose first PR campaign, when she was still in school, was telling her dad how to promote his new barbecue restaurant, years before she knew she had the "PR gene" and would make it her career. Since then, she has created and implemented campaigns for celebrities, theatre productions, arts festivals, books and authors. She is an in-demand copy editor for scripts and manuscripts (www.wordsalamode.com). Awards include "Best Book Tie-In Award" from Book Publicists of Southern California. Flo has been president of IWOSC (Independent Writers of Southern California), www.iwosc.org, since 2003. She is a contributor to the new book Media Magnetism: How to Attract the Favorable Publicity You Want and Deserve.
Tyson Cornell, founder of Rare Bird Lit, a Los Angeles and New York-based literary PR and marketing company specializing in book promotion for authors, publishers, and organizations in North America and Europe. He is also the publisher of three publishing imprints distributed by Publishers Group West–A Barnacle Book, A Vireo Book, and Rare Bird Books. For many years, he was the publicity director of legendary West Hollywood independent bookstore Book Soup, working with over 10,000 highly acclaimed authors including John Updike, Hunter S. Thompson, William T. Vollmann, and many more.
Sheri Fink, is a #1 best-selling, award-winning children's author, the creator of "The Whimsical World of Sheri Fink" children's brand, and an international speaker. She writes books that inspire and delight children while planting the seeds of self-esteem that can have lifelong benefit. In 2011 and 2012, Sheri was selected as one of the top "50 Great Writers You Should Be Reading." Sheri's award winning books are: The Little Rose, The Little Gnome, Exploring the Garden wit the Little Rose. Discover more about Sheri and her books at www.WhimsicalWorldofSheriFink.com

Ina Hillebrandt, President of PawpressTM, is a nationally known speaker, author, writing coach and publisher. A Who's Who Woman of the Year, she's appeared on TV and radio, in the NY Times and other print media, and online. Her books include How to Write Your Memoirs…Fun Prompts to Make Writing…and Reading…Your Life Stories a Pleasure! The follow-up Toolbox Edition will be out by summer, 2013. Her first book, Pawprints, led to the Pawprints Literacy PlusTM program, and a curriculum guide for educators, Pawprints-The Student Prints, revised and reissued Dec., 2012. Her Pawpress imprint publishes nonfiction and fiction, and has more than a dozen books in print. She is currently working on TV and film versions of her own and writing students' works. http://InaTheMemoirCoach.com, http://InasPawprints.com.
Kathleen Sterling is an award-winning journalist and the publisher of three weekly newspapers in Los Angeles. She has a BS in Political Science from USC and a MBA from UCLA's Anderson School of Management. Sterling started her first newspaper at the age of twenty-two. Sex after Death is her first book.(I am awaiting additional information from Kathleen)
Andrew Smith – Novels:
– Ghost Medicine (2008, Feiwel and Friends/Macmillan)
– In the Path of Falling Objects (2009, Feiwel and Friends/Macmillan)
– The Marbury Lens (2010, Feiwel and Friends/Macmillan)
– Stick (2011, Feiwel and Friends/Macmillan)
– Passenger (2012, Feiwel and Friends/Macmillan)
– Winger (2013, Simon & Schuster)
– Grasshopper Jungle (2014, Dutton/Penguin)
I have also published a number of short stories. Besides writing, Andrew Smith is a runner. He has completed more than 30 marathons and off-road triathlons in his life. He enjoys the outdoors, and lives in a very remote area of California with his wife, Jocelyn, son, Trevin (18), and daughter Chiara (15), where they raise horses.
Dana Newman is an independent literary agent based in Los Angeles. She focuses on practical and narrative nonfiction books in the areas of memoir, biography, business, self-help, parenting, popular science and technology, lifestyle/wellness, and popular culture by authors with strong platforms. On the fiction side, she looks for character-driven stories of interest to women that are both literary and commercial.
Dana is also a transactional and intellectual property attorney, advising creators and businesses on contracts, copyrights, trademarks, and licensing.
Dana speaks frequently on publishing law issues, and has presented or participated in panels at the Tools of Change Conference in New York, Writer's Digest Conference, Women's National Book Association – Los Angeles, Southern California Writers' Conference, Santa Barbara Writers Conference, and the Greater Los Angeles Writers Society.
She holds a B.A. in Comparative Literature from U.C. Berkeley and a J.D. from the University of San Francisco School of Law. She wrote "Copyright Grants: as Powerful as Kryptonite?" published in the Los Angeles Daily Journal, and co-authored the chapter on Technology and Intellectual Property Rights in the book Emerging Companies Guide: A Resource for Professionals and Entrepreneurs, Second Edition (American Bar Association 2011).
Andrea Vuleta – In the last seven years I have been the general manager of Mrs. Nelson's Toy and Book Store, as well as the occasional president of SCIBA (Southern California Independent Booksellers Association), ABC member, (American Booksellers for Children), and ABA member and advisor (American Booksellers Association). I think these roles have given me a deep perspective into our industry. Booksellers have an incredible community. That is one of the most valuable things in this industry, and the main reason I sought a position that would allow me to stay involved. And during my time as a buyer, I developed a distinct addiction to YA (Young Adult) literature. I read at all levels, but I find the books that I most often recommend come from YA – whether the reader is adult or not.
Erica Cuyugan is the Teen Services Librarian at the Santa Monica Public Library. She oversees teen programming at the Main library, as well as collection development for the entire system. She has always loved reading teen literature and appreciates the fact that this is part of her job.
This is a sponsored Post.

For more information on sponsored posts, please get in touch with me via the Contact page.