When a touring Broadway show finally comes to town, coasting on a tidal wave of hype and critical acclaim, it's difficult to make a clear-headed assessment of its value.
Following its fêted move from the East Village to Broadway, composer and performer Lin-Manuel Miranda's Hamilton has taken up residence at the glamorous Pantages Theater in Hollywood. There will performances through December 30, 2017. 
Winner of 11 Tony awards in 2016, Miranda's unique creation is a powerful and rousing musical that focuses on the efforts of the Founding Fathers to shape this nation. It packages some early history into an accessible format. Best of all, the casting is completely color-blind so we see performers cast for their talent rather than their possible resemblance to these historic figures.
From the press release:

Hamilton is the story of America's Founding Father Alexander Hamilton, an immigrant from the West Indies who became George Washington's right-hand man during the Revolutionary War and was the new nation's first Treasury Secretary. 

Featuring a score that blends hip-hop, jazz, blues, rap, R&B, and Broadway, Hamilton is the story of America then, as told by America now.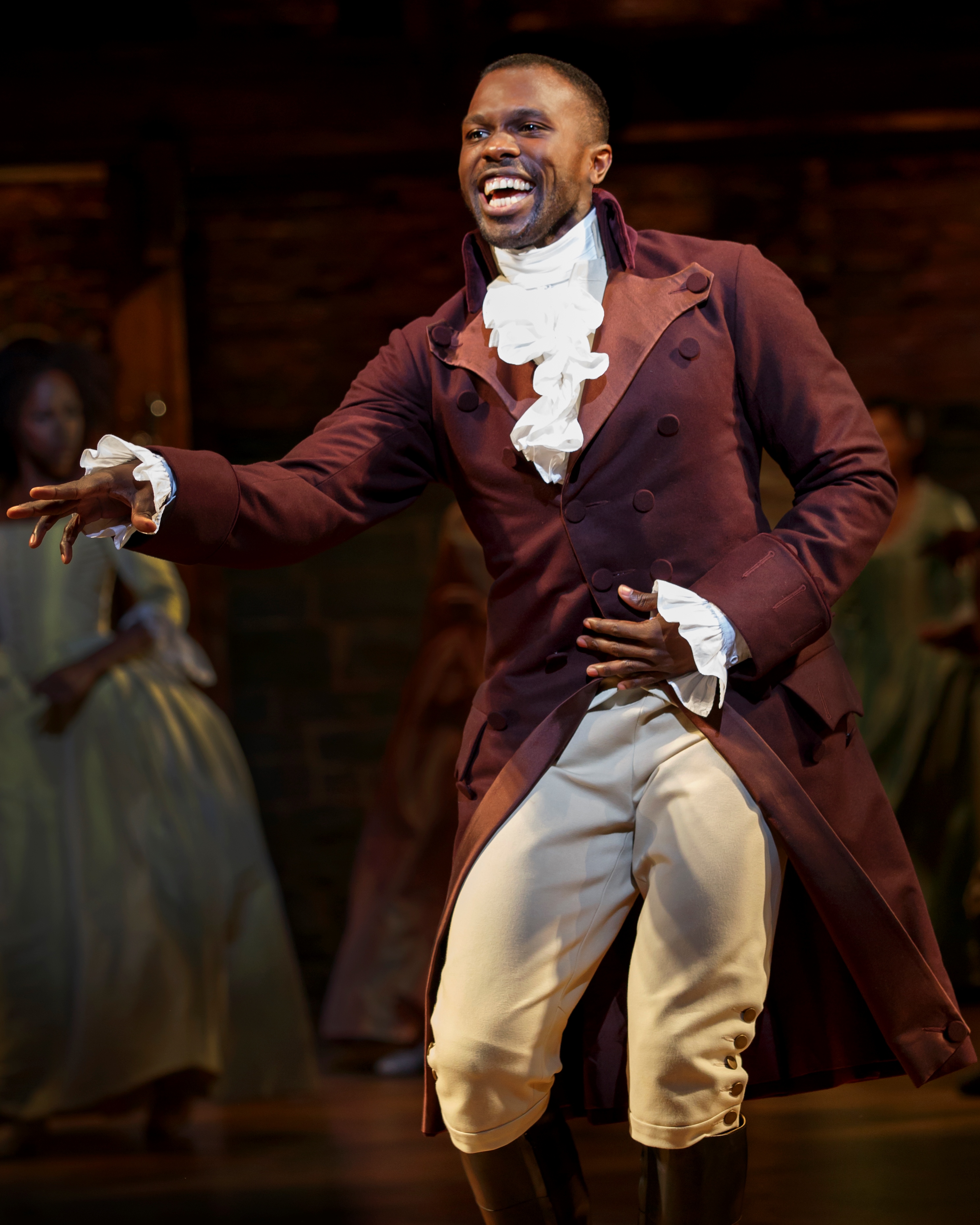 With book, music and lyrics by Lin-Manuel Miranda, direction by Thomas Kail, choreography by Andy Blankenbuehler and musical supervision and orchestrations by Alex Lacamoire, Hamilton is based on Ron Chernow's biography of Founding Father Alexander Hamilton.
It's nicely staged on two revolving rings, which adds a dynamism to the presentation. I felt Blankenbuehler's choreography to be painfully dated (think the 80s movie Fame).
As a musical, Hamilton is ground-breaking for its infusion of hip-hop beats and rhythms to the otherwise staid medium of musical theater. As a modern musical, it actually shapes up to be quite repetitive in its musical range. The rap meter follows a barely changeable pattern throughout. The songs featuring Hamilton's wife and her sisters feels too much like commercially pridctabel Destiny's Child with insufficient edgy Fugees vibe…
Presently, tickets range from $257—$1348 (verified resale). Is this show worth parting with hundreds of dollars? Only you can decide that for yourself.
Hamilton
Pantages Theater
6233 Hollywood Blvd, Los Angeles, CA 90028  
PERFORMANCE SCHEDULE:
Tuesday – Friday at 8pm
Saturday at 2pm & 8pm
Sunday at 1pm & 6:30pm
Runs through December 30, 2017. 
Tickets are available at www.HollywoodPantages.com/Hamilton and www.Ticketmaster.com, by phone at (800) 982-2787 or in person at the Hollywood Pantages Theatre Box Office.
Presently, tickets range from $257—$1348 (verified resale).
There will be a lottery for forty (40) $10 Orchestra seats for all performances.
Running time:  2 hours and 45 minutes, with one intermission.