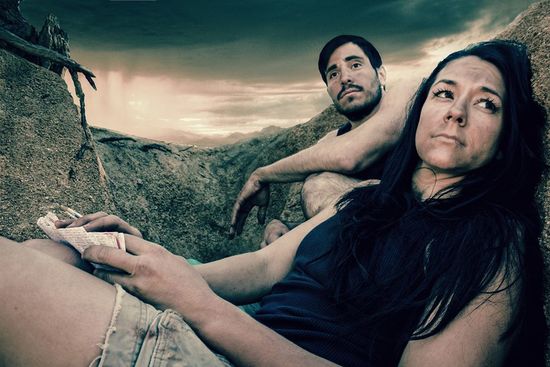 Definition of Man
Created by Nikki Muller and Jason Rosario
World Premiere
Reviewed June 11, 2017, at the Hollywood Fringe
Challenging, insightful, and artistically striking, Definition of Man is an impressive achievement that combines language with movement to create a refreshingly original work.
A man (Jason Rosario) and a woman (Nikki Muller) are the sole survivors of a world-ending apocalypse. They've obviously been together for some time, and verbal communication has lost its meaning, causing them to turn on each other. Over the course of the piece, as the power of language dissipates, all that remains is physical interaction.
Based on the theorist Kenneth Burke's essay of the same name, Definition of Man shifts between spoken and physical intimacy, exploring the limits of vocabulary and what could happen when words no longer resonate.
If this all sounds like heady stuff, fear not. It's brought vividly to life by two talented performers. And, as audience members react to the actors on the stage, they will also find themselves reflecting on their own individual circumstances. It's a rewarding and unique theatrical experience.
Definition of Man plays June 24 at 1:30 p.m. and June 25 at 4:00 p.m. at Sacred Fools, 6322 Santa Monica Blvd. Tickets and more information can be obtained on the Fringe site.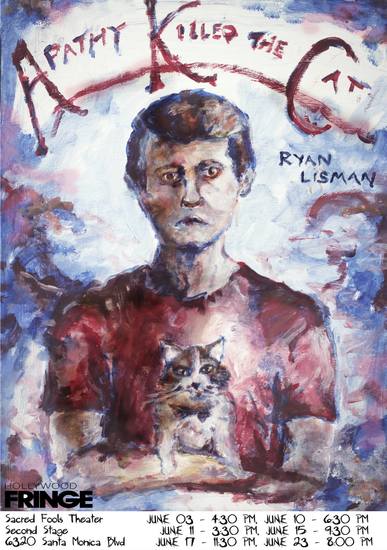 Apathy Killed the Cat
Written and directed by Ryan Lisman
World Premiere
Reviewed June 10, 2017, at Hollywood Fringe
*Note: The actress who portrays Colin's girlfriend, Lily, was unable to appear at the June 10 performance, so the role was filled by Lisman. This changed the sexuality of the protagonist but not the essential dynamics of the piece.
Ryan Lisman's intriguing one-act, Apathy Killed the Cat, centers around Colin (Aaron Stall), a neurotic playwright whose life is in turmoil. His mother (Robin Roth) is in the hospital in a catatonic state, his beloved cat is near death, and he is tortured by secret desires beyond his control.
As a way of release, he writes a lengthy play detailing the events in his life from infancy to present-day, including his darkest secrets. He leaves it at his mother's bedside, knowing full well that she can't read it. It's a symbolic gesture, as she had always been the first to read his work before.
When Colin's brothers, Griffin and Miles (John Woodley and Ethan Barker) come to visit, Griffin finds the manuscript and is appalled by what he reads. Colin's boyfriend, Liam (Lisman) is also stunned by the revelations contained in Colin's play and has no choice but to leave him. Now, Colin must struggle to release his inner demons and find a way to reconcile with those he loves.
Although Lisman is not yet in his mid-twenties, his writing here displays an impressive depth. His characters are convincing, and he incorporates some provocative fantasy sequences to represent the traumas in Colin's mind. Occasionally the scenario stretches the bounds of credulity, but there's enough creativity on display here to make this playwright a talent to watch.
The performers all fulfill their roles well, especially Stall and Woodley, whose edgy relationship is essential to the piece. Lisman's direction is effective, particularly during the surreal fantasy sequences.
Apathy Killed the Cat plays June 17 at 11:30 p.m. and June 23 at 8:00 p.m. at Sacred Fools Theatre, 6320 Santa Monica Blvd. Tickets and more information can be obtained on the Fringe site.